LAUDERHILL, FL | HARD MONEY LOAN SOLUTIONS
Hard Money & Bridge Financing Solutions For The Greater Lauderhill Area
Hard Money Loan Solutions in Lauderhill, FL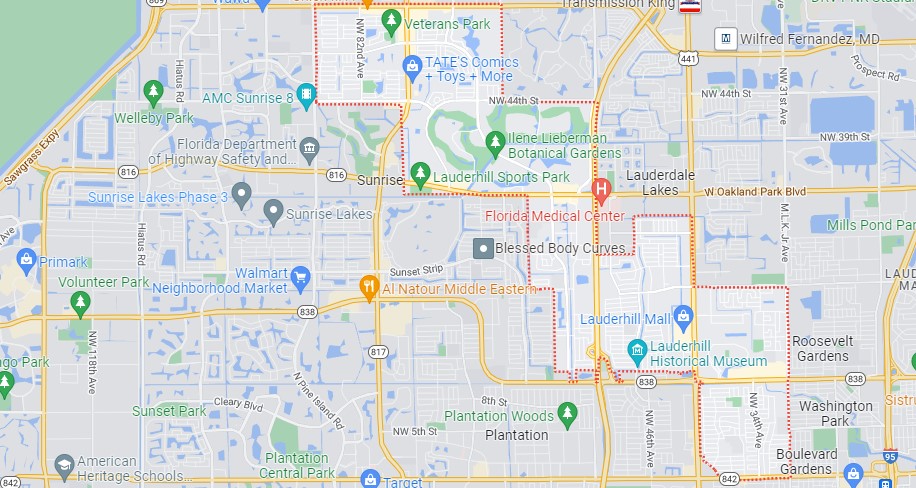 Lauderhill is one of the fastest-growing mid-size cities in Florida. You'll find plenty of real estate opportunities in the area, thanks to its proximity to Miami. Lauderhill's residential and investment property market is a competitive one, unfortunately, making it challenging to tap into top deals without the right financier.
Hard Money Loan Solutions (HMLS) is a Florida-native private lending group that can help you acquire the best Lauderhill properties in record time. Get access to cash in as little as three days without bureaucratic scrutiny or paperwork!
Contact us to get flexible financing for your next purchase, refinance, fix-and-flip, or construction project.
Bridge and Hard Money Loans in Lauderhill, Florida
Buying a new property in a chic suburban locale like Lauderhill is mostly a race for cash-rich buyers. You're more likely to win a bid if you can offer the asking price to the seller immediately. At Hard Money Loan Solutions, we understand time-sensitive deals the best!
As a 5-star-rated group, we can hook you up with short-term financing products like bridge and hard money loans to close your deal within tight deadlines. In most cases, we can deliver funding within 3–10 days. Our expert underwriting team even considers complicated investment scenarios that other lenders tend to reject.
Compared to banks and mortgage companies, we don't rely as much on arbitrary factors like your credit history, real estate experience, and employment status. Instead, our lending process is entirely based on commonsensical checks, such as:
Your repayment plan

The profitability potential of an investment

The feasibility of a construction or

rehab project

 
We lend on any type of commercial, residential, or industrial property and even land. Our financing is accessible to:
You don't have to produce extensive paperwork like bank documents and tax returns to apply for an HMLS loan. Give us a call at (855)-244-2220 and discuss your needs with our veteran lenders. You can get approved within a day!
HMLS—Attractive Lending Terms in Lauderhill
Our loans are tailor-made to suit a client's requirements and repayment logistics. We typically lend within the following limits in Lauderhill:
Qualifying loan amount

—$100,000–$50,000,000+

Loan-to-value (LTV)

—Up to 70%

Tenure

—Up to 3 years

Interest rates

—9.99%–12%, fixed

Origination

—2 points

Closing

—3 days to 2 weeks

Repayment

—Interest-only + balloon settlement

Prepayment penalty

—No

Retainer fee

—$1,500
We keep our pricing transparent and don't charge for unnecessary components like processing fees and rate-locking fees. You can apply for a wide range of programs, such as cash-out refinance, new construction, and second mortgage.
What Drives the Real Estate Market in Lauderhill, FL?
Located in Broward County, Lauderhill is one of the most ethnically diverse cities in Florida. The area's mild weather and welcoming charm make it a hotspot for attracting travelers, retirees, and long-term residents.
Lauderhill's growing economy has pulled in a lot of job seekers and entrepreneurs in the past decade. The city was featured in Verizon's 2023 list of the 50 most business-friendly small cities in the U.S.!
From a lifestyle perspective, we can say that Lauderhill's real estate potential is amplified by factors like:
Proximity to Miami

—Lauderhill is roughly an hour's drive away from Miami, ideal for residents who like the coastal metropolitan but cannot afford a place in the area

Relatively low cost of living

—The cost of living in Lauderhill is around

5% lower

than the U.S. average. The city is one of the more affordable locations in Florida

Low risk of wildlife-related hazards

—Compared to other parts of Florida, there is a pretty low risk of encountering a wild animal in Lauderhill

Diverse social classes

—The city has real estate options for residents of every economic class, be it poor or uber-rich

Abundant recreation spots

— Lauderhill may seem modest, but the city doesn't disappoint in terms of amenities and recreation spots. From well-maintained parks to sports clubs, the area is packed with options to unwind
If you're a property flipper, you'll likely find numerous rehab opportunities in the city as many of its existing structures have aged. Call HMLS at (855)-244-2220 to solidify your next investment in Lauderhill!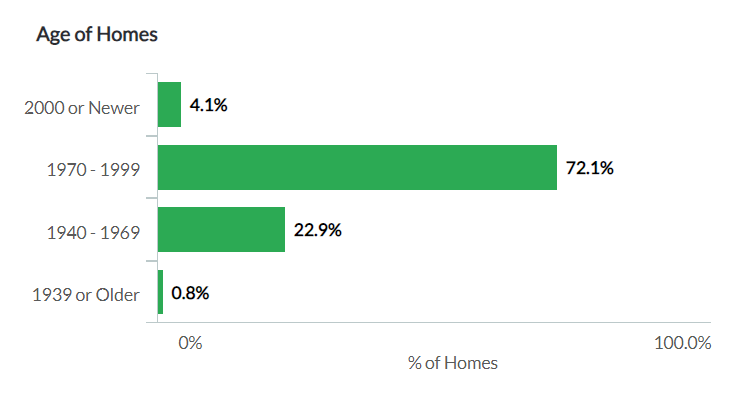 Fig: Distribution of homes by age in Lauderhill, Fl
Source: NeighborhoodScout
To Invest or Not To Invest—Recent Housing Market Trends in Lauderhill
Check out some noteworthy housing market statistics in Lauderhill from 2023:
| | |
| --- | --- |
| Trend* | Analysis |
| Median sale price of a home increased by 11.9% year-over-year | The median price of Lauderhill homes in May 2023 was $179,000. Among property types, single-family homes command the highest value, with a median price of $422,500 |
| 75% of Lauderhill homebuyers want to stay within the city | Three-fourths of Lauderhill's resident home buyers don't want to migrate to another city. As for inbound migration, the city attracts thousands of residents every year from metros like New York and Boston  |
| Balanced renters-owners axis | The homeownership rate in Lauderhill is 50.6%, making the market a thriving hotspot for rental investment |
*Sourced from the latest data available on Redfin and NeighborhoodScout

Fig: The owners-renters mix in Lauderhill, Fl
Source: NeighborhoodScout
Evaluating a new deal? Reach out to HMLS at (855)-244-2220 to get precise advice. We have 20+ years of experience in the local market and offer free consultancy to all our clients! 
Useful Groups for Real Estate Investors in Lauderhill
If you want to expand your peer network in the Lauderhill area, these real estate support groups may be of help:
While none of these groups are Lauderhill-specific, getting a membership in one is excellent for expanding your connections and keeping track of emerging investment opportunities in Lauderhill and nearby locations.
Other Evergreen Real Estate Locations in Florida
Florida is brimming with exciting investment opportunities all year round. Explore our investment guides for other top locations:
Note: All submitted information is kept in strict confidence and used solely for the purpose of obtaining a hard money loan and/or bridge loan. We do not share your information with any third parties without your consent.
Use our quick-start application below to begin the process. Once received, we will contact you via phone to verify your interest and to gather a few more details: