BOCA RATON, FL | HARD MONEY LOAN SOLUTIONS
Bridge and Hard Money Loans Solutions in Boca Raton, FL
ASSET BASED LENDING SOLUTIONS FOR THE GREATER BOCA RATON, FL AREA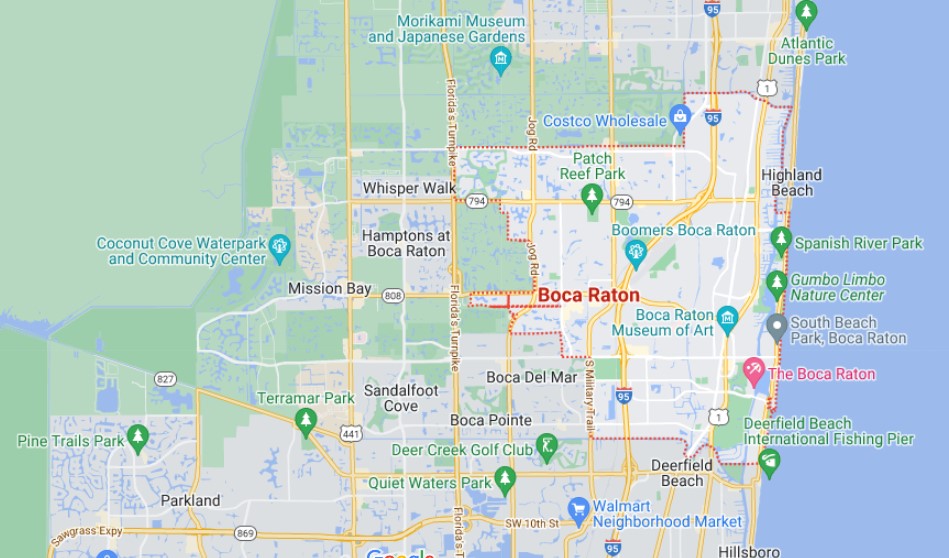 The Boca Raton real estate market is fast-paced and lined with multimillion-dollar properties set for tremendous growth. Slow-moving conventional lenders will only make you miss out on an investment opportunity, so the trick is to find a reliable private financier enabling fast access to funds.
Hard Money Loan Solutions (HMLS) is your go-to local lending group for closing top Boca Raton property deals with zero bureaucratic fuss. Whether you're an investor, homeowner, or entrepreneur, HMLS can back you up with a range of short-term private money loans with competitive interest rates and no hidden costs—call us at (855)-244-2220 to get tailor-made quotes!
Bridge and
Hard Equity Loans in Boca Raton, FL
Investors and stakeholders in the Boca Raton real estate market face challenges that cannot be met by traditional lenders with inflexible policies. Getting a hard money loan (also called a private or hard equity loan) is a great solution if you want quick funding with minimal approval factors for your investment opportunity.
At Hard Money Loan Solutions (HMLS), we help our clients complete their goals seamlessly, regardless of their minimum credit score, annual income, and experience in the property investment field. Try our customized products for multiple scenarios, including:
Acquiring rehabs, rentals, and similar investment homes

Stabilizing commercial projects

Completing construction deadlines

Buying dream properties (with bridge loans) 

Preventing foreclosures

Launching unique projects (contact us for more details)

Getting a regular or a cash-out refinance
Why HMLS Is the #
1 Trusted Hard Money Lender in Boca Raton
We understand how Boca Raton's property business works and collaborate with our clients to hit project-specific success markers. You'll benefit from the expert guidance provided by our in-house lending team, so your profits can stay on track even during potential downturns. Check out our lending parameters for Boca Raton deals:
Property type

—Single- and multi-family units, condos, townhomes, apartments, retail buildings, special structures, etc.

Loan size

—$100,000–$50,000,000+

LTV

—Up to 70%

Tenure

—Between 1 and 3 years

Interest rates

—9.99%–12%

Rate type

—Fixed

Origination

—2% (or points)

Closing

—3–14 days

Retainer fee

—$1,500

Amortization

—No (interest-only payments)

Prepayment penalty

—No (settle anytime after 6 months)
Our application process is expedited as we don't seek extensive background details or personal financial paperwork like bank statements and tax returns. Contact us at (855)-244-2220 for a free consultation and start tapping into time-sensitive investment opportunities!
What Drives the Boca Raton Real Estate Market?
Boca Raton is one of the most popular cities in South Florida because of its year-round pleasant tropical climate, trendy architecture, and affluent lifestyle options. The city welcomes about 1,000 new residents every year, making it a hot spot for rental investments. 
Boca Raton is also a top choice for homebuyers as it is an ideal place to raise a family. The area hosts numerous reputable schools and universities attended by local children and young adults. Other factors that contribute to the property demand in Boca Raton include:
Access to beautiful beaches, leisurely sports, and nature trails

Availability of sophisticated shopping avenues

Proximity to Miami, Fort Lauderdale, and Palm Beach

Vibrant nightlife

Steady supply of jobs
Boca Raton is continuously stable in terms of demand for renting and buying properties, despite the high-end cost of living.
Housing Market Overview for Boca Raton
If we look at the latest statistics, investing in Boca Raton real estate is a smart move for several reasons. The following table outlines positive trends in the local property market:
| | |
| --- | --- |
| Trends* | Explanation |
| Steady growth in year-over-year (YOY) median sale price | Boca Raton consistently marks an upward movement in median home sale prices YOY. In January 2023, the prices were up by 13.7%, which is almost double the corresponding inflation rate of 6.4%. This indicates you're likely to enjoy effortless capital growth in the city |
| Low migration and relocation tendencies | Only 20% of existing Boca Raton residents opt to move out of the city. Most relocating residents prefer to stay within the city's metropolitan area, so the rental vacancy rate is usually low |
| Transit-friendly city landscape | Boca Raton scores 38/100 in terms of car dependency—it's a walkable and bikeable city, so all parts of the city have reasonable real estate prices |
*The info has been sourced from the latest housing market insights available on Redfin
Boca Raton has moderate to high storm and flood risk, which creates an innovative market for hurricane-proof property developers as well. Hard Money Loan Solutions can keep you up-to-date with more recent property trends in Boca Raton—give us a call at (855)-244-2220 if you're considering making an investment.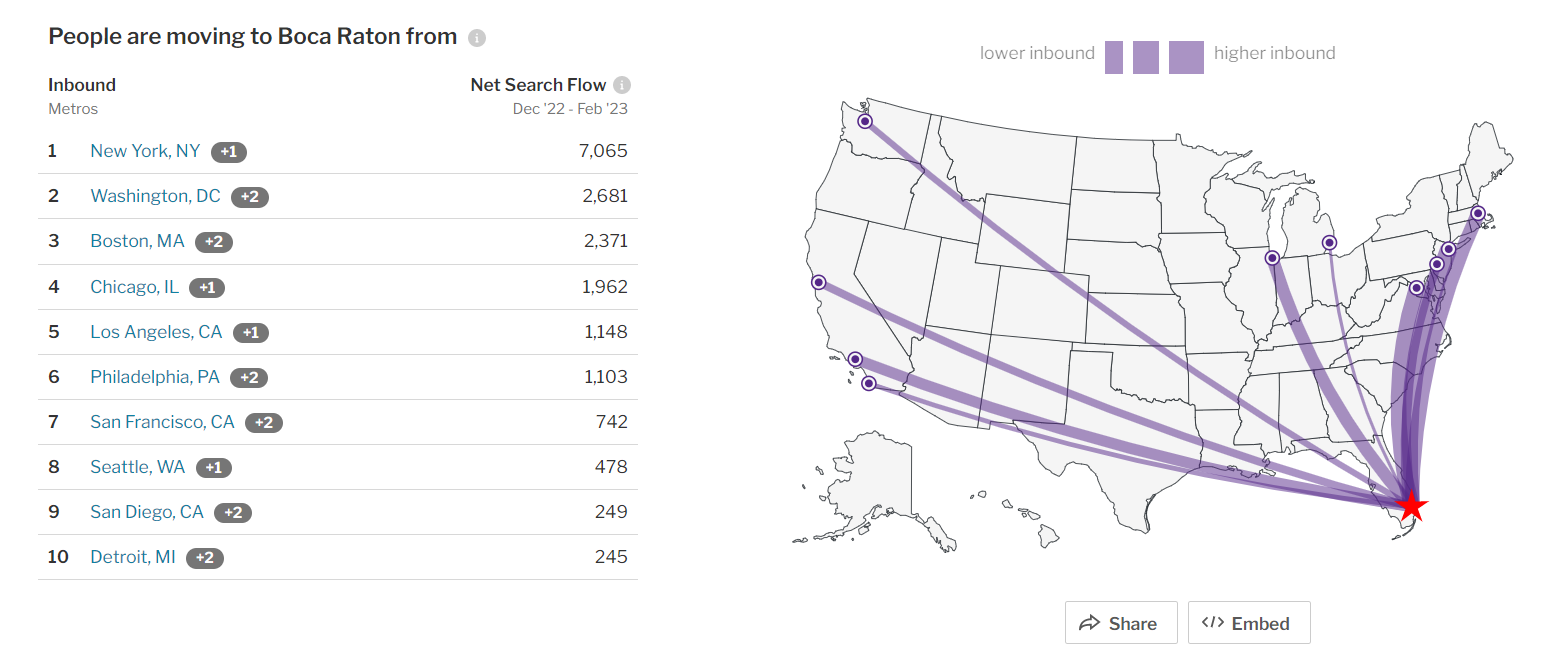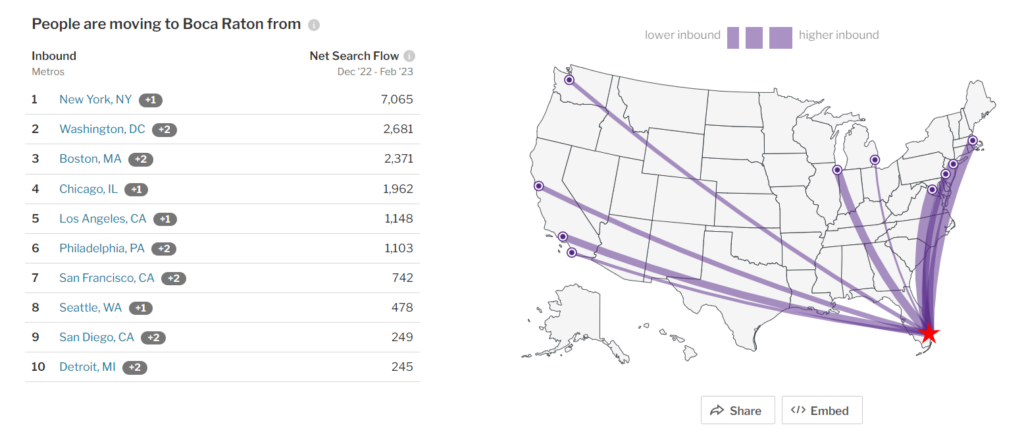 Source: Redfin
Navigating a
Hard Money Loan in Boca Raton
—Useful Investor Associations and Groups
If you're new to the property investment game in Boca Raton, building a network of fellow professionals can be quite helpful. Joining a Real Estate Investment Association (REIA) will enable you to form professional relationships, find lucrative deals, and grow your business. Here are four groups you can start with:
If you find it hard to juggle the intense socializing requirements of these organizations, you can benefit from Hard Money Loan Solutions. We have 20+ years of experience and maintain a top-notch networking pool in the area. We can steer you in the right direction for hot house-flip deals in Florida, acquisition openings, and other prospects. Contact us at (855)-244-2220 and let us know how we can be of help!
Real Estate Markets Beyond Boca Raton—Popular Options
Hard Money Loan Solutions provides multifaceted lending services in many Florida cities and counties. Check out some of the hot market alternatives beyond Boca Raton:
Note: All submitted information is kept in strict confidence and used solely for the purpose of obtaining a hard money loan and/or bridge loan. We do not share your information with any third parties without your consent.
Use our quick-start application below to begin the process. Once received, we will contact you via phone to verify your interest and to gather a few more details: