HILLSBOROUGH COUNTY, FL | HARD MONEY LOAN SOLUTIONS
Hard Money & Bridge Financing Solutions For The Greater Tampa Bay Area
ASSET BASED LENDING SOLUTIONS FOR THE GREATER TAMPA, FL AREA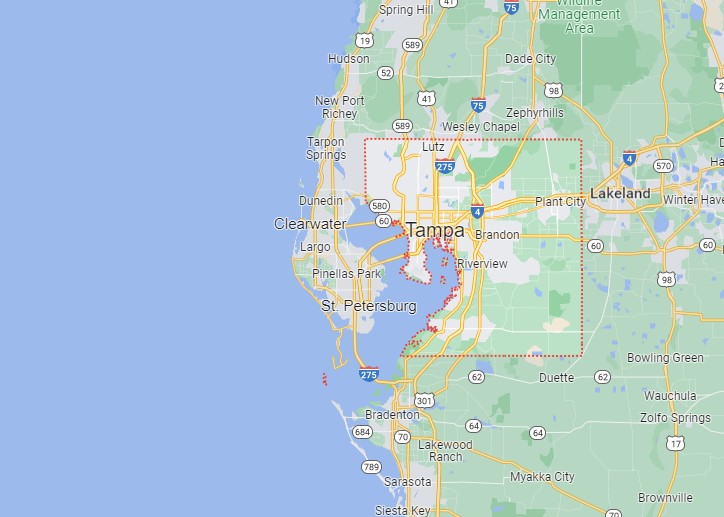 Tampa, Florida, is one of the up-and-coming cities for real estate investments, but the trick is to ensure fast funding before a lucrative opportunity passes you by. Hard Money Loan Solutions (HMLS) offers numerous loan products, such as purchase, refinance, rehab, bridge, construction, and fix-and-flip loans. Out of all hard money lenders in Tampa, Florida, HMLS offers the best deals—get speedy funding and access it at your own convenience to bring your projects to a successful completion.
Bridge and Hard Money Loans in Tampa, Florida
All real estate investment projects are different and require a unique and personalized approach from trained professionals. Hard Money Loan Solutions is the best in the business because it provides:
Flexibility

—Real estate projects don't always go according to plan. Most banks and lenders don't entertain that possibility when setting payment terms, letting your projects come to a standstill. HMLS establishes terms that fit a customer's unique situation and revises them in case of aggravating circumstances to enable uninterrupted access to funds

Transparency

—Customers know from the start whether they will get funding and what to expect should they decide to accept the deal

Reputation

—A 5-star rating on Google, decades of experience, and expertise in the field should be a deciding factor and trust-building quality for any serious borrower

Commitment

—Once it approves a deal, HMLS never backs out. We see it through until the end, collaborating with the borrower to ensure the timely and successful completion of the project

Effortless application process

—Unlike banks and other lenders, HMLS doesn't require your bank statements, tax returns, or income proof to approve a loan. We make our decisions based on the value of the collateral, which means less paperwork, hasty approval (between 3 days and 2 weeks), and unrestricted access to funds
We handle application, approval, and financing in-house, enabling you to keep your project on track from start to finish. Call us at (855)-244-2220 to get a loan in record time and snap up a real estate investment opportunity in Tampa before the competition!
What Drives the Tampa Real Estate Market
Tampa has marked unprecedented economic growth in recent years, making it an ideal choice for a real estate investment. It is considered the economic hub of west central Florida, covering diverse areas that include tourism, finance, insurance, technology, health care, and construction.
Nearly 80 colleges, universities, and technical schools are located in the Tampa Bay area, and most of them are considered leading institutions for obtaining higher education—for example, the University of Tampa landed on Forbes' list of America's Best Colleges.
Tampa is also business-friendly, providing favorable corporate tax policies, low operating costs, and an excellent local labor force. It was named one of the best places to live, start a career, and launch a startup in 2022.
Housing Market Overview for Tampa, Florida
Tampa's housing market is fairly competitive, with home prices jumping over 8.4% in January of 2023 compared to the previous year. Other interesting Tampa housing market trends you should be aware of are:
Listed homes in Tampa get sold in about a month

—While average homes sell in about 34 days, hot properties go for around the list price in as few as 8 days. Some homes get multiple offers

Tampa attracts movers across different parts of the U.S.

—Most homebuyers interested in moving to Tampa come from New York, followed by Washington and Chicago. Other interested parties come from Boston, Los Angeles, Philadelphia, Miami, San Francisco, Seattle, and Denver. Most Tampa citizens looking to move choose to stay within the Tampa metropolitan area

Schools in Tampa are top-rated

—Elementary, middle, and high schools in Tampa are highly rated, with reviewers complimenting the dedicated staff, excellent curriculums, and high academic expectations from students
The above data testifies to the fact that investing in real estate in this city is a smart business and personal decision. Contact Hard Money Loan Solutions at (855)-244-2220 for a personalized quote and ensure fast funding for various types of real estate projects in Tampa, including:
Single-family units

Multi-family units

Short sales

Real estate acquisition

Bridge financing

REOs

Construction and reconstruction

Bank foreclosed properties

Special and/or unique projects
Tampa housing market data was obtained from Redfin.
Expand Your Real Estate Network Apart From Finding
Hard Money Lenders in Tampa, Fl
Navigating the competitive real estate market in Tampa is challenging without a proper support system, and that is why we encourage our clients to join a Real Estate Investment Association (REIA). Being a part of such an organization will enable you to expand your network, learn more about the business, collaborate with other professionals, and discover lucrative business opportunities. 
Check out the table below for leading REIAs in Tampa and surrounding areas:
| | |
| --- | --- |
| | With over 450 members, TBREIA is the best place to improve your real estate game. Regular meetings are held on the third Thursday of every month, from 6:30 PM to 9:30 PM |
| | Monthly meetings for Tampa REIA are held on the second Thursday of each month at 6:00 PM at The Godfrey Hotel & Cabanas Tampa |
| | REIC hosts monthly "guest speaker" dinners where prominent figures in real estate discuss relevant topics with the members. They are typically held between September and May on Wednesdays. Since the venue might change, it is best to get updates on the organization's website |
Besides solidifying your real estate network, all you need to complete successful projects is a hard money loan from Hard Money Loan Solutions. Call (855)-244-2220 and make us a long-term partner on your journey in the real estate business!
Other Cities To Find
Hard Money Loans
Besides
Tampa
You can obtain various loan products from HMLS even if you consider other parts of Florida. Explore different types of loans we offer in cities near Tampa and beyond:
Note: All submitted information is kept in strict confidence and used solely for the purpose of obtaining a hard money loan and/or bridge loan. We do not share your information with any third parties without your consent.
Use our quick-start application below to begin the process. Once received, we will contact you via phone to verify your interest and to gather a few more details: