CITRUS COUNTY, FL | HARD MONEY LOAN SOLUTIONS
HARD MONEY / BRIDGE LOAN SOLUTIONS FOR INVERNESS AND ALL OF CITRUS COUNTY, FL
HARD MONEY / BRIDGE LOAN SOLUTIONS FOR INVERNESS AND ALL OF CITRUS COUNTY, FL
The Citrus County housing market has been hot for quite some time now. While the prices have been going up, the demand doesn't seem to be retreating anytime soon. To fetch the best deal for yourself before your competitors, rely on Hard Money Loan Solutions (HMLS) for fast-track financing!
We are a Florida-native lending group offering flexible, time-sensitive, asset-based loans in all of Citrus County, including Inverness, Homosassa Springs, and Crystal River. Whether you're flipping properties or expanding your portfolio, we can match you with the best financing solutions without heavy-duty paperwork or scrutiny. Call HMLS today to request funding!
Bridge and Hard Money Loans in Citrus County, Florida
The increasing demand for houses in Citrus County creates a competitive environment that usually favors cash-rich buyers. Unfortunately, traditional lenders like banks and mortgage companies have a long-drawn-out financing process filled with inflexible requirements and paperwork submissions.
Hard Money Loan Solutions serves people who need quick financing without jumping through hoops. Our team follows a straightforward underwriting process to include even those customers who typically get ignored by conventional financiers.
You don't have to prove your creditworthiness or income stability to get our bridge and hard money loans. We evaluate factors like:
We offer a host of custom-tailored loan programs that work for every type of borrower, including homeowners, rental property investors, land developers, property flippers, foreign nationals, and buy-and-hold investors. With HMLS, you can expect the most well-rounded loan structure in Citrus County within these parameters:
Loan amount

—$100,000–$50,000,000+

LTV

—Up to 70%

Tenure

—Up to 3 years

Interest rates

—9.99%–12% (fixed rate)

Closing

—3 days to 2 weeks

Repayment

—Interest-only + balloon settlement

Origination

—2 points

Prepayment penalty

—No (for repayments after 6 months)

Retainer fee

—$1,500

Eligible properties

—Single- or multi-unit homes, condominiums, apartments, resorts, REOs, townhouses, malls, hotels,

commercial-zoned properties

, special structures, etc.
We can approve your loan within a day—call us at (855)-244-2220 to talk to our veteran consultants (no middlemen)!
Why HMLS Is the Best Provider of
Citrus
County
Loans
The HMLS team has 20+ years of real estate experience in the Florida scene. Our lenders don't believe in cut-and-dry loans but analyze every deal through a local lens to design a package that works best. Over the years, we have maintained a 5-star rating by delivering the most customer-centric products despite market challenges or individual complications.
Some of the best perks of making deals with HMLS include:
Affordable pricing structure (without junk costs like application or underwriting fees)

Transparent communications (no dillydallying)

Legally compliant products

Free professional property guidance throughout the tenure

No-fuss loan restructuring or term modifications

Minimal paperwork (we keep bank statements and tax returns out of the picture!) 
Citrus County Real Estate—Significant Market Drivers
Citrus County's real estate market is influenced by geographical and economic factors. With over 162,000 residents, the county is one of the less populated regions in Florida, making it an ideal getaway for those who enjoy spacious, crowd-free escapades. The laid-back vibe of the sleepy villages and towns in the area also attracts many retirees, so investing in senior-friendly communities and condos is gaining traction as well.
From a broader perspective, here are the top five drivers that fuel Citrus County's real estate market:
Proximity to major cities

—Citrus County is close to major cities like Orlando and Tampa. With an hour's drive, you can access those big-city amenities without having to put up with the everyday hustle and bustle

Huge wildlife tourism potential

—Wildlife lovers throng to the place to catch a glimpse of rare species like giant manatees, red wolves, indigo snakes, and fox squirrels, so investing in vacation homes is a smart move

Low traffic and crime rate

—Most long-term residents in Citrus County enjoy the region's idyllic, suburban-rural atmosphere and desire to

own their homes

Low cost of living

—Citrus County's cost of living is over

12% lower

than the national average. The place also has affordable healthcare thanks to institutions like Citrus Memorial Health System and Seven Rivers Regional Medical Center

Positive job market growth

—The county's job sector is growing at a rate of

1.85% every year

, attracting a lot of young professionals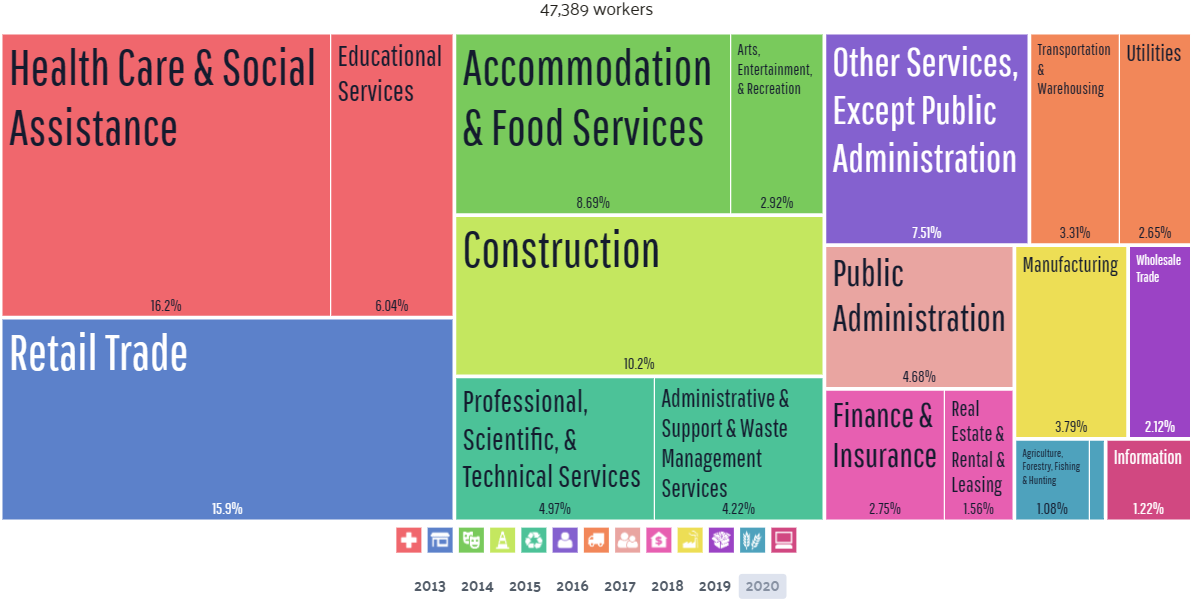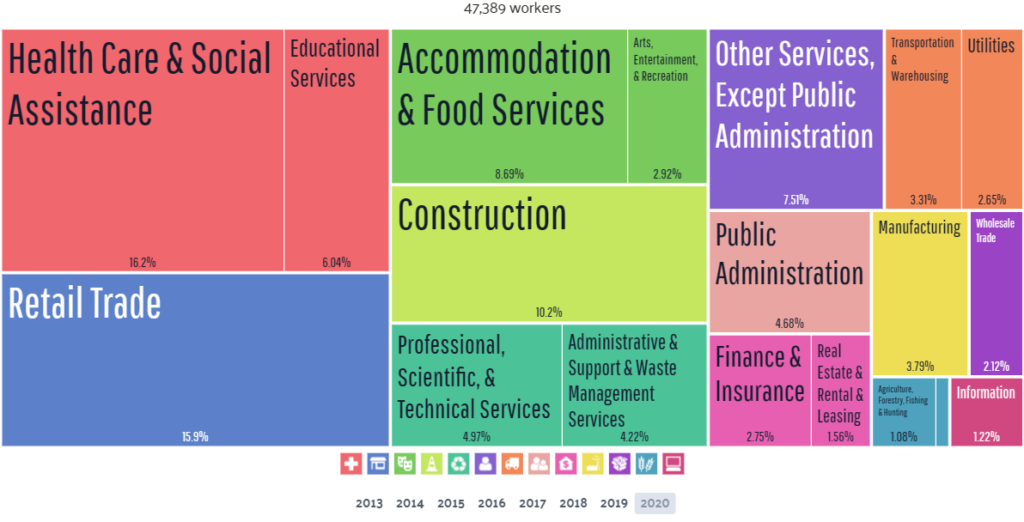 Top job sectors in Citrus County
Source: Data USA
Materialize an evergreen investment in Citrus County fast with Hard Money Loan Solutions. Call us at (855)-244-2220 to get started!
Top Housing Market Statistics for Citrus County, FL
Let's go over some current real estate trends in Citrus County:
| | |
| --- | --- |
| Data* | Analysis |
| Median sale price of a home was $275,000 in May '23 | The price is considered quite affordable in the Florida landscape, and you can expect year-over-year growth of 3%–4%  |
| Most homes sell within 33 days | It only takes about a month to find the right buyer in Citrus County, but you may have to sell below the list price if you are in a rush |
| 30% of the existing homes are considered at risk due to potential flood damage | Nearly one-third of the homes in the county can suffer flood damage, which leaves a potent opening for property rehabbers |
*Sourced from Redfin in July 2023
At HMLS, we are privy to the local scenario and can offer insights specific to your deal. We're available at (855)-244-2220 for a free consultation!
Does Citrus County Have Real Estate Investor Groups?
You won't find many Citrus County-specific investment groups, so you have to expand your search to other West and Central Florida associations. Here are some real estate groups worth checking out:
| | |
| --- | --- |
| Group | Remarks |
| | Small online group |
| | Non-members can attend meetings for a $20 fee |
| | Live and in-person meetings for members and non-members |
| | A non-for-profit group holding in-person meetings every month |
Beyond Citrus County—Florida Property Markets Worth Investing In
No matter where you invest in Florida, you'll likely see appreciation in the long run. Refer to our investment guides to explore some desirable locales:
Note: All submitted information is kept in strict confidence and used solely for the purpose of obtaining a hard money loan and/or bridge loan. We do not share your information with any third parties without your consent.
Use our quick-start application below to begin the process. Once received, we will contact you via phone to verify your interest and to gather a few more details: