OSCEOLA COUNTY, FL | HARD MONEY LOAN SOLUTIONS
HARD MONEY / BRIDGE LOAN SOLUTIONS FOR KEY WEST AND ALL OF OSCEOLA COUNTY, FL
ASSET BASED LENDING SOLUTIONS FOR THE GREATER KISSIMMEE, FL AREA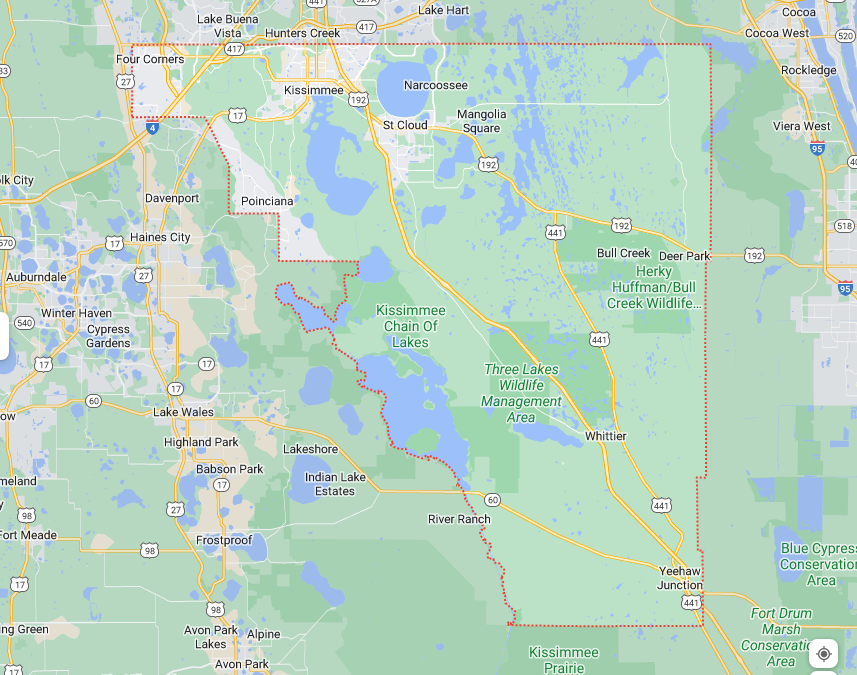 Osceola County is a strategic location for buying properties in Central Florida. The county has witnessed a significant population boom in the past decade, causing developers to increase their investments in the area. It's a competitive market right now, and you need reliable local lenders to bring you the funds to close deals quickly.
Trust Hard Money Loan Solutions (HMLS) to provide quick financing for your next property or commercial project. We serve in all Osceola County locations, including:
Kissimmee

St. Cloud

Buena Ventura Lakes
We have 20+ years of experience and can back purchases, refinances, rehabs, and everything in between—contact us to get started!
Bridge, Hard Money, and
Construction Loans in Osceola
County, Florida
At Hard Money Loan Solutions, we offer accessible and cost-effective financing solutions for all types of properties in Osceola County. Unlike other private lenders, we don't fuss about inflexible and hard-to-meet qualifying criteria for your credit score, income stream, or bank balance. Our products are short-term and based on the value of the asset you intend to buy.
We have loan programs to match different business and individual goals, such as:
Purchase

Refinance (with or without

cash-out

)

Foreclosure/REO properties

Working capital financing
Getting a loan approved is pretty straightforward—you talk to our lenders directly and have a tailor-made solution designed for your end goal. Our experts will underwrite the loan in-house based on practical factors like profitability potential and proposed repayment plan. Expect HMLS loans to have the following structure:
Loan size

—$100,000–$50,000,000+

LTV

—Up to 70%

Tenure

—1–3 years

Interest rates

—9.99%–12%

Rate type

—Fixed

Origination

—2%

Retainer fee

—$1,500

Closing time

—3–14 days

Amortization

—No amortization, interest-only payments

Prepayment penalty

—No (for settlements after six months)
You can acquire an HMLS loan for residential, commercial, and industrial properties or even special structures with minimal paperwork. We don't need bank statements, tax returns, asset statements, or other tedious documentation. For construction projects, your chances of approval are higher if you have well-projected plans or feasibility reports.
Why HMLS Is One of the Best
Hard Money Lenders in Osceola
County
HMLS is a dependable, customer-focused lender offering an outstanding 5-star-rated service in Florida. Our clients prefer doing business with us because we always have the best deals—without hidden costs or empty promises. We value transparent communications and strive to be lenient if a client wants to modify their loan or repayment strategy.
Call HMLS at (855)-244-2220 to get a free consultation for your property situation!
Real Estate in Osceola County, FL—Top Market Drivers
Osceola County is the big, bold heart of Florida and attracts both tourists and long-term residents. Packed with sprawling urban locales like Kissimmee and Campbell City, the county is the go-to for visitors who want to indulge in Florida's natural charm at a more relaxed pace.
Osceola County has always been a lucrative investment spot for hotels, holiday resorts, vacation homes, and rentals. The region is not only close to Disney World but is also home to many other amusement parks and sporting destinations. The county is at the top of the list for tourists who want a break from the commotion of life in jam-packed cities.
The real estate market in Osceola County is also driven by the spike in the number of permanent residents. From 2010 to 2021, the population of the region grew by 49.5%, represented by the following graph: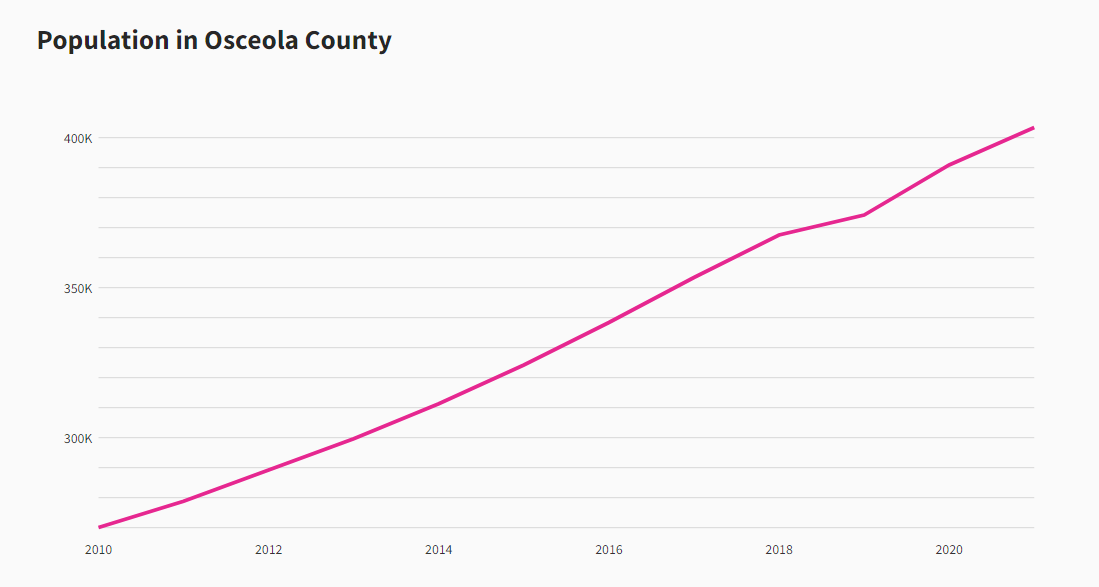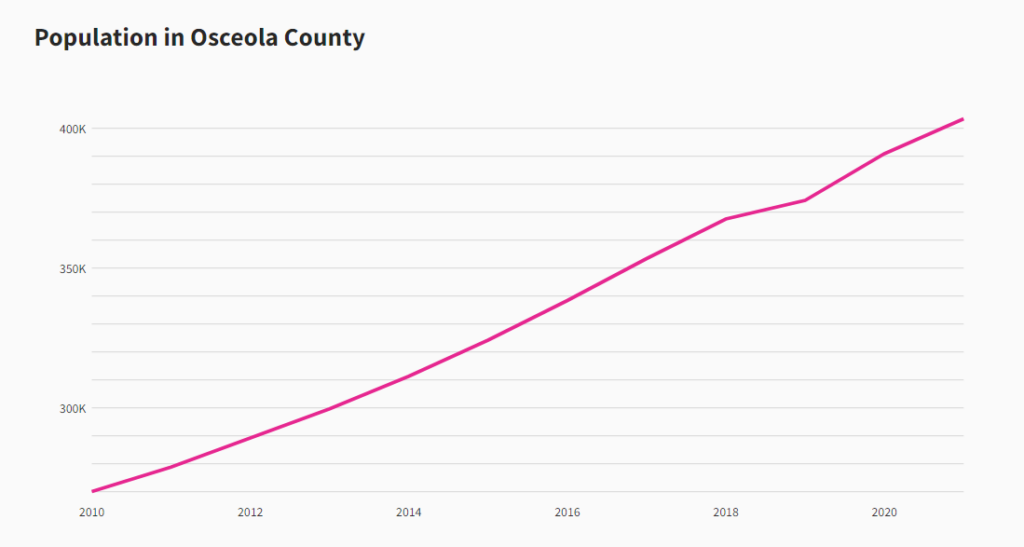 Source: USA Facts
The influx can be attributed to a number of reasons, including:
Cozy suburban communities

Low crime rate

Proximity to adventure hotspots

Mild temperatures all year round

Availability of formal and technical education

Thriving economy with multi-industry job prospects
To sum it up, Osceola County is a fairly reliable area to invest in—whether you're planning a property flip or a buy-and-hold, you'll likely see good returns.
Already picked out a property? Reach out to HMLS at (855)-244-2220 to get your deal moving!
Osceola County Housing Market Statistics Worth Noting
Check out the latest trends observed in the Osceola County housing market:
| | |
| --- | --- |
| Data* | Analysis |
| Median sale price of homes is $410,000+ | The median selling price for a home was $410,245 in May 2023, indicating an annual increase of 1.3%. The overall market has been on a steady upward trend, but the prices of condos and co-ops tend to be unstable |
| Median period on the market is 44 days | You can expect a listed property to sell within 44 days in the county. Not only is the demand high, but most properties go for higher than listed quotes  |
| Large renters' market | Over 64% of the properties in Osceola County are owner-occupied, leaving a huge opening for the rental market to grow |
*Sourced from the latest figures available on Redfin and Data USA
Talk to the experienced lenders at HMLS if you want insights on the long-term and short-term profitability prospects of a potential investment. We are available at (855)-244-2220.
Top Real Estate Investor Groups for Osceola County, Florida
There aren't many Osceola County-specific real estate investor groups around. You can find support in the following associations:
Getting Property and
Home Loans
Beyond
Osceola
County, FL
Contact HMLS if you want to expand your portfolio beyond Osceola County. Here are our investment guides for top locations:
Note: All submitted information is kept in strict confidence and used solely for the purpose of obtaining a hard money loan and/or bridge loan. We do not share your information with any third parties without your consent.
Use our quick-start application below to begin the process. Once received, we will contact you via phone to verify your interest and to gather a few more details: