NAPLES, FL | HARD MONEY LOAN SOLUTIONS
Hard Money & Bridge Financing Solutions For The Greater Naples Area
ASSET BASED LENDING SOLUTIONS FOR THE GREATER NAPLES, FL AREA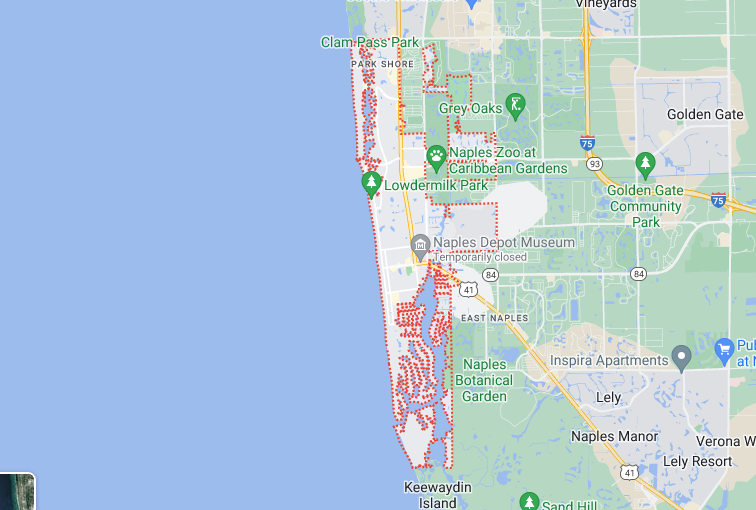 Naples is one of the wealthiest cities in the United States, with the second-highest proportion of millionaires per capita. The city's real estate market attracts top investors, developers, and entrepreneurs and is naturally quite competitive, so you need backing from a trusted financier to move ahead with confidence.
Hard Money Loan Solutions (HMLS) is a private lending group that can help you navigate the Naples real estate market by providing timely and unrestricted access to cash. Contact HMLS for speedy, flexible, and paperwork-light financing—we have tailor-made products for property acquisition, construction, equity cash-out, rehab and renovation, house-flipping, and much more!
Bridge and Hard Money Loans in Naples, Florida
Scoring big in the Naples real estate market is difficult with traditional financing because of tight underwriting and processing guidelines that can cause funding delays and rejections. Hard Money Loan Solutions (HMLS) expedites the process by offering loans based on the asset, not the borrower's income stream, credit history, or similar financial factors.
We offer short-term hard money and bridge loans to finance acquisitions and projects of any size or scope. Our team designs custom loans and models repayment plans according to your specific situation.
We give our clients constant guidance on the Naples real estate market that helps them plan and structure their investments sensibly. Our funding is accessible to everyone, including:
HMLS finances both owner-occupied and non-owner-occupied properties within state guidelines and can even support foreclosure/REO acquisitions. 
We Have the Best Lending Terms With No Hidden Costs!
At HMLS, we lend according to common sense-based collateral analysis and nothing more. Check out our lending terms for properties in Naples, FL:
Property type

—Single/multi-family units, condos, townhomes, apartments, retail and industrial buildings, special structures, etc.

Loan size

—$100,000–$50,000,000+

LTV

—Up to 70%

Tenure

—1–3 years

Interest rates

—9.99%–12% (fixed-rate)

Origination

—2 points

Closing

—3–14 days

Retainer fee

—$1,500

Monthly installments

—Interest-only (no amortization)

Prepayment penalty

—No (settle anytime after 6 months)
There are no hidden costs like upfront or underwriting fees—you get the most cost-effective deal in the city. 
We are a 5-star rated lender with a knack for meeting priority expectations. Give us a call at (855)-244-2220 and talk to a veteran lender about your financing needs. 
Top Driving Factors of the Real Estate Market in Naples, FL
Naples has become one of the most desirable south Florida cities to live in because of its spectacular residential locations, expansive golf courses, and high-end shopping avenues. Naples enjoys a high owner-occupied housing rate, which indicates the city's ideal status for long-term residency. The place is highly favored by families with kids due to benefits like: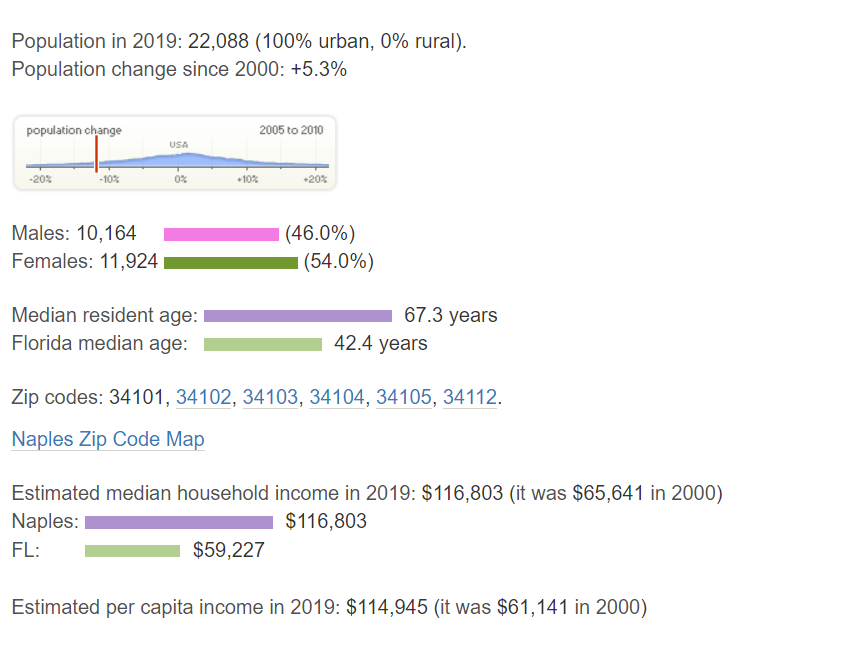 Source: City-Data.com
Naples is highly suitable for property purchase, construction, and expansion. Its bonafide home-to-millionaires status determines the high price of real estate and holds a lot of potential for the growth of luxury homes in the city.
Naples, Florida—Housing Market Statistics
Refer to the following table for an overview of current housing market trends in Naples, Florida:
| | |
| --- | --- |
| Data* | Interpretation |
| The median sale price of homes is $750,000 | Naples' property prices have risen by 19% in the past year. The pricing has enjoyed a steady annual upward trend since 2018 |
| 63% of resident home buyers prefer not to relocate | Outbound migration in Naples is low, which keeps the housing market stable. As for inbound migration, the city had 7,000+ residents coming from different metros in the Dec '22–Feb '23 period, with 4,000+ migrating from Chicago, Boston, and New York alone |
| There are more than 3,000 active listings in the city | The number of active monthly listings has decreased significantly over the years because of the fast-paced renter's and buyer's markets. A listed home gets two offers on average and usually finds a buyer within 42 days |
*The data in the table has been sourced from the latest figures available on Redfin and FRED
At Hard Money Loan Solutions, we offer advice based on specific trends that may influence your deal. Whether your goal is profitability, cost management, or long-term savings, call us at (855)-244-2220 to ask for objective counseling from an in-house expert.
Handy Investor Groups in Naples, FL
If you're exploring investment opportunities in Naples or even southwest Florida, it will serve you well to have support from investment and business groups. Here are some available choices:
If you don't find the immediate investor ecosystem supportive enough, Hard Money Loan Solutions has got your back. We have championed the local market for decades and have an extensive network of core industry professionals. Ring us up today at (855)-244-2220 to discuss interesting leads or support services!
Hard Money Loans for Other Top Florida Locations
The popularity of Naples extends to real estate markets of neighboring cities and counties in Florida. Check out other Florida cities and areas worth exploring:
Note: All submitted information is kept in strict confidence and used solely for the purpose of obtaining a hard money loan and/or bridge loan. We do not share your information with any third parties without your consent.
Use our quick-start application below to begin the process. Once received, we will contact you via phone to verify your interest and to gather a few more details: