ST. LUCIE COUNTY, FL | HARD MONEY LOAN SOLUTIONS
HARD MONEY / BRIDGE LOAN SOLUTIONS FOR FORT PIERCE AND ALL OF ST. LUCIE COUNTY, FL
ASSET BASED LENDING SOLUTIONS FOR THE GREATER FORT PIERCE, FL AREA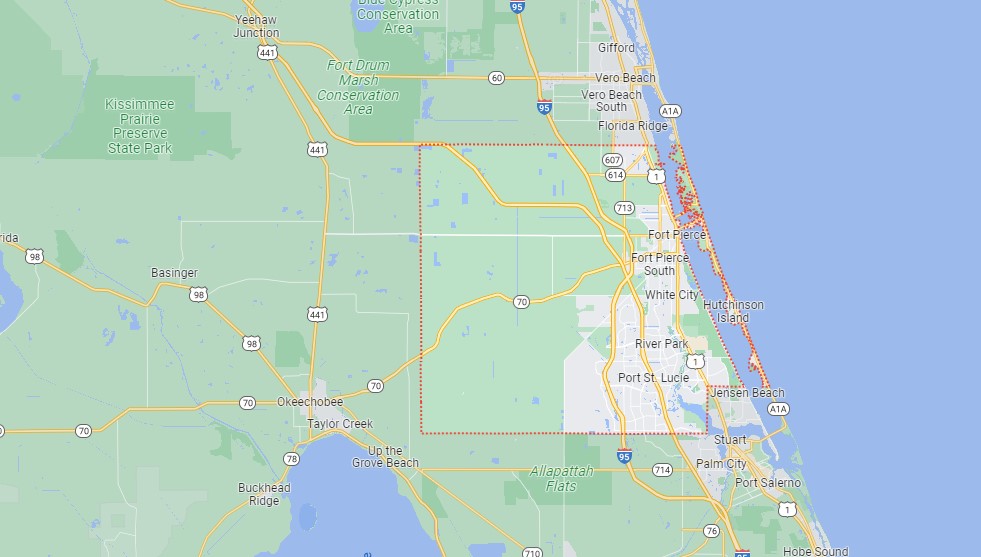 St. Lucie and Fort Pierce areas belong to the Treasure Coast region of Florida and have witnessed high-density development along with skyrocketing housing prices in the past few years. With a significant population surge across St. Lucie County, it's a great time to invest in the area, and Hard Money Loan Solutions (HMLS) can help you secure your favorite property right away!
HMLS offers short-term mortgage lending in Port St. Lucie, FL, and other hot locations in the state. We do asset-based loans without credit checks or paperwork hassles, delivering funding in as little as three days—call us for any commercial or housing project!
Bridge and Hard Money Loans in St. Lucie County, Florida
Getting a regular bank loan can be a long-drawn-out process lasting up to months, which isn't convenient as hot properties in St. Lucie County get scooped up within days. That's why you need experienced mortgage lenders like Hard Money Loan Solutions to back you up—we have a huge capital pool and can fulfill funding within ten days!
HMLS loans are underwritten in-house and based on the asset value or profit margin. You can qualify regardless of your credit score, job stability, nationality, or financial history. We offer hard money loans and bridge solutions for:
Purchase

Fix-and-hold/

rental investment

Land development

Business buyouts

Special projects
HMLS financing is efficient, paperwork-light, and 100% client-focused. We set up tailor-made loans keeping you in mind and also offer flexibility in structure to keep your project moving. Take a look at our primary lending structure in St. Lucie County:
Loan size

—$100,000–$50,000,000+

LTV

—Up to 70%

Tenure

—1–3 years

Interest rates (fixed)

—9.99%–12%

Origination

—2 points

Closing

—3–14 days

Monthly payment

—Interest-only

Prepayment penalty

—No (if settled after six months)

Retainer fee

—$1,500

Hidden costs

—No
We also provide investment advice and consulting services for free. Call us at (855)-244-2220 to discuss your situation! Our analysis team delivers one-day approvals.
Why HMLS Is the Best
Mortgage Lender in Port. St. Lucie
and Fort Pierce Area
HMLS is a top-rated lender with a history of successful dealings in Florida metros and even offbeat areas. We don't believe in holding up applicants, making sure our transactions are transparent, ethical, and legally compliant throughout. Our team is made of veteran lenders and entrepreneurs who:
Empathize with the local market challenges

Propose innovative solutions

Act fast for time-sensitive deals
HMLS products are versatile and can support all types of properties, including owner-occupied and foreclosure properties. Call us to get started!
St. Lucie County, FL—Pricing Projections and Real Estate Driving Factors
St. Lucie County, along with the rest of the Treasure Coast area, saw a massive jump in real estate demand, especially since the COVID-19 pandemic. There have been newcomers wanting to buy properties in the area, causing a supply shortage and a demand-based price rise. The upward trend in prices is expected to continue until 2029. Check out the concentrated predictions for Port St. Lucie (the city):
Source: Wallet Investor
The main factors that drive the population to the area are the warm climate and the rock-solid economy. According to a recent analysis, St. Lucie County is growing by $1.8 billion thanks to new and expanding businesses that add thousands of jobs to the area every year. Other attractive perks of the county include:
Top-tier schools

Miles of beaches and trails

Laidback Florida lifestyle

Unique boutiques

Exquisite cuisine

Hot retirement venue
People wanting to move into St. Lucie County makes the area ideal for:
Homeownership

House flips
Essential Housing Market Stats for Investing in St. Lucie County
Here are some fresh stats to help you navigate the St. Lucie County market better:
| | |
| --- | --- |
| St. Lucie County Data* | Interpretation |
| The average sale price rose by 20.5% in 2022 | The average sale price saw a decent rise of 20.5%, while the rise in median sale price was 7.5% |
| 26.4% of the close sales were cash sales | Cash sales often indicate the number of investors in the market. More than one-fourth of the buyers in the county are ready to make cash deals, making them attractive  |
| The rental vacancy rate is 13.31% | The county's for-rent listings fill up fast. The rental rate has been rising at around 8% in metro areas like Port St. Lucie |
*Based on the latest data available on Redfin, Department of Numbers, and FloridaRealtors
Hard Money Loan Solutions can give you more tailored statistics and trends based on your property location. Reach out to our analysts at (855)-244-2220 before you invest.
Useful Investor Support Groups in St. Lucie County, Florida
If you're serious about Treasure Coast investments, local Real Estate Investor Associations (REIAs) and investor support groups can help you spread your wings. Here are our top picks:
Group/Association

Details

Annual membership starts at $149

2+ meetings monthly

South East Florida Real Estate Investors Association (SEFREIA)

Weekly lunch meetings

Safari bus tours available

Fee charged per event

40,000+ members

120 local chapters

Lively events

Access to local events

Membership only available to business entities

1,000+ members

Meetups on the first Tuesday of every month
Keeping track of multiple events can be exhausting and often logistically undesirable. At Hard Money Loan Solutions, we also offer networking benefits to our clients on a need basis. We have been in the market for decades and have good relations with core groups. Give us a call at (855)-244-2220 to grow your journey as an investor!
Other Thriving Real Estate Markets in Florida
For growth-minded investors, there are several hot markets to explore beyond St. Lucie County. Check out our favorites:
Note: All submitted information is kept in strict confidence and used solely for the purpose of obtaining a hard money loan and/or bridge loan. We do not share your information with any third parties without your consent.
Use our quick-start application below to begin the process. Once received, we will contact you via phone to verify your interest and to gather a few more details: