ST. PETERSBURG, FL | HARD MONEY LOAN SOLUTIONS
Hard Money & Bridge Financing Solutions For The Greater St. Petersburg Area
ASSET BASED LENDING SOLUTIONS FOR THE GREATER ST. PETERSBURG, FL AREA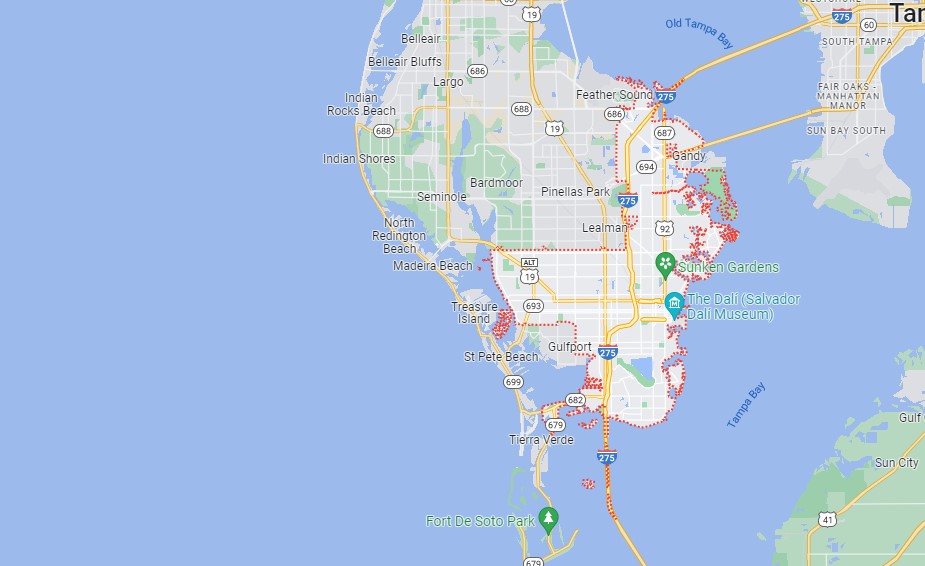 St. Petersburg is one of the top five hottest housing markets in Florida. The city, along with the rest of the Tampa Bay area, has witnessed regular drops in housing inventory in the past few years. Having a savvy local lender on your side gives you the much-needed edge when bidding for in-demand properties in the city.
Hard Money Loan Solutions (HMLS) is the private lender you need to close deals fast in St. Petersburg. We offer client-focused mortgage services with no credit or income checks and minimal paperwork. Call us today for easy-to-acquire fix-and-flip, rehab, refi, construction, acquisition, and rental loans!
Bridge, Hard Money, and
Fix-and-Flip Loans in St. Petersburg, FL
The constant supply squeeze in St. Petersburg's housing scene makes the market favorable for cash-rich buyers. Traditional financing is often a no-go because banks take at least two months to screen and approve applicants. The need for instant funding is fulfilled by Hard Money Loan Solutions (HMLS)—we can deliver in as little as three days! We offer:
Our loans are asset-based and available to everyone, including applicants with bad credit and foreign nationals. We provide hassle-free construction and fix-and-flip loans as long as the profitability makes sense.
HMLS loans are custom-designed by our experienced team, offering full flexibility to borrowers. We structure our St. Petersburg hard money loans on the following parameters:
Loan size

—$100,000–$50,000,000+

LTV

—Up to 70%

Tenure

—1–3 years

Interest rates

—9.99%–12%

Origination

—2 points

Closing

—3–14 days

Repayment

—Interest-only with a final balloon payment

Prepayment penalty

—No

Retainer fee

—$1,500

Eligible properties

—Single/multi-unit homes, condos, apartments, townhouses, retail/commercial-zoned properties, special structures, etc.
We communicate approvals within 24 hours, often with no documentation. Talk to our lenders directly at (855)-244-2220 to forward your deal!
Perks of Working With HMLS
HMLS is the #1 lender in Tampa Bay-St. Petersburg area because of consistent, customer-first services. We have a 5-star rating on Google—the top perks of working with us are:
Transparent communications

No junk fees

Fair rates

Light paperwork (no bank, income, or asset statements)

Timely delivery as committed

Modifiable terms

Free consultancy services

Understanding approach (especially during market drops)
HMLS has multiple popular programs, including cash-out refinance, renovation, and business acquisition. We also have a knack for handling loans rejected by traditional lenders. If you have a funding crisis, give us a call!
Is the St. Petersburg, FL, Real Estate Market Worth Investing In?
St. Petersburg promises the same sunny climate and fun beaches as its metro counterpart, Tampa, but is more affordable in terms of cost of living. The sustainability-friendly city has a lot of character—it offers residents the full spectrum of options for education, jobs, sports, business, arts, cuisine, and adventure. St. Petersburg attracts couples, families with kids, retirees, and vacationers from all parts of the U.S.
The housing market has been seller-friendly since 2020 and is expected to be so in the coming years. Because of the growing demand, the city also holds incredible construction potential. St. Petersburg's rental market is fairly stable, reaching its peak in winter and spring break due to the influx of long-term vacationers.
Check out the age and types of homes in St. Petersburg:

Source: Neighborhoods Scout
Single-family homes remain one of the most popular structures in the city. More than half the homes in St. Petersburg seem aged, which drives a thriving house-flipping market. To sum it up, the city is practically a treasure trove of golden real estate opportunities!
St. Petersburg, FL—Fresh Housing Market Stats
Refer to the latest statistics about the housing scene in St. Petersburg, Florida:
| | |
| --- | --- |
| Data* | Explanation |
| An annual increase of 13.7% in median sale prices | Housing prices in St. Petersburg have been on a steep rise since 2020 |
| Homes sell in roughly 31 days | Hot homes sell in a week, while average ones take 31 days to go off market |
| The city's outbound migration rate is 29% | 71% of St. Petersburg homebuyers got new homes within the city. As for inbound migration, the area saw 3,000+ new residents from New York, Washington, and Chicago alone |
| Renters–owners ratio is 38.8%–61.2% | The city has a rich renters' market. Most landlords in the area prefer short-term rentals |
*Based on the latest trends displayed on Redfin and Neighborhoods Scout
Trends keep changing—if you want fresh insights on the market, contact Hard Money Loan Solutions. Our team can recognize good and bad deals in the area pretty quickly. Reach out to us at (855)-244-2220 for an objective analysis!
Useful Associations and Groups for St. Petersburg Investors
There aren't many large investor groups in the city, but you may find the following beneficial:
We understand these options are limited. You can seek wider networking support with Hard Money Loan Solutions. We're familiar with the city's real estate ecosystem and can direct you to suitable contacts. Contact us at (855)-244-2220 for a helping hand!
Hot Florida Markets Beyond St. Petersburg
Check out our insights for other growing housing markets in Florida:
Note: All submitted information is kept in strict confidence and used solely for the purpose of obtaining a hard money loan and/or bridge loan. We do not share your information with any third parties without your consent.
Use our quick-start application below to begin the process. Once received, we will contact you via phone to verify your interest and to gather a few more details: