HILLSBOROUGH COUNTY, FL | HARD MONEY LOAN SOLUTIONS
Hard Money & Bridge Financing Solutions For The Greater Tampa Bay Area
ASSET BASED LENDING SOLUTIONS FOR THE GREATER TAMPA, FL AREA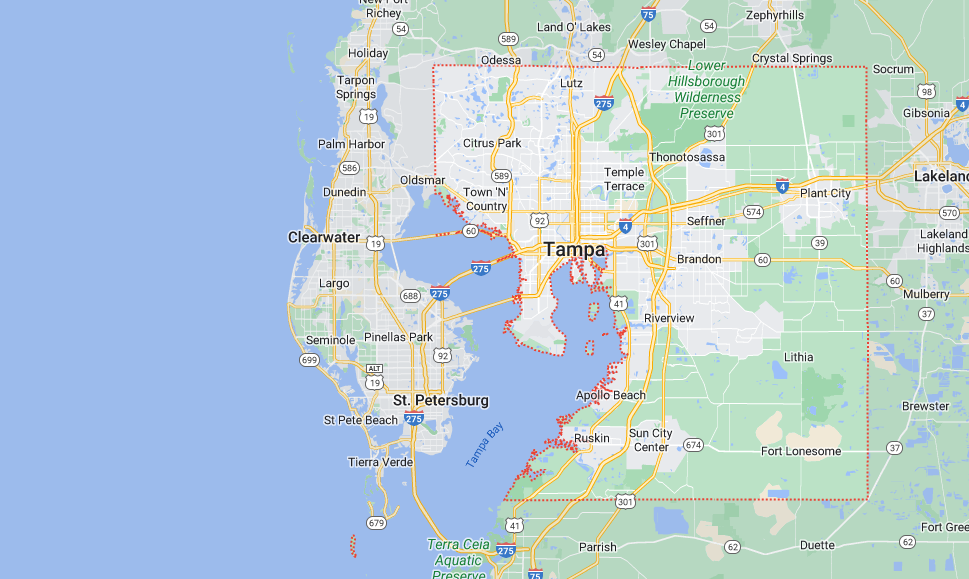 Hillsborough County shares the bustling economy and rich housing market with its premier city, Tampa. Navigating the county's ever-shifting real estate market can be challenging, and it's a good idea to have constant funding support and guidance from a local lender.
Hard Money Loan Solutions (HMLS) is a direct private lender offering asset-based bridge and hard money loans in the Hillsborough market. We have 20+ years of experience and can match you with cost-effective loans for purchase, refinance, construction, business, property flip, or rehab. No pointless paperwork or scrutiny—call HMLS today for fast and hassle-free financing!
Bridge and Hard Money Loans in Hillsborough County, FL
Financing real estate in Hillsborough County can be done via two routes—banks and hard money lenders. Banks offer the lowest long-term interest rates but can take months to process mortgages according to guidelines, causing you to lose out in volatile markets. Private asset-based lenders like Hard Money Loan Solutions are the much-preferred choice when it comes to time-sensitive and convenient financing.
HMLS delivers bridge and hard money loans—both short-term mortgages—within three days to two weeks, allowing clients to accomplish goals without delays. Our products can be used to:
We underwrite loans in-house and don't waste time asking for irrelevant documents like credit reports or bank statements. Our team pays attention to unique deal-specific needs and models every loan accordingly. We follow a 100% transparent lending framework, summarized below:
Size

—$100,000–$50,000,000+

LTV

—Up to 70%

Tenure

—1–3 years

Interest rates

—9.99%–12% (fixed)

Origination

—2 points

Closing

—3–14 days

Repayment

—Interest-only with balloon settlement

Prepayment penalty

—No

Eligible applicants

—Homeowners, investors, house flippers, business entities, foreign nationals, etc.

Credit score/income

—No minimum

Experience

—Not required

Hidden costs

—No
Contact our lenders at (855)-244-2220 and get pre-approved within 24 hours!
Use HMLS Guidance To Get an Edge in Hillsborough Market
At HMLS, we look at factors like your repayment strategy or project profitability to approve loans. We're invested in your success and offer free one-on-one coaching to help you reach the desired goals for your Hillsborough investments.
HMLS is a 5-star-rated group because of our strong customer relationship values. We're supportive in the event of local market challenges and bring savvy solutions to the table. Contact us for funding any commercial or residential property—we can also support foreclosure properties or special structures with fair terms!
Hillsborough County, Florida—Key Market Drivers
Hillsborough County has been a magnet for attracting new residents from all over the U.S. Around 43,000 people moved to the county in the 2016–2020 period, with New York, Georgia, and North Carolina being the major feeders.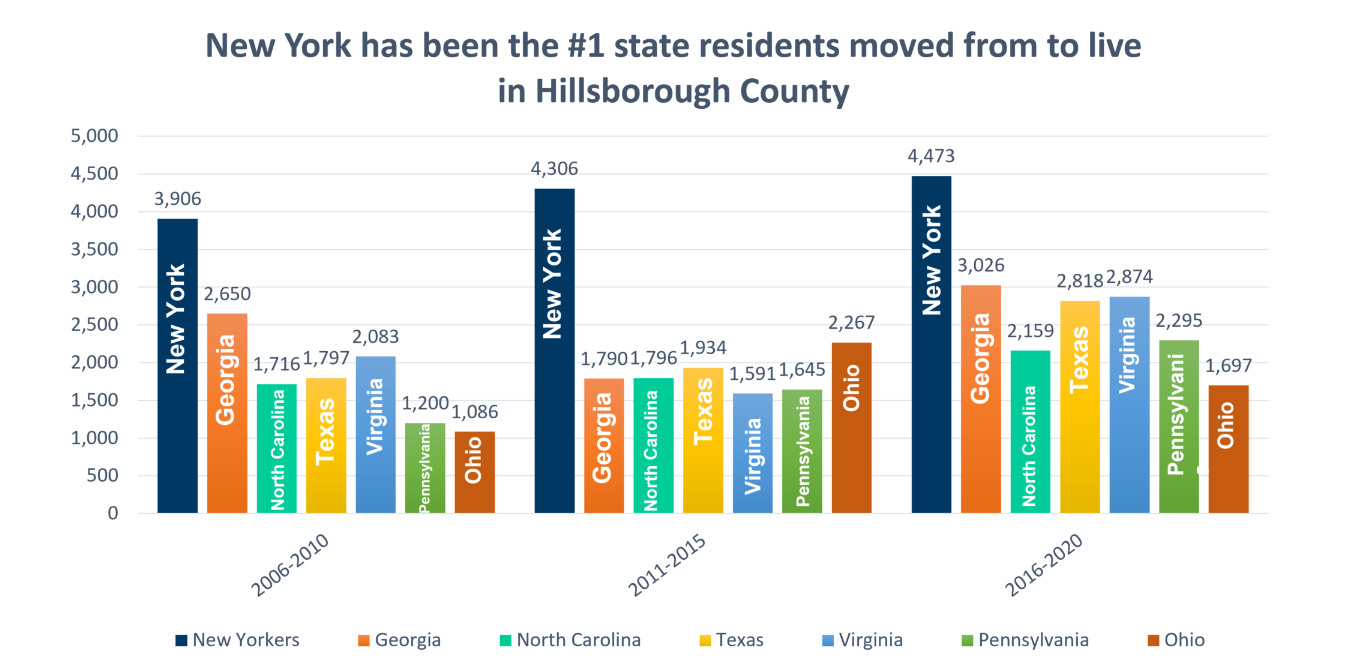 Source: Tampa Bay Economic Development Council
The county's housing prices are similar to the state's average, and the cost of living tends to be high, especially within city limits. Luckily, the area has many affordable towns that give residents a suburban-rural feel. Hillsborough County is considered an evergreen real estate market because of factors like:
State-of-the-art, rapidly developing infrastructure

Top-rated public and private schools

Low crime rate

Racial diversity

Good healthcare

Convenient transportation

Abundant recreational avenues

Classy cuisine options
The county has several beach access points—they're clean but many tend to be jam-packed. Hillsborough County is considered a hot job market, especially for engineers, surgeons, analysts, and dentists. The tourism and employment aspects make the area a stable market for affordable rental accommodations, with entry-level single-family homes having the best occupancy rates.
Ready to invest smart? Call HMLS at (855)-244-2220 for hands-on financing!
Hillsborough County Housing Market—Trends and Forecasts
Hillsborough County's housing market switches between favoring buyers and sellers. Check out the trends based on the latest data:
| | |
| --- | --- |
| Trend* | Analysis |
| Median sale prices increasing but reaching a saturation point | Hillsborough County has been a seller's market since the COVID-19 pandemic as the sale prices were rising at high rates. The increase in February 2023 was only 1.6%, which indicates that the market is starting to favor buyers |
| Falling inventory of closed deals | The closed sales in February 2023 have decreased by 22.4% year-over-year. The lowered demand makes it an opportune time to invest in the market at reduced prices |
| An upward trend in rental prices | Hillsborough County has diverse rental markets, with the metros being the most attractive. The rental prices increased by 16% in Tampa alone |
*Based on data available on Redfin and roofstock
Hard Money Loan Solutions offers updated forecasts tailored to your property, helping you make the right investment choices. Give us a call at (855)-244-2220 to capitalize on the buyer-friendly trends!
Investor Groups in Hillsborough County, FL
It's always recommended to engage with local investor groups to recognize opportunities and plan investment strategies. Here are four active groups relevant to the Hillsborough-Tampa area:
These groups typically serve the greater Tampa Bay area—covering Hillsborough and Pinellas counties—and have different requirements for memberships, meeting fees, etc. The meeting locations change over time as well, so visit the desired website for up-to-date info. You don't have to join all groups—most investors pick one that's geographically viable.
Other Attractive Investment Hotspots in Florida
Florida is lined with dozens of housing hotspots with high return potential. Check out the latest trendy investment locations:
Note: All submitted information is kept in strict confidence and used solely for the purpose of obtaining a hard money loan and/or bridge loan. We do not share your information with any third parties without your consent.
Use our quick-start application below to begin the process. Once received, we will contact you via phone to verify your interest and to gather a few more details: