ST. JOHNS COUNTY, FL | HARD MONEY LOAN SOLUTIONS
HARD MONEY / BRIDGE LOAN SOLUTIONS FOR ST. AUGUSTINE AND ALL OF ST. JOHNS COUNTY, FL
ASSET BASED LENDING SOLUTIONS FOR THE GREATER ST. AUGUSTINE FL AREA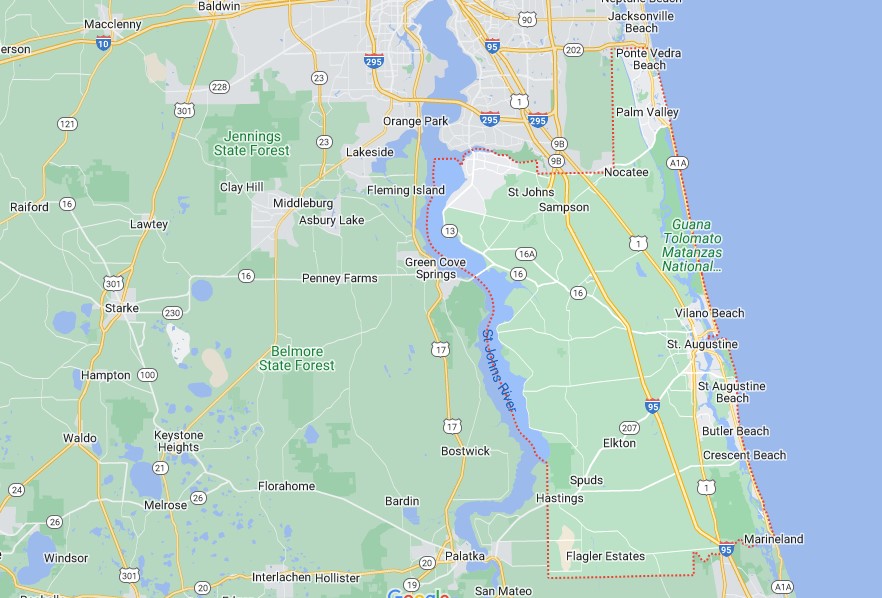 If you're looking to invest in a robust economy away from the hustle and bustle (and humidity) of South Florida, St. Johns County is a perfect choice. The northeastern county boasts of several stable housing markets like St. Augustine—and also holds the potential for lucrative commercial opportunities.
Hard Money Loan Solutions (HMLS) offers excellent financing programs to facilitate smooth and quick real estate deals in St. Johns County. We are a professional group with extensive lending experience in Florida markets. Call us for purchase, construction, rehab, refinance, or other projects—competitive rates and no annoying paperwork!
Bridge and Hard Money Loans in St. Johns County, Florida
Traditional financing often falls short in active real estate markets because the processing is too slow, and great deals don't last long. If you hate jumping through hoops of red tape for loans, Hard Money Loans Solutions is for you. We offer short-term, asset-based bridge and hard money loans sourced from private capital—our financing is:
Easily accessible to everyone, even foreign nationals

Efficient, often delivered within 3–10 days

Reliable and fairly structured
Our documentation requirements are light because of minimal financial scrutiny—you qualify without submitting elaborate bank statements or tax returns. We underwrite based on property value and scope of profitability, not your creditworthiness or income stream.
HMLS loans can be used for a variety of commercial and residential real estate projects, including fix-and-flips, new construction, renovation, land development, and equity cash-out. We design loans in-house on a case-by-case basis to fit the unique needs of each borrower.
Our terms are competitive and modifiable—check out our standard lending features below:
Loan size

—$100,000–$50,000,000+

LTV

—Up to 70%

Tenure

—1–3 years

Interest rates

—9.99%–12%

Origination

—2 points

Closing

—3–14 days

Repayment

—Interest-only with a final balloon payment

Prepayment penalty

—No

Retainer fee

—$1,500

Minimum credit score

—Not required
Know that we prioritize transparency and will never burden you with hidden junk costs like processing fees or underwriting fees like other lenders.
HMLS—Service Expectations
The foundation of HMLS is helping the community grow with well-timed real estate investments. Our team has industry experts offering bonafide guidance about local markets to all clients. Our relationship-focused approach has earned us a consistent 5-star rating on Google. We are one of the most flexible lending groups in the state, and for the right property, we can even extend our services in challenging situations like:
Bank rejections

Foreclosure risks
Have our committed team by your side–contact us at (855)-244-2220 to get started!
Core Market Drivers—St. Johns County Real Estate
St. John's County is lined with some of the coziest seaside communities in Florida. Areas like St. Augustine, Fruit Cove, and Ponte Vedra are known for their pristine beaches, luxury resorts, and safe and friendly neighborhoods.
In recent times, the county has become one of the priciest regions in the U.S., especially for single-family home buyers. The shortage of affordable housing inventory could be because of the county's staggering 52.9% population spike in the past decade! To put that into perspective, the population growth in the same period was 15.6% for Florida and only 7.3% for the U.S.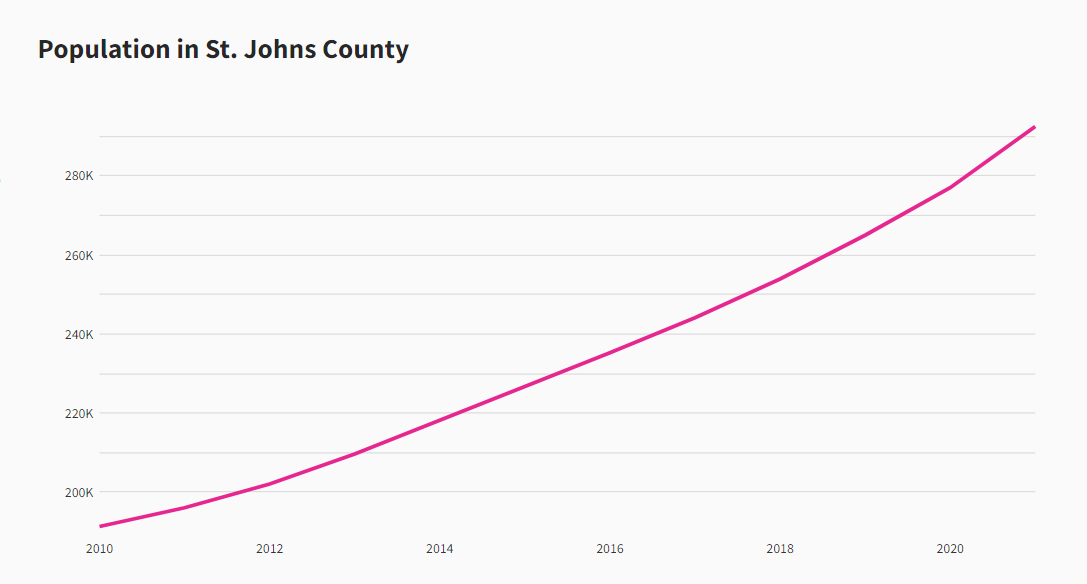 Source: USAFacts
The core driving factor of the county's real estate market is the unrivaled quality of life. The area offers:
Exceptionally rated and affordable schools

Easy transportation and access to all modern amenities

Multi-cultural cuisine

Breathtaking golf courses

Abundant water sports and fitness options

Relatively less risk of hurricane damage than in the rest of Florida

Visual charm of old settlements (fortresses, cathedrals, lighthouses, etc.)

Low unemployment rate
Locate your ideal property in St. Johns County and call Hard Money Loan Solutions for immediate financing. We're available at (855)-244-2220.
Fresh Market Statistics and Trends—St. Johns County, FL
If you're looking at numbers, St. Johns County's real estate market displays many positive trends. Refer to the following table for details:
| | |
| --- | --- |
| Data* | Interpretation |
| The median sale price of homes is $452,500 | The median sale price of a home in St. Johns County is higher than the Florida average of $384,500. According to experts, buyers may have the upper hand in the market in 2023 |
| Home appreciation in the last ten years has been 165.3% | The county's home appreciation rates are among the best in the state. The most appreciating neighborhoods include Rivertown and Durbin Crossing |
| 20.4%of the housing market comprises renters | The housing market mostly caters to homeowners and investors. The limited availability of rental properties has pushed the rental prices higher than the state average |
*Sourced from the latest reports available on Redfin, Houzeo, and bestplaces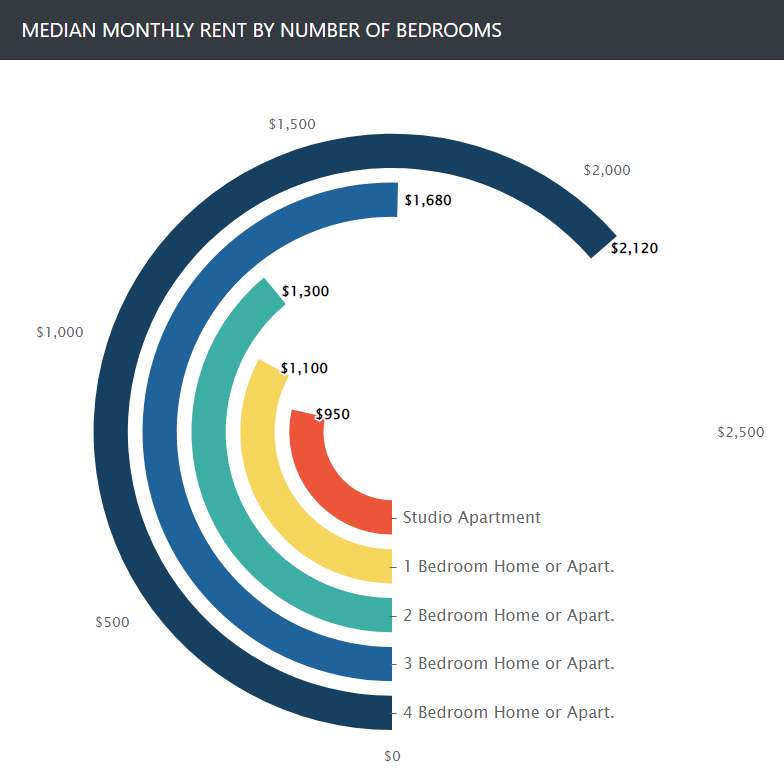 Source: bestplaces
St. Johns County continues to be a solid avenue for rental and hold investments. Our savvy team at Hard Money Loan Solutions can guide you on the latest trends affecting your deal. Give us a call at (855)-244-2220 for a free consultation!
Investor Groups Suitable for St. Johns County, FL
There aren't as many investor associations as South Florida in the northern/northeastern part of the state. The following five groups can help expand your network in the St. Johns County area:
Many of these groups are small in size but offer tunnel vision into the opportunities and strategies relevant to St. Johns County.
Top Florida Investment Locations Beyond St. Johns County
If you're planning investments, it won't hurt to explore a few other hotspots in Florida—we've compiled some for you below:
Note: All submitted information is kept in strict confidence and used solely for the purpose of obtaining a hard money loan and/or bridge loan. We do not share your information with any third parties without your consent.
Use our quick-start application below to begin the process. Once received, we will contact you via phone to verify your interest and to gather a few more details: