PALM BEACH GARDEN, FL | HARD MONEY LOAN SOLUTIONS
Hard Money & Bridge Financing Solutions For The Greater Palm Beach Garden Area
HARD MONEY LOAN SOLUTIONS IN PALM BEACH GARDENS, FL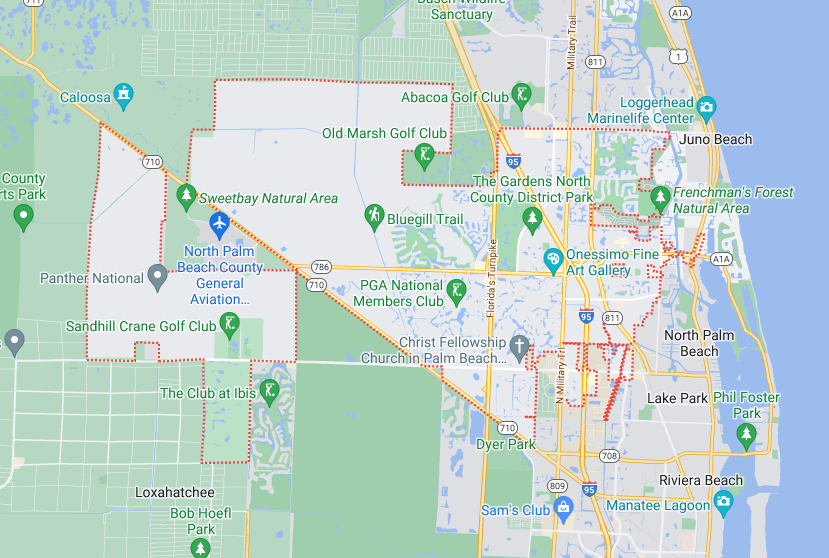 Florida's Palm Beach Gardens flaunts hundreds of high-priced luxury homes that are in demand all year round. If you want to buy a profitable property or build one, you'd want a savvy and reliable mortgage lender that knows the area well.
Hard Money Loan Solutions (HMLS) is the experienced lender you need to navigate the Palm Beach Gardens market with speed and confidence. We are privy to the neighborhood and can help you tap into lucrative opportunities at the best costs. Contact HMLS for investment, business, construction, or self-occupied projects and get a customized financing solution in no time!
Bridge, Hard Money, and
Investment Loans in Palm Beach
Gardens, Florida
Traditional bank financing is not conducive to time-sensitive goals because of the heavy paperwork requested and the arduous screening process that follows. There's also the looming fear of rejection due to regulatory rules, which hurts an applicant's confidence.
At Hard Money Loan Solutions, we prioritize your priorities from the get-go. Our team comprises veteran lenders who can make the funding decision within hours and set your project on the right track. We offer short-term hard money loans, including bridge, cash-out refinance, new construction, fix-and-flip, and investment property loans for all commercial and residential projects.
Besides providing accessible financing, HMLS custom-designs each loan to maximize borrower convenience. For properties located in Palm Beach Gardens, we have these lending parameters:
Property type

—Family units (single/multi), condos, townhomes, apartments, retail/industrial buildings, etc.

Loan size

—$100,000–$50,000,000+

LTV

—Up to 70%

Tenure

—1–3 years

Interest rates

—9.99%–12% (fixed-rate)

Origination

—2 points

Closing

—3–14 days

Retainer fee

—$1,500

Monthly installments

—Interest-only (non-amortized)

Prepayment penalty

—No (settle anytime after 6 months)
HMLS serves all borrower profiles, including foreign nationals. We're open to funding unique projects that other lenders avoid. Talk to our in-house lenders at (855)-244-2220 to get your deal moving!
Why HMLS Is One of the Top
Hard Money Lenders in Palm Beach
Gardens, FL 
HMLS makes navigating properties in Palm Beach Gardens smooth and easy, especially for new investors. Our team offers free one-on-one guidance and forwards innovative solutions and loan modifications even when the market is turbulent.
Qualifying for our products is easy because there are no credit score or income barriers, which knocks down the documentation requirements! As long as the asset is healthy or the project looks profitable, we have no problem approving it. We have a 5-star rating on Google because of our transparent, no-nonsense approach to building mutually beneficial, long-term client relationships.
What Drives the Real Estate Market in Palm Beach Gardens, FL?
Palm Beach Gardens often gets voted as one of the most desirable places to live in Florida. The city has witnessed a steadily rising population in the past 40 years, making it a reliable place to invest in.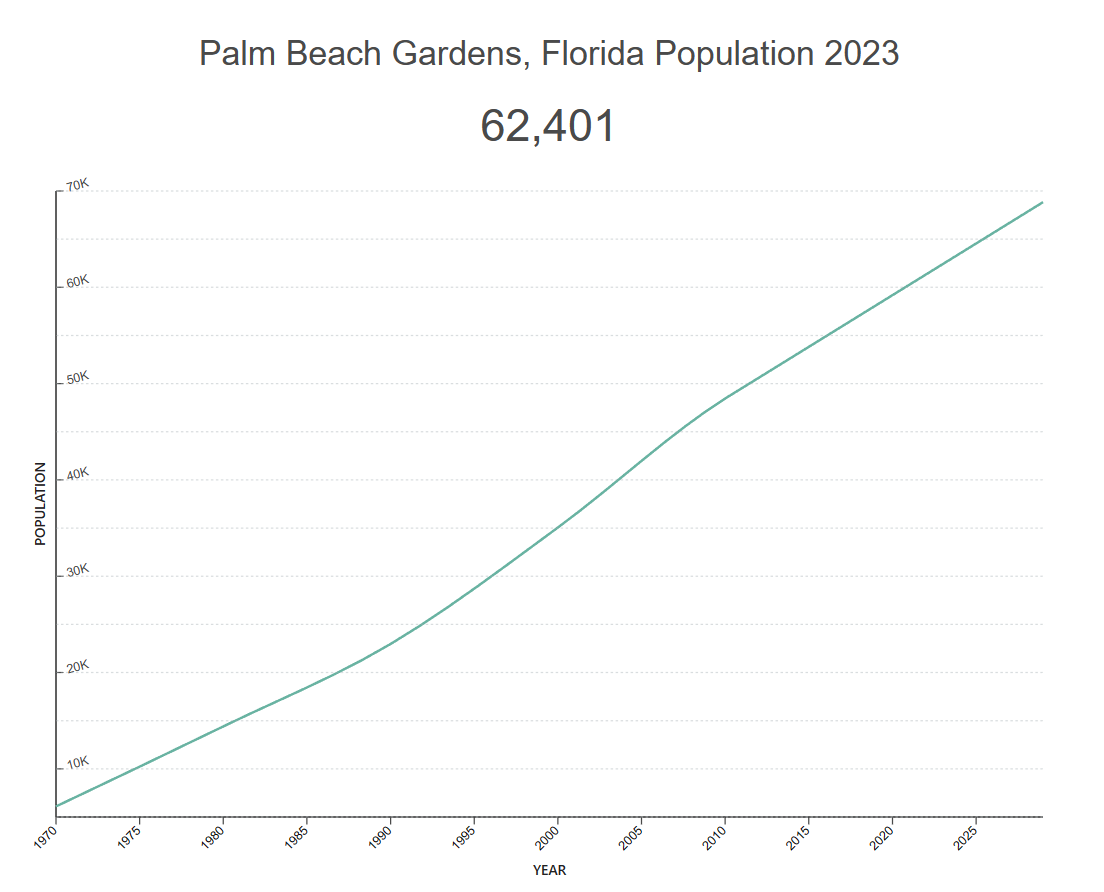 Source: World Population Review
Palm Beach Gardens is a hotspot for raising a family because of its posh neighborhoods, booming economy, and affluent quality-of-life potential. It's not as crowded as Miami (which is only an hour away) and has more leisurely beaches and recreational centers.
The city has stellar middle and high schools that focus on developing a child's critical thinking abilities. The local Palm Beach State College is an award-winning institution known for its job-oriented degrees and sustainability campaigns.
The area's rental appeal is enhanced due to its:
Colorful, multi-cultural nightlife

Spots for wine, cigar, and spa aficionados

Relaxed hiking trails

State-of-the-art golf courses and tennis courts

Affordability factor (for high-to-middle-income groups)
Palm Beach Gardens, FL—Savvy Housing Market Statistics
It pays to follow numbers more than instincts when exploring property investments. Palm Beach Garden housing stats are quite promising—check them out:
| | |
| --- | --- |
| Data* | Interpretation |
| A competitive market for hot homes | Palm Beach Gardens is an okay market for regular homes—but a hot one for luxury properties. Average homes take 61 days to sell, while upscale homes need only about 32, so it's smarter to invest in the latter |
| 80% of resident home buyers prefer not to relocate | Palm Beach Gardens has a decent pool of long-term residents as the relocation rate is low. The city also attracts many new movers from metros like Washington, New York, and Boston |
| Rents are 36.6% higher than the metro-wide median | The city boasts excellent rental potential, and listings get occupied pretty quickly |
*Sourced from the latest figures available on Redfin and Apartment List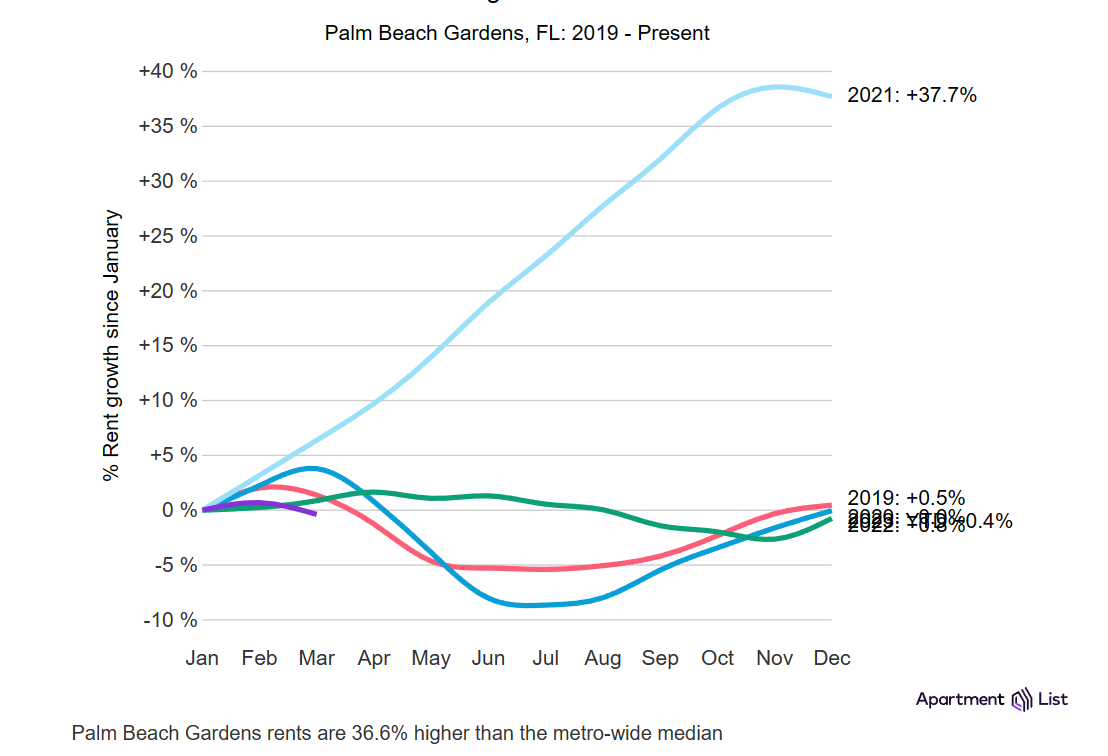 Source: Apartment List
Keep in mind that these are generalized figures. The team at Hard Money Loan Solutions can give you investment-specific insights because we care about client success. Reach out to HMLS experts at (855)-244-2220 to get a free consultation.
Useful Groups for Real Estate Investors in Palm Beach Gardens
The following groups can help you expand your real estate circle in Palm Beach Gardens, FL:
Real Estate Investment Associations (REIAs) in Palm Beach Gardens can be a bit dull as only a few people actually show up for meetings. Hard Money Loan Solutions can help you with richer support in terms of networking and securing hot deals. We've been in the industry for decades—contact us at (855)-244-2220, and we'll help you tap into the right network!
Other Top Real Estate Locations in Florida
The cities neighboring Palm Beach Gardens have equally exciting real estate opportunities! HMLS can also help you secure loans in the following areas:
Note: All submitted information is kept in strict confidence and used solely for the purpose of obtaining a hard money loan and/or bridge loan. We do not share your information with any third parties without your consent.
Use our quick-start application below to begin the process. Once received, we will contact you via phone to verify your interest and to gather a few more details: