PASCO COUNTY, FL | HARD MONEY LOAN SOLUTIONS
HARD MONEY / BRIDGE LOAN SOLUTIONS FOR DADE CITY AND ALL OF PASCO COUNTY, FL
HARD MONEY LENDING SOLUTIONS IN PASCO COUNTY, FL
Homes in Pasco County, Florida, are selling like hotcakes, and all savvy investors have been eyeing a piece! Located on the west central coast of the state, the county is lined with those quintessential small towns where everyone's been wanting to settle lately.
If you plan to buy a property in Pasco County, let Hard Money Loan Solutions (HMLS) assist you with the financing! We are a team of experienced lenders with the local expertise you need to close deals quickly—sometimes in as little as three days!
We lend in all Pasco locations, including:
Dade City

New Port Richey

San Antonio

Zephyrhills

St. Leo
Call us to get started with your next purchase, refinance, rehab, or construction project!
Bridge, Hard Money, and
Business Loans in Pasco
County, Florida
Acquiring funding through traditional channels like banks and mortgage companies is often a time-consuming affair. You have stringent qualification requirements and tons of paperwork to submit—all that work, and there's still no guarantee you'll be approved.
That's where private lenders like Hard Money Loans Solutions come in. At HMLS, we lend based on the underlying value of the property acting as the collateral. We don't consider your credit score, income stream, and financial health for underwriting but fund according to the profitability of your deal or your repayment strategy.
Reach out to HMLS for any property deal in Pasco County. We can support new purchases, cash-out refinances, land development, property flips, rental property acquisitions, new construction, partner buyouts, and home renovation, among other projects. Foreign nationals and business owners are welcome!
All our products are low on paperwork and entirely customizable to your needs. This is what our primary lending structure in Pasco County looks like:
Loan size

—$100,000–$50,000,000+

LTV

—Up to 70%

Tenure

—1–3 years

Interest rates (fixed)

—9.99%–12%

Origination

—2 points

Closing

—3–14 days

Monthly payment

—Interest-only

Prepayment penalty

—No (if settled after six months)

Retainer fee

—$1,500

Hidden costs

—No
Call us at (855)-244-2220 and talk to our team about your desired product. You'll receive free investment advice and can get approved within a day!
Perks of Financing With HMLS
HMLS financing is all about the client. We are upfront in our communications and will never hold you up if we cannot serve your deal. Our pricing structure is free from junk and hidden elements like underwriting and rate-locking fees.
Being a 5-star-rated lending group, we have a track record of fulfilling efficient, legally compliant hard money loans in complicated scenarios like the following:
The deal has been rejected by other lenders

You want to collateralize several properties

Your last property flip fell through
We understand local housing trends and can help you ride the waves of real estate market shifts with smart loan modifications. 
What Makes Pasco County an Investment Hotspot in Florida?
Besides offering beach fun like most Florida regions, Pasco County is known for its cultural attractions and cosmopolitan vibe. As far as real estate is concerned, the county pulls in travelers, job seekers, retirees, and growing families. Population in Pasco County has witnessed a steep upward trend in recent years, which has led to the expansion of infrastructure development activities in the area.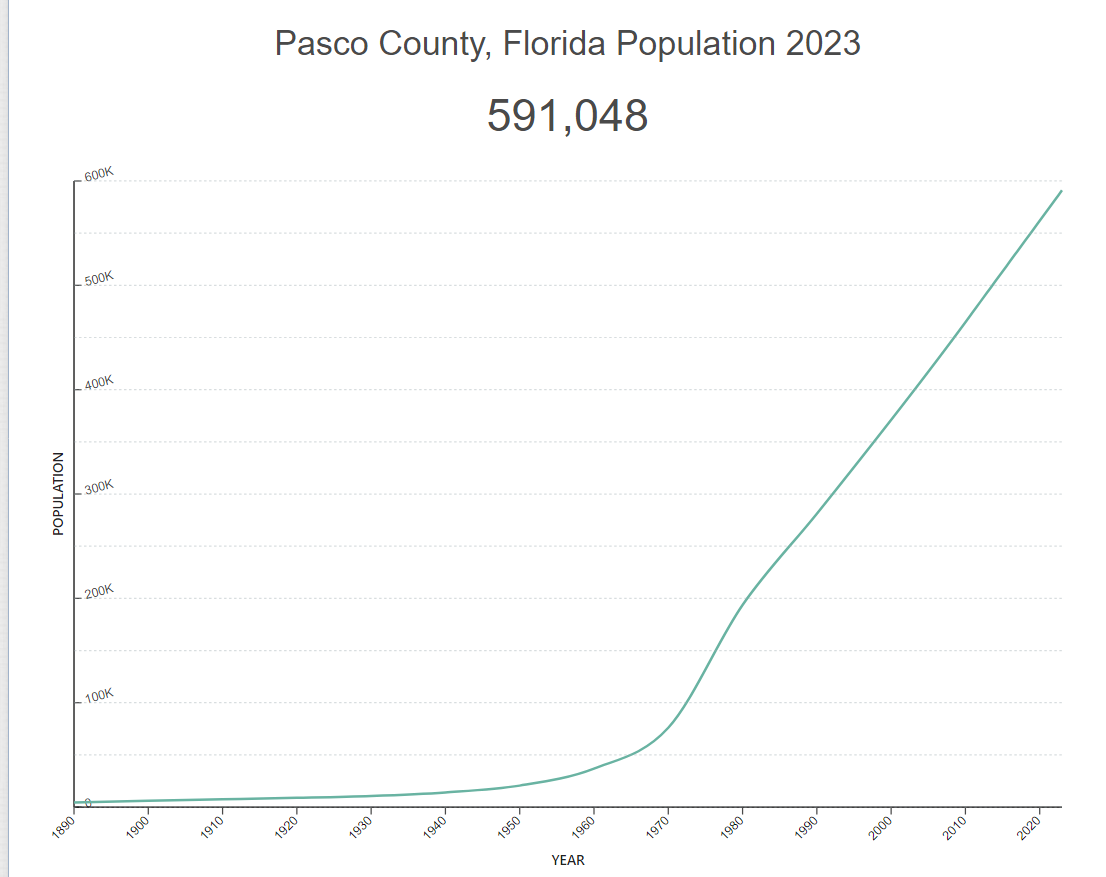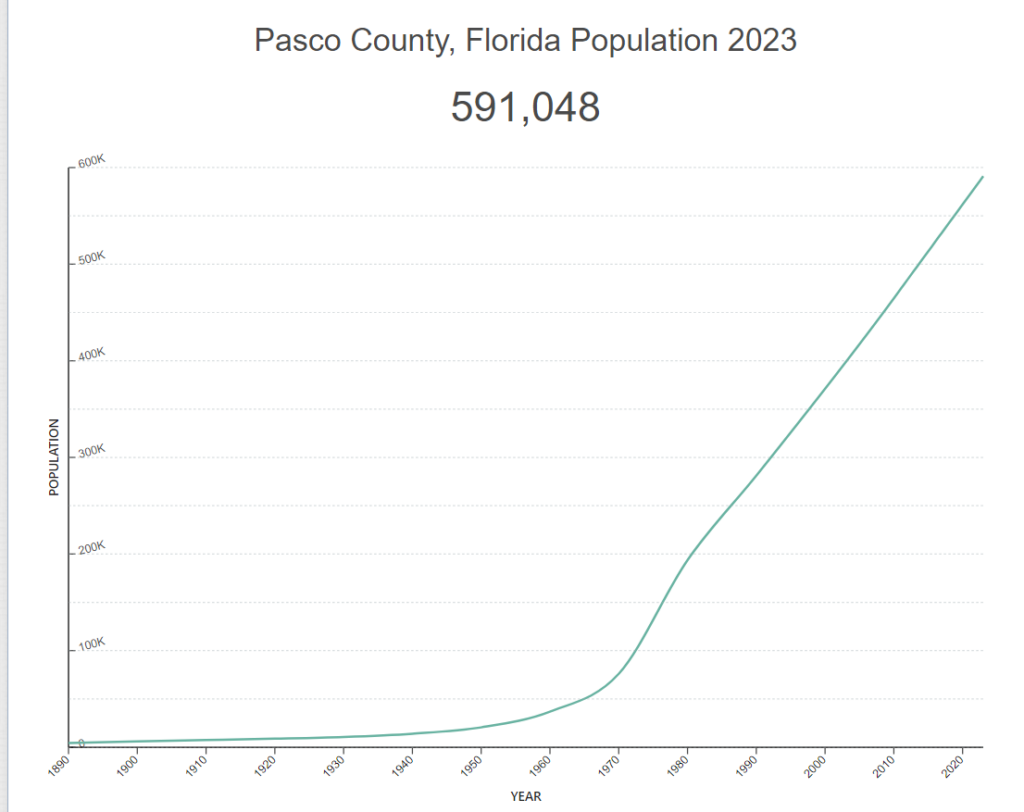 Source: World Population Review
Pasco County's tourism sector remains one of its major real estate drivers. With the abundance of adventure trails, sports, and wildlife activities, you'll find many tourists using the towns in the area as short getaways. As of late, the county has also been a prime venue for the nudist tribe, so investing in hippie resorts, hotels, rental condos, holiday homes, and spas makes sense.
Getting single-family homes and apartments in the area is another great option. People move to Pasco County for mainly three reasons:
Strong economy

—Pasco's largest industries include healthcare, retail, and construction, which employ thousands of people with meaty salaries

Relatively low cost of living

—The cost of living in the county is considered to be

2% lower

than the national average

Good schools

—The county has dozens of established schools welcoming a diverse group of students
Whatever property you have in mind, acquire it without stress! Reach out to HMLS at (855)-244-2220, and we'll help make it a win-win deal.
Pasco County, FL—Housing Market Statistics and Trends
If you like to rely on numbers, check out some top housing market trends for Pasco County:
| | |
| --- | --- |
| Data* | Analysis |
| 4.3% increase in the number of homes sold | Over 1,400 homes were sold in Pasco County in the 2022–2023 period, with single-family homes commanding the highest prices |
| Most listed homes sell within a month | The median selling time for a listed home in the county is 26 days, which indicates a healthy demand-supply axis |
| More than one-third of residents rely on rentals | About 73% of Pasco County residents own their homes, while the rest rely on rentals |
*Sourced from the latest statistics available on Redfin and World Population Review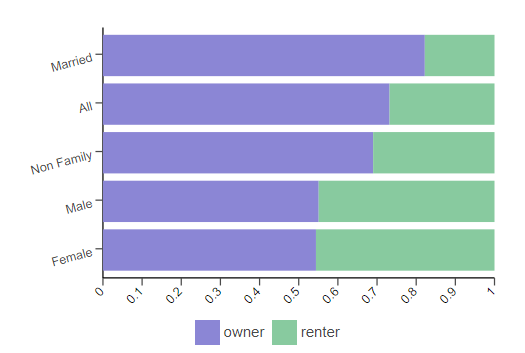 An illustration depicting the owner-renter ratio among different demographics in Pasco County
Source: World Population Review
If you're worried about the statistical viability of a particular deal, we'll help you comb out the details. Our lending team has 20+ years of experience and can provide objective advice on your next property investment. Give us a call at (855)-244-2220 to take the discussion ahead!
Supportive Investor Groups for Pasco County Real Estate
If you want a robust support system for your Pasco County investments, the following groups can be of help:
Pasco County Real Estate Investors Group

—Has 60+ members who meet once a month to discuss the local property trends. The group is open to anyone, including investors, wholesalers, developers, and agents

Pasco Economic Development Council (EDC) Investors

—Not a real-estate-only group but can help you connect with top property dealers and big-league developers

Tampa Real Estate Investors Alliance

—Connects you with a peer group of over 2,500 real estate professionals in the west coast region. Memberships start at $100/year
Lucrative Investment Opportunities Beyond Pasco County
Check out our investment guides for other hot housing markets in Florida:
Note: All submitted information is kept in strict confidence and used solely for the purpose of obtaining a hard money loan and/or bridge loan. We do not share your information with any third parties without your consent.
Use our quick-start application below to begin the process. Once received, we will contact you via phone to verify your interest and to gather a few more details: