VALPARAISO, FL | HARD MONEY LOAN SOLUTIONS
Hard Money & Bridge Financing Solutions For The Greater Valparaiso Area
ASSET BASED LENDING SOLUTIONS FOR THE GREATER VALPARAISO, FL AREA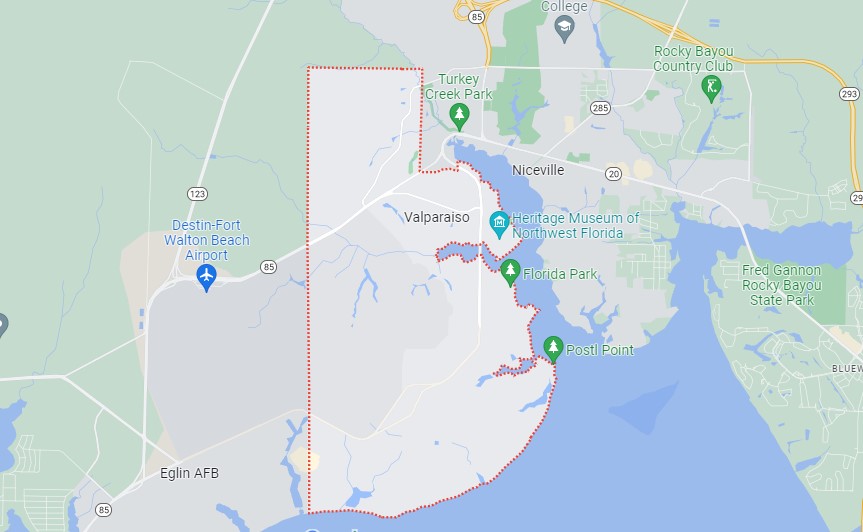 Although it is small and rural, Valparaiso, Florida, is not without its perks and is within a short driving distance of the famous tourist town of Destin. Located in Okaloosa County, the city offers stunning vistas of Horseshoe Bayou and Choctawhatchee Bay from Jolee Island Nature Park. Valparaiso is also home to popular entertainment like hiking trails, fishing, parks, and, of course, some of the best food of the South.
Its proximity to Destin and its impressive attractions means Valparaiso is temptingly close to some of the world's best beaches. Crystal Beach is a prime example. With its closeness to some of the best family resort attractions in North America, Valparaiso definitely has business opportunities waiting and Hard Money Loan Solutions can help.
Opportunity Incoming
Destin is one of the most visited cities in Florida, with over 4 million visitors annually. Yet while many tourists stay in Destin and Niceville, it's not too leftfield to think that visitors will drive a little further for a less expensive stay. Therefore, you can capitalize on Destin's tourism by offering accommodation across the bay in Valparaiso. The city is clean, safe, and tourist friendly.
But how do you go about securing the necessary funding for a commercial venture such as this? You allow us to help you. At Hard Money Loan Solutions, we offer bank-alternative loans more suitable for those that require hassle-free fast cash financing. We also provide this without the annoying red tape and credit checks performed by a traditional bank.
Our typical criteria are as follows:
No hidden charges or fees.

A fast application and closing of 1 to 2 weeks.

Adequate funding of between $100k to $50 million.

Affordable options with a 75% loan to value rate.

Fixed interest rates (APR) of between 10% and 12%.

Short or long-term repayment options between 1 to 5 years.
We can help you secure a commercial real estate loan because we are a direct lender. Rather than frivolous paperwork, we make decisions based on affordability backed by your tangible assets, such as existing real estate.
Commercial Hard Money Loans
You would typically consider a hard money loan for family dwellings, real estate acquisition, construction and bank foreclosed property. To help you, we can provide suitable financial hard money loans for various projects such as constructing or purchasing tourist accommodation in Valparaiso.
Our commercial real estate loans financing ranges from between $100k and $50 million and can be used for ventures such as:
Retail centers

Self-storage facilities

Shopping complexes

Mixed-use buildings

Student housing

Industrial properties

Condominiums

Restaurants

Mobile home parks
Years of proven experience enables us to tailor a financing solution for your projects. So let us help and support you by extending our services to realize your goals.
Short-Term Bridge Loans
Alternatively, you could apply for a bridge loan for projects where immediate cash is needed over a short-term repayment option. For example, you may require a down payment on a new property investment while waiting for the sale completion of an existing one.
Bridge loans are helpful for other scenarios and cover the following types:
Residential rehab loans: fast approval for home improvement projects.
Fix and flip loans: capital injection for purchasing, remodeling, and selling a property.
The best ventures to apply for a bridge loan include:
Personal and business condos

Apartments

Multi-family units

Single-family structures

Townhomes

Strip malls
With suitable residential loans via bridge financing, you can quickly bid on a property at the right time for the best price or place a large down payment. In addition, funding for the renovation or flipping projects will also enable you to fix and flip a property as fast as possible while you wait for money from a previous project to come in. In short, a bridge loan is an excellent short-term solution.
Contact us today for a free consultation and get started with a loan process that often closes within 10 days.


For super quick service, fill out the form on this page. We'll do an immediate review, then we'll contact you right away to begin your hard money loan or bridge financing process.
Note: All submitted information is kept in strict confidence and used solely for the purpose of obtaining a hard money loan and/or bridge loan. We do not share your information with any third parties without your consent.
Use our quick-start application below to begin the process. Once received, we will contact you via phone to verify your interest and to gather a few more details: