SOUTH PASADENA, FL | HARD MONEY LOAN SOLUTIONS
Hard Money & Bridge Financing Solutions For The Greater South Pasadena Area
ASSET BASED LENDING SOLUTIONS FOR THE GREATER SOUTH PASADENA, FL AREA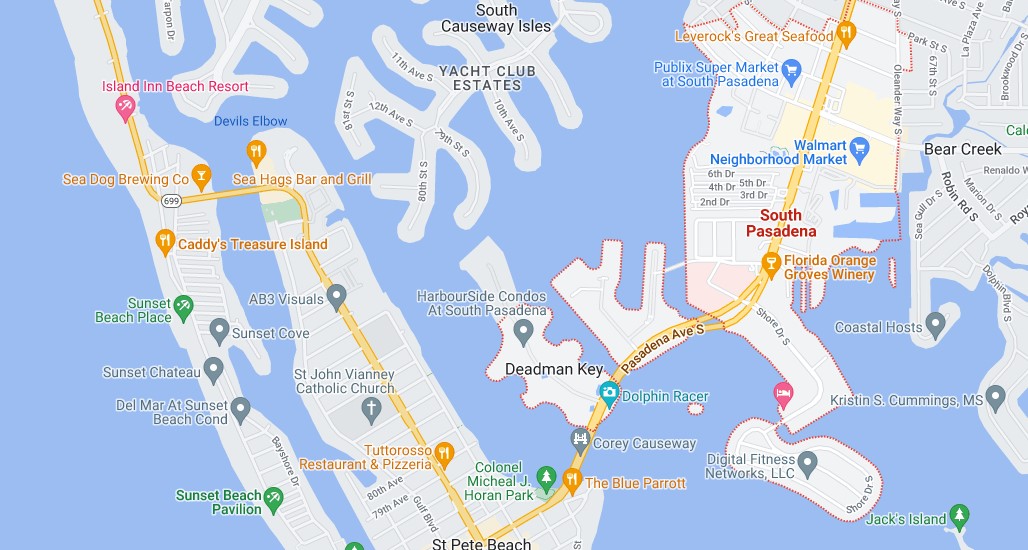 With a variety of loans ranging from $50,000 to $50 million – and payment terms between one and five years – it's not all too surprising that HML Solutions is a firm favorite when it comes to hard money loans and bridge loans in South Pasadena, Florida, and the surrounding areas.
Our team of expert lenders and advisors work together to help provide the best loans to meet your individual needs and preferences when it comes to real estate investment.
Ways to Use Hard Money and Bridge Loans in South Pasadena, FL
Located on the west coast of central Florida, South Pasadena is well known for its semi-tropical climate and plenty of sunshine throughout the year. People in the area can enjoy a stroll through the scenic Galatea Garden, grab something to eat at one of the local restaurants in this charming location, or enjoy wine tasting at the local Florida Orange Groves Winery. With so many perks for young professionals, families, and elderly individuals alike, it's not all too surprising that there's a lot of demand for properties in the area.
Whether you plan to rent out residential properties or commercial properties, our hard money loans and bridge loans could help you to achieve your goals and experience real success in the area!
Here are just a few ways you could put your finances to good and profitable use in South Pasadena:
Personal and business condos
Apartments
Multi-family units
Single-family structures
Townhomes
Strip malls
No matter your real estate venture, we'll have the right loan to meet your requirements. Looking for funds to renovate a residential property? We've got it. Considering short-term funding to finish up some final touches on a property you want to put on the market as soon as possible? We can provide you with this. Want to borrow money to purchase and sell an entire strip mall? No problem.
Our team can close an agreement in less than two weeks, helping you to secure the property you want, finalize your renovation work or complete whatever other tasks you need to make your profit and experience success.
Our Hard Money and Bridge Loan Terms
Of course, one of the key things to keep in mind when taking out any loan is interest. While every lender will apply interest of some sort to their loans, not all lenders will offer the same benefits. Here at HML Solutions, we're proud to offer:
Fixed interest rates from 10% to 12%
Interest-only amortization
No hidden fees
No additional fees
Loan-to-value of as much as 75% of the property's overall value
When Time is of the Essence
We pride ourselves on helping you gain access to finance fast. Sometimes a matter of days can make all the difference between experiencing success in your real estate ventures in South Pasadena, or failure. To help you along the way, we make sure to make the process as simple, straightforward, and consequently fast, as possible.
First and foremost, we conduct a simple and straightforward credit check. This means less time waiting for more in-depth checks to be carried out. We also request fewer business documents than other lenders, meaning it doesn't take as much time to go through your documents. Finally, we don't request outside collateral, further streamlining the process. All of this works together to offer a faster close time, helping you to get started – or continue – on your projects with speed.
Contact us today for a free consultation and get started with a loan process that often closes within 10 days.


For super quick service, fill out the form on this page. We'll do an immediate review, then we'll contact you right away to begin your hard money loan or bridge financing process.
Note: All submitted information is kept in strict confidence and used solely for the purpose of obtaining a hard money loan and/or bridge loan. We do not share your information with any third parties without your consent.
Use our quick-start application below to begin the process. Once received, we will contact you via phone to verify your interest and to gather a few more details: