SHALIMAR, FL | HARD MONEY LOAN SOLUTIONS
Hard Money & Bridge Financing Solutions For The Greater Shalimar Area
ASSET BASED LENDING SOLUTIONS FOR THE GREATER SHALIMAR, FL AREA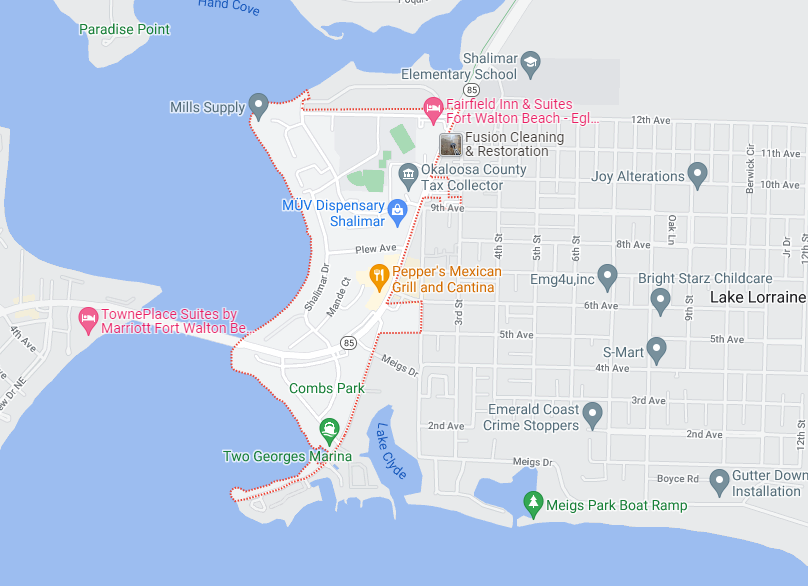 Situated on a far western inlet of the Choctawhatchee Bay, next to Lake Lorraine, is the quaint rural-urban town of Shalimar. Shalimar is part of the extremely popular Fort Walton Bay. It is among the most desirable places to live in Florida and as such, the city and its surroundings appeal primarily to wealthy young professionals and older retirees alike. You can find all types of amenities in Shalimar, including a large fishing community, bustling nightlife, watersports, beach tours, and the Air Force Armament Museum due to its proximity to Eglin Air Force Base.
Because of its desirability, Shalimar is a prime real estate investment opportunity. You can diversify your portfolio and step up your property management skill with commercial and residential real estate alike. However, while profit potential is all over Shalimar, you will need to act fast to secure holdings before interest rates rise or they become unavailable.
Fortunately, we have the solution to your time-sensitive problem.
The Benefits of Lending from Us
Here at Hard Money Loan Solutions, we operate a little differently than you might be used to. We are a direct lender, which means we finance our clients with our cash. Therefore, we can offer a wide range of loan packages without any hassles or red tape for which banks are known, such as invasive credit checks.
With us, you can take advantage of some of the ripe residential opportunities in Shalimar. For example, we can provide a speedy short-term loan to cover your spring-break property renovation costs. You can repay when you have the available funds before the agreed-upon term. But because we lend directly, our terms are negotiable. However, our interest rates are slightly higher, yet they are fixed.
Other advantages of borrowing from us include:
Fees and points are made clear and won't change.
There's nothing in the small print to worry about.
Our terms of 1 to 5 years are negotiable depending on your circumstances.
You won't be charged for early repayment.
We don't perform invasive credit checks.
Interest rates are fixed between 6.99% and 12% APR.
We offer a speedy closing time of 1 to 2 weeks.
During our time in business, we have helped countless clients just like you. Our clients are the lifeblood of our business, and we strive to ensure we tailor the right solution for each individual case. So, take the next step towards your new Shalimar venture by seeing which hard money loans are suitable for you.
Our Speedy Bridge Loans
The potential and opportunities presented in Shalimar mean properties can come and go very quickly. The desirability factor and tourism appeal facilitates the quick closing of deals in and around the area. But with a bridge loan from us, you can get ahead of the competition. A quick funding solution means you can make an offer on any residential property you like, whether you intend to rent it out or take up residence. Either is a viable option in this beautiful part of the Florida Panhandle.
But what is a bridge loan? Basically, a bridge loan is a quickly closed, short-term finance option. They allow you to capitalize on an opportunity in situations where you lack immediate funding. They are best used when there is a timing factor or for atypical cases. For example, you might want to move on a purpose-built property before it sells. Unfortunately, a bank typically won't lend on such a venture. And if it does, it will take a long time to do so as they perform due diligence.
We can offer the following flexible bridge loan benefits since we are a direct lender:
Varying amounts of between $100,000 and $50 million.
A fixed loan to value ratio of 75%.
Interest-only amortization.
There are many uses for a bridge loan. However, they are best advised in situations of new property acquisition while you wait for the sale of existing property. Yet, we also offer numerous other loan products that might better suit your plans in Shalimar.
Hard Money Loans
In addition to bridge loans, we also offer hard money loans. Bridge loan and hard money solutions are similar, yet are different. A bridge loan is primarily used for quick turnaround projects. Hard money loans are better used for residential and commercial ventures that require cash over a longer-term. Yet, the same terms and rates apply across all our bridge financing and hard money loan solutions.
Residential loans can be used for the following:
Condos and apartments
Multi-family units
Single-family structures
Townhomes
Commercial real estate loans are more suited to the following ventures:
Retail centers
Self-storage facilities
Shopping complexes
Mixed-use buildings
Student housing
Industrial properties
Condominiums
Restaurants
Mobile home parks
With suitable loans for different projects, we will help you achieve your goals. So take the next step towards your Shalimar dream, and apply for a purpose-built loan that perfectly suits your business needs.
Contact us today for a free consultation and get started with a loan process that often closes within 10 days.


For super quick service, fill out the form on this page. We'll do an immediate review, then we'll contact you right away to begin your hard money loan or bridge financing process.
Note: All submitted information is kept in strict confidence and used solely for the purpose of obtaining a hard money loan and/or bridge loan. We do not share your information with any third parties without your consent.
Use our quick-start application below to begin the process. Once received, we will contact you via phone to verify your interest and to gather a few more details: