SANFORD, FL | HARD MONEY LOAN SOLUTIONS
Hard Money & Bridge Financing Solutions For The Greater Sanford Area
ASSET BASED LENDING SOLUTIONS FOR THE GREATER SANFORD, FL AREA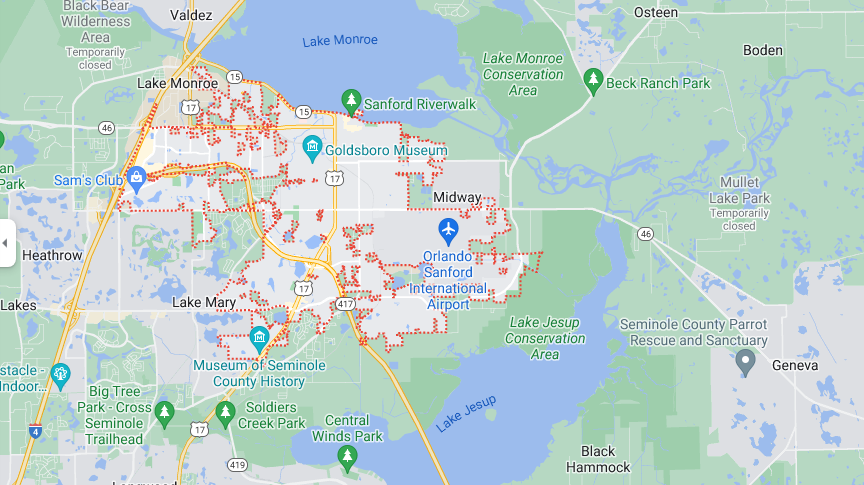 Located between Daytona Beach and Orlando, Sanford has a whole lot to offer. Sanford Florida is the seat of Seminole County, set just on the shore of Lake Monroe. There's plenty to experience here, from the charming waterfront to the impressive 19th-century architecture. Sanford is home to both the Auto Train and the Wayne Densch Performing Arts Center.
You might be just starting out, or keen to broaden your investment portfolio, either way, Sanford Florida is a great place for real estate projects. HML Solutions offers bridge loans and hard money loans, suitable for many different opportunities in the Sanford area.
What are Hard Money and Bridge Loans?
Hard money loans are based on property value instead of the loan applicant's creditworthiness. Using a hard money loan, the buyer can exchange property value for collateral. Bridge loans are short-term, used to renovate or buy real estate. Buyers can use a bridge loan as a means of property finance before making a sale on an existing property. Bridge loans were designed for purchasing properly only, however hard money loans can also be used for different purposes.
Hard Money and Bridge Loans from HML Solutions
When you choose HML Solutions, you'll get fast access to financing, we offer an easy and stress-free application process. Applying for conventional loans involves long-winded and strict credit checks, at HML Solutions we base our loans on the value of the property only. This way, you needn't have a perfect credit score to access a loan. We process loan applications in-house, which further speeds up the process.
What are the Benefits of Our Bridge and Hard Money Loans?
LOAN AMOUNTS: $100K – $50M+

Maximum LTV 75%

TERMS: 1 – 3 Years

RATE TYPE: 10% – 12% fixed

AMORTIZATION: Interest only

CLOSINGS: 1 – 2 Weeks

ORIGINATION FEE: 2 Points

CREDIT CHECK: NO

INCOME VERIFICATION: NO
What projects can I use hard money & bridge loans for?
HML Solutions can help you to access loans for several different projects. Our loans are ideal for both single and multi-family dwellings. Bridge loans and hard money loans are appropriate for property flipping projects.
At HML Solutions we also provide support with commercial real estate. You might be looking to buy new properties or make money or short-sales, either way, we have the loan for you. Looking to construct a property from scratch? Our bridge and hard money loans are perfect for these projects too. HML Solutions assist clients who are developing land or starting new companies. When you need a commercial real estate loan or residential loan, we can get you approved fast.
Contact us today for a free consultation and get started with a loan process that often closes within 10 days.


For super quick service, fill out the form on this page. We'll do an immediate review, then we'll contact you right away to begin your hard money loan or bridge financing process.
Note: All submitted information is kept in strict confidence and used solely for the purpose of obtaining a hard money loan and/or bridge loan. We do not share your information with any third parties without your consent.
Use our quick-start application below to begin the process. Once received, we will contact you via phone to verify your interest and to gather a few more details: