PINELLAS PARK, FL | HARD MONEY LOAN SOLUTIONS
Hard Money & Bridge Financing Solutions For The Greater Pinellas Park Area
ASSET BASED LENDING SOLUTIONS FOR THE GREATER PINELLAS PARK, FL AREA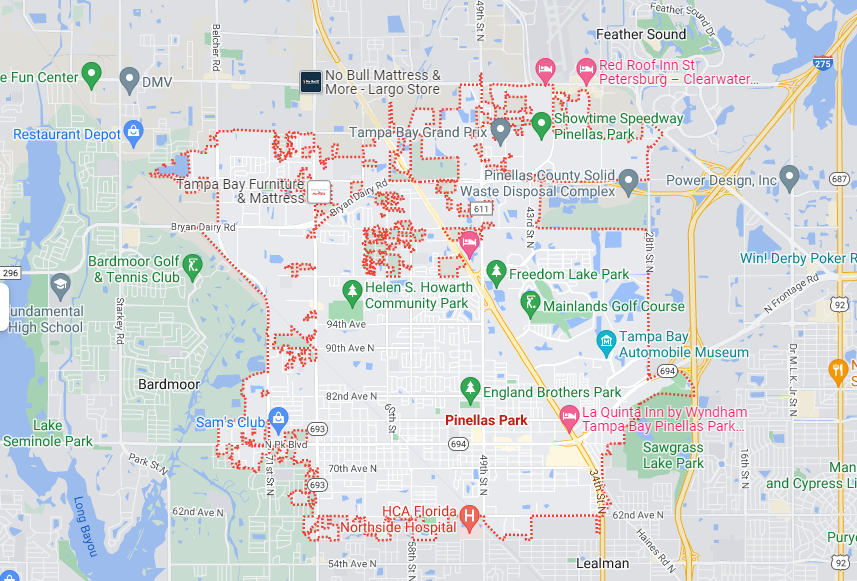 The real estate market is a popular investment choice, and for those living in Pinellas Park, FL, there are plenty of opportunities to invest in property. As a thriving city, Pinellas Park has lots to offer both residents and visitors. Housing in Pinellas Park is in demand, and the median price of houses continues to rise year-over-year, as it is now the 4th largest city in Pinellas County.
This demand for housing combined with Pinellas Park's proximity to the Gateway District means there is plenty of potential for commercial and residential real estate investments. Property in Pinellas Park typically sells fast, which means you need to get your finances arranged quickly to avoid missing out on your next real estate investment.
Funding your investment is something we can help with, and at Hard Money Loan Solutions, we pride ourselves on offering rapid approval to qualifying applicants. Here at Hard Money Loan Solutions, we offer both hard money loans and bridge loans for entrepreneurs that require a short-term funding solution.
Hard Money Loans & Bridge Loans from Hard Money Loan Solutions
Hard money loans and bridge loans are not typically available from traditional lenders, such as banks. So, at Hard Money Loan Solutions, we are proud to offer these short-term loans to our clients to help them fund their projects.
As investors and entrepreneurs ourselves, we understand that the conventional finance route is not the right choice for every project. Sometimes, you need to borrow money quickly to avoid missing out on a lucrative investment or simply to bridge the gap while waiting to receive a return on your investment.
Hard money loans and bridge loans are often used by clients that are purchasing a property to flip and sell on for property, and these short-term residential loans are used to cover the cost of the renovation. Bridge loans are also used to cover the gap while waiting for funds from long-term financing to be approved and released.
At Hard Money Loan Solutions, we can provide both residential and commercial real estate loans to finance your investment. Unlike banks, we are able to set our own terms, which means we can tailor our funding options to suit your individual project. Our loan amounts range from $100 thousand through to $50 million, so whatever the scale of your project, we can offer funding to match.
One of the biggest advantages of using our services is our fast turnaround. We can process your application far more quickly than traditional lenders, and you could have the finance you need in as little as a week.
Contact us today for a free consultation and get started with a loan process that often closes within 10 days.


For super quick service, fill out the form on this page. We'll do an immediate review, then we'll contact you right away to begin your hard money loan or bridge financing process.
Note: All submitted information is kept in strict confidence and used solely for the purpose of obtaining a hard money loan and/or bridge loan. We do not share your information with any third parties without your consent.
Use our quick-start application below to begin the process. Once received, we will contact you via phone to verify your interest and to gather a few more details: