PEMBROKE PINES, FL | HARD MONEY LOAN SOLUTIONS
Hard Money & Bridge Financing Solutions For The Greater Pembroke Pines Area
Hard Money Loan Solutions in Pembroke Pines, FL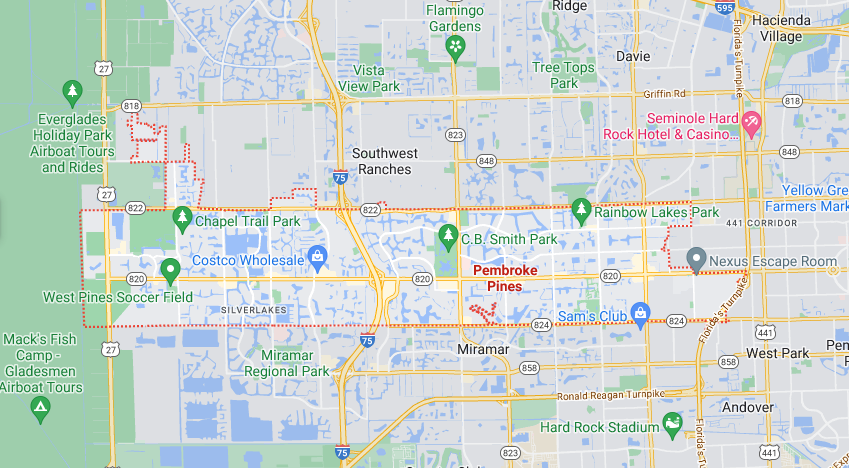 Get the financing you need to close on commercial real estate and investment properties in Pembroke Pines, FL. At HML Solutions, we have a complete range of hard money loans and bridge loans for real estate projects:
Owner-occupied real estate
Fix-and-flip projects
Investment properties
Construction
Real estate development
Remodeling projects
There are many excellent opportunities in Pembroke Pine's real estate market, and our team can help you take full advantage of them. We provide hard money loans with low interest rates, full interest amortization, generous terms, high LTV ratios and fast closing.
The Trusted Source of Hard Money Loans for Pembroke Pines Property Investors
The first thing you look for when deciding on a lender to finance your real estate project is trustworthiness. We have an excellent reputation with local business owners, property investors, real estate agencies and land developers. That's because we act with professionalism, honesty and friendliness. We're here to help you succeed, because when you profit, so do we.
Custom Bridge Loans
Whether you're an experienced business owner or a first-time fix-and-flip investor, you can always find a hard money loan that is a good fit for your business. When you work with us, our team creates a custom hard money loan that takes into account your current capital and goals. This can be an enormous help in maximizing your company's profits after a project.
As an example, the needs of a fix-and-flip developer are very different than those of a small business owner looking to buy a commercial property. The amount of time you have for closing, the amount of interest you're comfortable with and the amount of money you have for a down payment are all unique to your business.
Flexible Construction Loans
Construction businesses can benefit from ongoing construction financing with hard money loans. That way, you have the money needed to purchase materials and deliver the quality your customers expect. This is much easier than trying to stretch your profits from the previous project to cover your expenses during the current one.
Our construction loans can also help business owners who want to build a commercial property but aren't yet approved for SBA financing. You can break ground with your preferred contractor and transfer the loan amount to your SBA loan when it goes through. Our hard money loans don't have any prepayment penalties, so it's easy to pay them off completely in this way.
Hard Money Loans for Residential Investment Properties and Fix-and-Flip Projects
When you see an attractive home for sale in Pembroke Pines, the possibilities for profit are endless. Whether you want to fix a few things and quickly resell, or perform in-depth remodeling for further profits, our hard money solutions can help. We have extensive experience with real estate investors and fix-and-flip businesses. We give you the flexibility to purchase in many ways:
Short sales
Foreclosures
REOs
Single-family homes
Multifamily properties
We help you get the funds you need to close quickly, but without burdening your business. Our financial advisors always show you several different options and let you pick the one that makes you most comfortable. To get started, contact us right away in Pembroke Pines, FL.
Contact us today for a free consultation and get started with a loan process that often closes within 10 days.


For super quick service, fill out the form on this page. We'll do an immediate review, then we'll contact you right away to begin your hard money loan or bridge financing process.
Note: All submitted information is kept in strict confidence and used solely for the purpose of obtaining a hard money loan and/or bridge loan. We do not share your information with any third parties without your consent.
Use our quick-start application below to begin the process. Once received, we will contact you via phone to verify your interest and to gather a few more details: