OCOEE, FL | HARD MONEY LOAN SOLUTIONS
Hard Money & Bridge Financing Solutions For The Greater Ocoee Area
ASSET BASED LENDING SOLUTIONS FOR THE GREATER OCOEE, FL AREA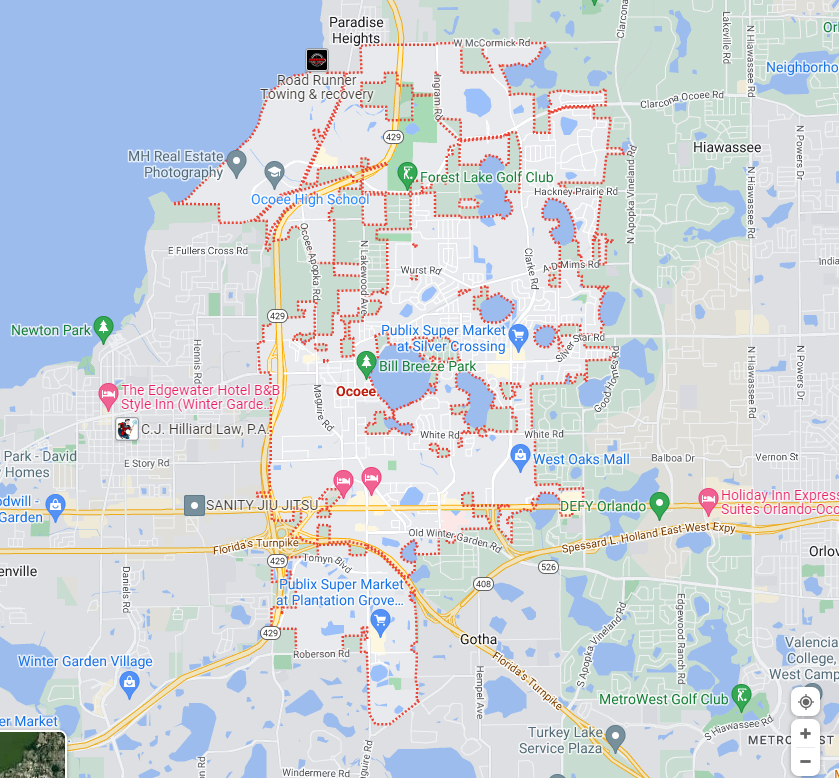 Located in Central Florida, Ocoee is a city that is well known for being the "City of Champions." It has won many awards for its parks and recreation services. The city also offers many opportunities to enjoy nature combined with fun recreational facilities.
Ocoee residents are just a couple of minutes away from Walt Disney World, making it the perfect city to raise a family. Residents and businesses can take advantage of some of the best schools in Orange County located minutes away from Ocoee's front doors.
With these aspects all combined, businesses and residents alike continue to demand more and more new homes and commercial properties within this expanding community while homebuyers love living there because of its close proximity to Orlando, excellent schools, and climate.
Ocoee has just the right balance of city life with all the small-town comforts that everyone loves.
The population of Ocoee is approximately 46,300 residents, making it an ideal place to live for families or individuals alike. The booming population can be attributed to its closeness to Orlando, established infrastructure including highways, numerous state routes, and a strong housing market providing affordable homes which are in high demand because of their location.
With so many people wanting to relocate here, Ocoee continues to grow in popularity, especially since there are plenty of opportunities for employment within retail trade or service industry positions.
Ocoee Hard Money & Bridge Financing Solutions:
Hard Money Loan Solutions can provide you with a fast, simple, and economical solution if you need to close on a property quickly.
Hard money loans and bridge financing are two financing tools used to achieve the same lending goal – a real estate purchase. In this article, we will discuss what makes them different from each other and help you understand when to use which one.
What is a hard money loan?
A hard money loan refers to a type of asset-based lending for real estate investors who have trouble securing conventional bank loans because their deals don't meet traditional underwriting criteria or there isn't enough equity in the project. Hard money lenders consider borrowers' credit score, income, net worth, and other factors. Ultimately, they lend based on the property's value and ability to produce rental income if it's an investment property.
The main advantage of hard money loans is that they provide quick access to capital. With more lenient lending criteria than banks, hard money lenders can typically get you approved in a day or two, and you can close quickly thereafter.
What is bridge financing?
Bridge financing is a short-term, high-interest loan used by borrowers who have a pending permanent source of funds but need to purchase or refinance a property for some reason before they can close on the long-term financing. The key difference between hard money loans and bridge financing is that hard money loans are asset-based while bridge financing is cash flow-based.
With bridge financing, borrowers will typically use their expected rental income from the project to qualify for the loan. In other words, the lenders look at how much it costs to buy, fix up and rent out a property in order to determine if you're likely to generate enough income from your investment once you close on your project using a traditional bank loan or cash from an investor's cash reserves. As a result, the loan period for bridge financing will be relatively short – usually, no more than a year and the interest rate will often be higher than average as well.
Why do investors use hard money loans and bridge financing?
The majority of real estate investors use both types of loans at some point in their careers. Since they come from different lending families, it's not uncommon to take out a hard money loan to purchase your next investment property and then switch over to a regular bank loan when you refinance or sell that same deal because you can usually get much better rates on traditional financing for these purposes, provided that the underwriting criteria allows. On the other hand, if you're refinancing another borrower's project and there is enough income generated from it to qualify, you can elect to use bridge financing.
At Hard Money Loan Solutions, we are here to help you with any and all questions you may have with regard to which loan will best suit your needs!
Contact us today for a free consultation and get started with a loan process that often closes within 10 days.


For super quick service, fill out the form on this page. We'll do an immediate review, then we'll contact you right away to begin your hard money loan or bridge financing process.
Note: All submitted information is kept in strict confidence and used solely for the purpose of obtaining a hard money loan and/or bridge loan. We do not share your information with any third parties without your consent.
Use our quick-start application below to begin the process. Once received, we will contact you via phone to verify your interest and to gather a few more details: