NICEVILLE, FL | HARD MONEY LOAN SOLUTIONS
Hard Money & Bridge Financing Solutions For The Greater Niceville Area
ASSET BASED LENDING SOLUTIONS FOR THE GREATER NICEVILLE, FL AREA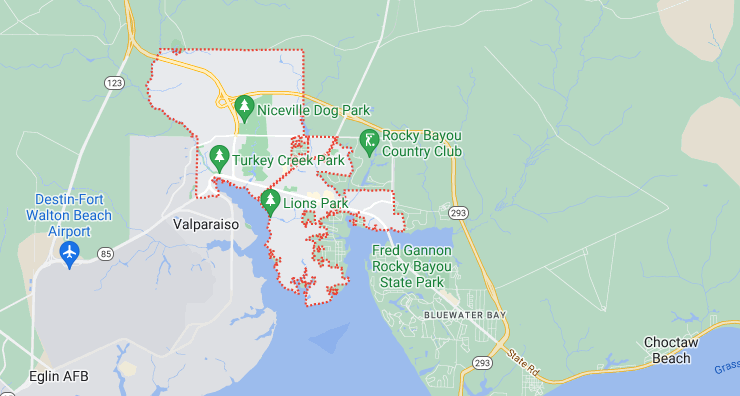 As the name suggests, Niceville, Florida, really is a nice place to live, in more ways than one. As well as the pleasant atmosphere and strong communal spirit, Niceville is home to some of the most beautiful beaches in the Florida Panhandle. The city is located in Okaloosa County near the famous Eglin Air Force Base. And it has access to the locals' favorite Boggy Bayou. In addition, the town performs well across the board with a meager crime rate, many family activities, and a higher than the national average public education system.
As such, the many virtues of Niceville make it a prime candidate for residential and commercial ventures alike. There are many opportunities to make the most of Niceville's tourism industry, commerce like responsible nightlife, delicious restaurants, and of course, residential properties.
If Niceville is somewhere you are considering investment, our diverse product range can help you realize your goals and dreams.
How We Can Help
As a Niceville or Florida local, you understand that the area is bursting with potential and opportunity. You might be looking to buy vacation homes for rent, start a bayou tour or beach jet-ski rental business, buy new homes, or hope to be the construction contractor who builds those homes. And we want to be the ones to help you do it because you can.
Here at Hard Money Loan Solutions, we can help you help yourself. We offer a wide range of loan packages without any of the hassles for which banks are known. For example, we can provide a speedy short-term loan to bridge the gap between purchase and flipping. Or we can assist you in securing the funds for a long-term commercial venture. And all of this is offered without upfront fees or strict credit score checking.
The Products We Can Offer You
Here at Hard Money Loan Solutions, we offer hard money and bridge loans. While these are similar, the two are different. A bridge loan is primarily used for quick turnaround projects. For example, you might need to move on a commercial renovation because of agreed-upon deadlines but lack the funds to do so. You can use a bridge loan to pay for the work and then repay us when you get paid by your client.
The distinct advantages of a bridge loan include the following:
LOAN AMOUNTS: $100K – $50M+

Maximum LTV 75%

TERMS: 1 – 3 Years

RATE TYPE: 10% – 12% fixed

AMORTIZATION: Interest only

CLOSINGS: 1 – 2 Weeks

ORIGINATION FEE: 2 Points

CREDIT CHECK: NO

INCOME VERIFICATION: NO
With suitable residential loans for fix and flip projects, you can nip time-sensitive purchases in the bud.
We also offer hard money loans between $50,000 and $5 million for various projects. For example, we can offer specific commercial real estate loans or residential rehab loans suitable for any business venture in Niceville:
Commercial loans: We provide a quick closing with no upfront fees.
Residential rehab loans: fast approval for time-sensitive renovations.
You can use all of our loan types across numerous sectors for various projects across Niceville. For example, a new venture could include vacation or residential rental properties. Such properties might include single or multi-family apartments and condos or townhouses. Or you can finance your next commercial ventures, such as a local attraction, restaurant, or motel.
The Difference Between Us and Other Lenders
The critical difference between banks and us is that we are direct lenders. Many people assume direct lending means higher interest rates. And it does. But the benefits of choosing our products outweigh the slightly higher rates:
No upfront fees
No additional fees
No hidden points
No small print surprises
Negotiable terms
No prepayment fees
More lenient credit checks
Fixed interest rates
Faster closing
Our years of direct lending helps us to identify and offer the best package for your next venture. Additionally, our interest rates and terms are among some of the best for competition and fairness. In short, we are the solution to the support you are looking for. So let us help you take the next step.
Contact us today for a free consultation and get started with a loan process that often closes within 10 days.


For super quick service, fill out the form on this page. We'll do an immediate review, then we'll contact you right away to begin your hard money loan or bridge financing process.
Note: All submitted information is kept in strict confidence and used solely for the purpose of obtaining a hard money loan and/or bridge loan. We do not share your information with any third parties without your consent.
Use our quick-start application below to begin the process. Once received, we will contact you via phone to verify your interest and to gather a few more details: