MINNEOLA, FL | HARD MONEY LOAN SOLUTIONS
Hard Money & Bridge Financing Solutions For The Greater Mineola Area
ASSET BASED LENDING SOLUTIONS FOR THE GREATER MINNEOLA, FL AREA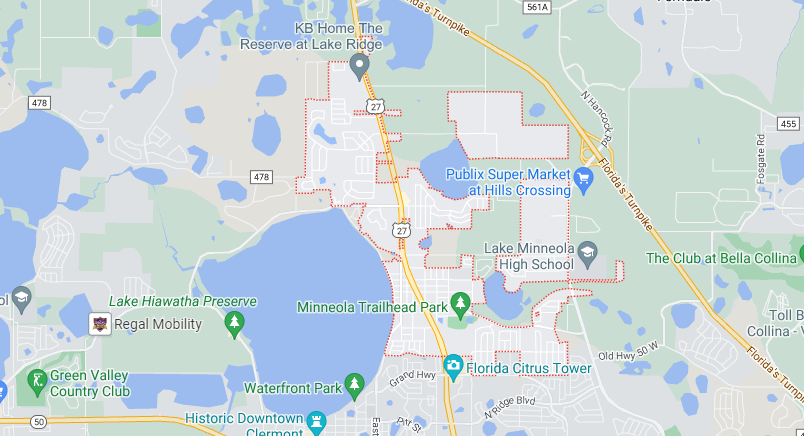 Just to the west of downtown Orlando is Minneola, FL – an area ripe for leveraging the benefits of bridge loans and hard money. The city is widely regarded as a great place to live, offering beautiful sunshine for much of the year and access to all of Orlando's amenities via Florida's Turnpike.
Residents want to buy in the area because of the proximity to Lake Minneola and recreational activities on Lake Apopka as well as all of the economic opportunities. HML Solutions offers short-term loans for both commercial and residential projects in the city, letting you take advantage of great buys in the area.
Get Access to Bridge Loans and Hard Money in Minneola the Simple Way
Taking out a loan on a property shouldn't be a long and drawn-out process. But, unfortunately, due to traditional lending practices, it is. That's bad news for investors operating in a time-sensitive manner. Delays in getting a mortgage can be costly.
Hard money and bridge financing from HML Solutions changes this dynamic. Instead of waiting months for a mortgage approval, you could get the cash you need in your bank account in just 1 to 2 weeks. Furthermore, the approval process for those requiring finance for real estate projects in Minneola is simple. All we require is:
A simple credit check
Information about your project
Information about your business (basic documents)
There are no additional collateral requirements, so you don't have to risk any of your other assets in the transaction. Instead, the property or commercial project acts as collateral for the loan, providing us with the safety margin required to lend to you at favorable interest rates.
Excellent Hard Money Terms
Some investors shy away from hard money because it comes with higher interest rates. But if you use a loan successfully, the benefits can be tremendous. Furthermore, you pay back the loan quickly, so interest doesn't accrue in the same way as it might for a standard mortgage at the same rate.
You don't have to be a longstanding company with impeccable financial credentials to qualify for a bridge loan with us. Our security simply comes from the property itself.
Here are some of the features of our loans that make them so appealing:
LOAN AMOUNTS: $100K – $50M+

Maximum LTV 75%

TERMS: 1 – 3 Years

RATE TYPE: 10% – 12% fixed

AMORTIZATION: Interest only

CLOSINGS: 1 – 2 Weeks

ORIGINATION FEE: 2 Points

CREDIT CHECK: NO

INCOME VERIFICATION: NO
Businesses with excellent financials can save money on hard money, but it's not a requirement. Even if you have very little financial history at all, you can still qualify for a loan and reap all of the benefits.
Get Hard Money and Bridge Loans in for Minneola Real Estate Today
HML Solutions provides loans for a wide array of projects ranging from rental properties to commercial warehouses. We cater to every type of business structure, including enterprises, LLCs, partnerships, and sole proprietors.
Get started by contacting us today and discover how our bridge loans could change your real estate investment journey.
Contact us today for a free consultation and get started with a loan process that often closes within 10 days.


For super quick service, fill out the form on this page. We'll do an immediate review, then we'll contact you right away to begin your hard money loan or bridge financing process.
Note: All submitted information is kept in strict confidence and used solely for the purpose of obtaining a hard money loan and/or bridge loan. We do not share your information with any third parties without your consent.
Use our quick-start application below to begin the process. Once received, we will contact you via phone to verify your interest and to gather a few more details: