MAITLAND, FL | HARD MONEY LOAN SOLUTIONS
Hard Money & Bridge Financing Solutions For The Greater Maitland Area
ASSET BASED LENDING SOLUTIONS FOR THE GREATER MAITLAND, FL AREA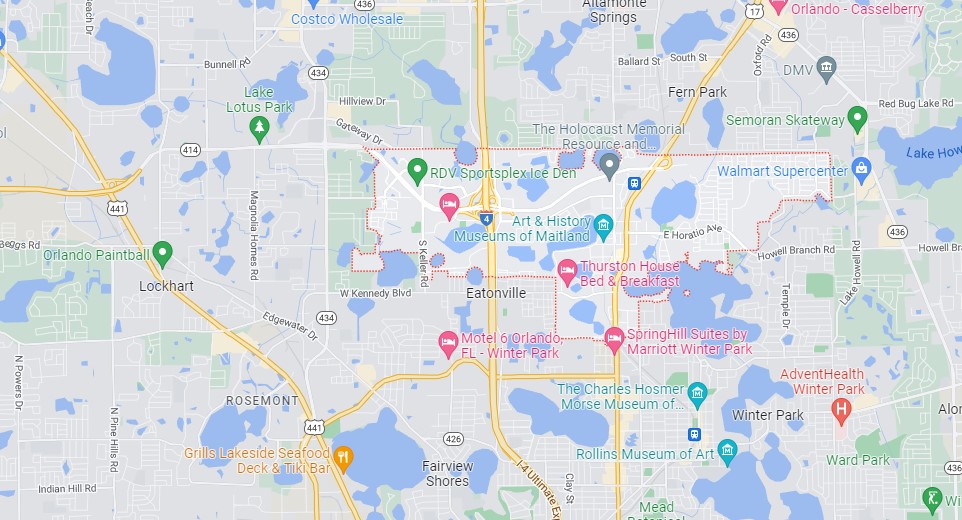 Maitland is located in the heart of Central Florida and is just minutes away from Orlando, making it an excellent location for those who want to be close to all the action. The city has experienced unprecedented growth over the past few years, which has recently seen an influx of new residents with new businesses and restaurants moving into town. Despite the increase, Maitland has managed to maintain its small-town charm, and there are still plenty of things to do in this vibrant community.
There's something for everyone in Maitland, from outdoor activities at Lake Lily Park to shopping and dining along Park Avenue. And with easy access to all of Orlando's attractions, it's hard to beat the convenience of living here. If you have always been a go-getter and someone that takes opportunities when they arise, then why not take the opportunity to invest in a small business of your own or something along the lines of a bed and breakfast.
HML Solutions is the perfect company to help you with hard money loans and bridge financing solutions. Whether you require a short-term solution or long-term funding for your business, HML Solutions will be there every step of the way.
Different Types of Hard Money Loans
There are a few different types of hard money loans that you can get. The most common type is the bridge loan, which is used to finance the purchase of a new property before you sell your old one. Commercial hard money loans are used for businesses, while residential hard money loans are for homeowners. Each type has its specific benefits and drawbacks.
Commercial vs. Residential Hard Money Loans:
The two main types of hard money loans are commercial and residential. Commercial loans are for businesses, while residential loans are for homeowners. Both have their specific benefits and drawbacks. Commercial loans typically have lower interest rates, but they can be harder to get approved for. Residential loans tend to be easier to get approved for, but they have higher interest rates.
A bridge loan is a short-term loan used to finance the purchase of a new property before you sell your old one. Bridge loans are typically for six months or less, and they usually have a higher interest rate than traditional loans. However, they can be an excellent option for people who need to buy a new property quickly.
Benefits of a Bridge Loan
A bridge loan can be an excellent option for borrowers in between traditional financing. Here are some of the benefits to consider before getting started with your next hard money loan funded through Hard Money Lenders Solutions.
Quick turnaround time: One of the most significant benefits of a bridge loan is the quick turnaround time. You can often get funded in as little as 24 hours, which can be a lifesaver when you are in a bind.
Flexible terms: Bridge loans typically have more flexible terms than traditional mortgages. This can be helpful if you need a little more time to get your finances in order.
No pre-payment penalties: Another advantage of bridge loans is that there are no pre-payment penalties. This means that you can pay off your loan early without incurring extra fees.
Excellent Loan Terms and Interest Rates.
Hard Money Lenders Solutions has excellent loan terms and interest rates for all types of loans. If you need a bridge loan, commercial hard money loan, or residential hard money loan to buy your next property quickly and affordably, contact us today!
LOAN AMOUNTS: $100K – $50M+

Maximum LTV 75%

TERMS: 1 – 3 Years

RATE TYPE: 10% – 12% fixed

AMORTIZATION: Interest only

CLOSINGS: 1 – 2 Weeks

ORIGINATION FEE: 2 Points

CREDIT CHECK: NO

INCOME VERIFICATION: NO
Different types of hard money loans can give you the flexibility to get your project done quickly and affordably. There are multiple loan amounts, so don't hesitate to contact us if you need help determining which type is best for your situation!
Contact us today for a free consultation and get started with a loan process that often closes within 10 days.


For super quick service, fill out the form on this page. We'll do an immediate review, then we'll contact you right away to begin your hard money loan or bridge financing process.
Note: All submitted information is kept in strict confidence and used solely for the purpose of obtaining a hard money loan and/or bridge loan. We do not share your information with any third parties without your consent.
Use our quick-start application below to begin the process. Once received, we will contact you via phone to verify your interest and to gather a few more details: