LARGO, FL | HARD MONEY LOAN SOLUTIONS
Hard Money & Bridge Financing Solutions For The Greater Largo Area
ASSET BASED LENDING SOLUTIONS FOR THE GREATER LARGO, FL AREA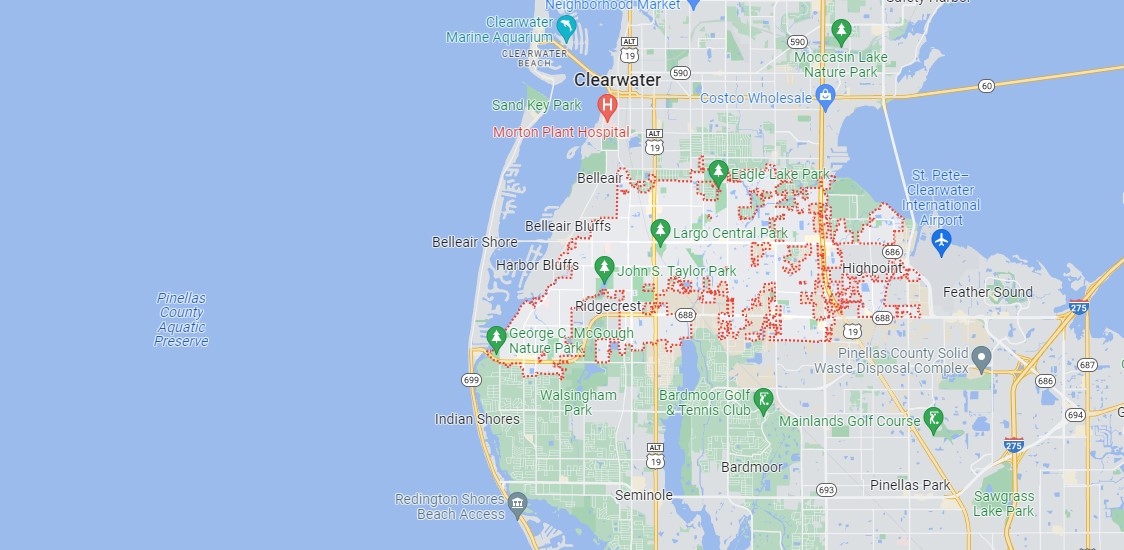 Tampa Bay's fourth-largest city is Largo, Florida. Located on the Pinellas Peninsula, Largo has magnificent beaches and thriving agriculture since the climate is moderated by its proximity to the Gulf of Mexico and Tampa Bay.
If you are looking to invest in sunny, coastal Largo, Hard Money Loan Solutions can help by offering bridge loans and hard money loans. Don't wait and let the perfect property you've been eyeing get snatched up.
The Loan Application Process
Compared to the traditional loan application processes, Hard Money Loan Solutions has simplified the process saving you much time and energy. You will have to submit a few business documents and information about collateral related to the project or the commercial property, but our agents are there to help you every step of the way. It takes as little as 1 week for your loan to get approved!
Types of Loans Offered
The hard money and bridge financing solutions in Largo, Florida, offer two types of loans, including the hard money loans and the bridge loans.
Firstly, a hard money loan is a short-term loan for projects that need cash fast. These loans allow the individuals borrowing the cash to use the money to create more money or get a consistent flow of income. Additionally, the borrowers can use the money to buy a property they can use to create a livelihood, for instance, using it for agricultural purposes.
A bridge loan helps bridge the gap between when a property is being sold and when a new one is being purchased, hence the name bridge loans.
A few examples of the loans we also offer are:
Cash-out/refinance loans
Commercial hard money loans
Fix and flip loans
Rehab loans
What Stands Out with These Financing Solutions?
Compared to traditional loans, hard money loans have a much faster approval time, often in as little as 1 week. There is also less emphasis on having good credit. Here at Hard Money Loan Solutions, we understand that having poor credit doesn't mean you won't pay back your loans in a timely manner and so you can rest easy knowing that is not the only deciding factor in whether your loan will be approved.
We offer loan amounts of $100,000 to $50,000,000 or more for terms of 1-5 years with an LTV (loan-to-value) of up to 75% of the as-is value or purchase price, depending on which is lower.
As hard money loans require us to take on more risk because of the short-terms and quick financing, they can have higher interest rates with shorter loan terms than conventional loans. We offer rates of 6.99% to 12% with interest-only amortization.
We strive to make the entire process is easy for our clients. You can rest easy knowing that there is no penalty for paying back the money early.
Conclusion
Picking these financial loans can help you get back on track in your business, whether you need to buy a commercial property or more agricultural equipment. Our company can provide you with the money you need for your investment through bridge loans and hard money loans. You do not have to be well-established to qualify for this loan.
Contact us today for a free consultation and get started with a loan process that often closes within 10 days.


For super quick service, fill out the form on this page. We'll do an immediate review, then we'll contact you right away to begin your hard money loan or bridge financing process.
Note: All submitted information is kept in strict confidence and used solely for the purpose of obtaining a hard money loan and/or bridge loan. We do not share your information with any third parties without your consent.
Use our quick-start application below to begin the process. Once received, we will contact you via phone to verify your interest and to gather a few more details: