LAKE PLACID, FL | HARD MONEY LOAN SOLUTIONS
Hard Money & Bridge Financing Solutions For The Greater Lake Placid Area
ASSET BASED LENDING SOLUTIONS FOR THE GREATER LAKE PLACID, FL AREA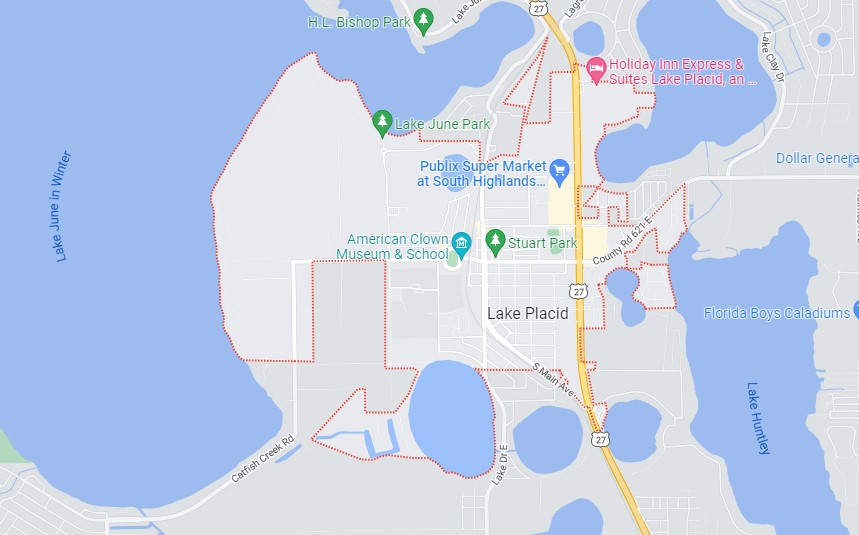 The town of Lake Placid is located in Highlands County, Florida. The downtown neighborhood boasts a famous outdoor art exhibition. There are almost 50 murals painted on the buildings—explaining the nickname 'Town of Murals'. Lake Placid is just 16 miles from Sebring city, home to the Sebring International Raceway.
Whether you're just getting started or looking to widen your portfolio, Lake Placid is a promising area for real estate investors. At HML Solutions we design hard money and bridge loans suitable for a range of projects in the Lake Placid area. 
What are bridge and hard money loans?
Bridge loans refer to a type of short-term loan, these loans are used to purchase or renovate real estate. Bridge loans can be used to finance the purchase of a new property before that buyer has sold a property. Hard money loans are secured based on property value as opposed to an individual's creditworthiness. With a hard money loan, buyers can use property value as a means of collateral. Bridge loans are designed for the sole purpose of purchasing property, whereas hard money loans can be utilized for other purposes.
Hard Money Loans from HML Solutions
With HML Solutions you can access your financing fast, accomplished with a straightforward application procedure. Conventional loans include rigorous credit checks, our hard money loans are based strictly on the value of the property you are buying. As a result, you won't need perfect credit to be eligible for a loan. HML Solutions handle all loan applications on-site, which speeds up the process further.
Hard Money and Bridge Loan Projects
At HML Solutions we can help you to acquire loans for various projects. You can use our loans for either multi-family or single-family dwellings. Hard money loans and bridge loans are suitable for fix-and-flip projects. We can also support you with commercial property real estate. Whether you're capitalizing on short sales or buying new real estate, we have the right loan for you. Hard money and bridge loans are also appropriate to construct a building from scratch. We've assisted clients who are opening new businesses or developing an area of land. If you need a residential loan or a commercial real estate loan, we can help you with your project fast.
The benefits of our hard money and bridge loans:
LOAN AMOUNTS: $100K – $50M+

Maximum LTV 75%

TERMS: 1 – 3 Years

RATE TYPE: 10% – 12% fixed

AMORTIZATION: Interest only

CLOSINGS: 1 – 2 Weeks

ORIGINATION FEE: 2 Points

CREDIT CHECK: NO

INCOME VERIFICATION: NO
Contact Hard Money Loan Solutions
At HML Solutions we have the knowledge and experience to find our clients the best financial products. We're passionate about what we do and have helped many investors take their careers to the next level. Contact us today at HML Solutions to discuss your needs and goals. A member of our team can set up a free consultation. If you prefer, fill in the Quick Application form on our website. For fast bridge and hard money loans at excellent rates, you need HML Solution
Contact us today for a free consultation and get started with a loan process that often closes within 10 days.


For super quick service, fill out the form on this page. We'll do an immediate review, then we'll contact you right away to begin your hard money loan or bridge financing process.
Note: All submitted information is kept in strict confidence and used solely for the purpose of obtaining a hard money loan and/or bridge loan. We do not share your information with any third parties without your consent.
Use our quick-start application below to begin the process. Once received, we will contact you via phone to verify your interest and to gather a few more details: