LAKE CITY, FL | HARD MONEY LOAN SOLUTIONS
Hard Money & Bridge Financing Solutions For The Greater Lake City Area
ASSET BASED LENDING SOLUTIONS FOR THE GREATER LAKE CITY, FL AREA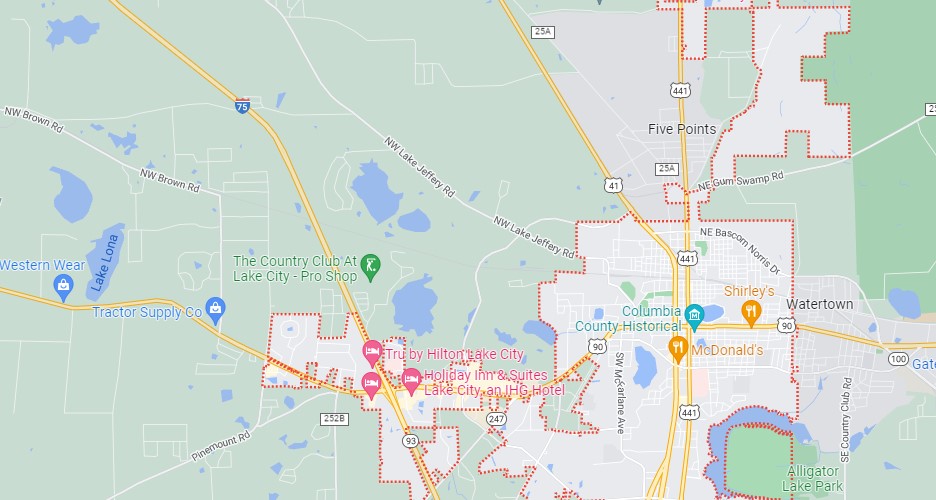 If you're looking for a new investment, Lake City, FL is a great place to buy real estate. Situated just off both Interstate 75 and Interstate 10, the county seat of Colombia County is known as the "Gateway to Florida". You can enjoy a warm climate, with Spring and Fall being the best times of year to enjoy the beauty of the city. Residents can also appreciate the peaceful views of Lake DeSoto from downtown. From its early beginnings as the town of Alligator, it's now become a central hub with large national corporations offering plenty of work and educational opportunities. At HML Solutions, we provide residential loans and commercial real estate loans in Lake City, FL, and the surrounding area. Here are two of the most popular services we offer.
Bridge loans
Bridge loans are the ideal stepping stone to permanent funding. At HML Solutions, we offer flexible and bridge loans that are tailored to suit the individual needs of the borrower. They can vary in type and can be used to help you acquire property in a range of situations including:
Single-family
Multi-family
Real-estate acquisition
Short sales
Construction loans
REOs
Bank foreclosed properties
Bridge loans are characteristically short-term, in our case typically 1-5 years. This is why they work best as an intermittent tool. Our bridge loans aim to ensure you acquire the property you desire. If you're looking for funding to seal the deal on your next investment in Lake City, FL, you've certainly come to the right place. Speak to one of our friendly advisors about how these can benefit you.
Hard money loans
If you're in need of funding to help you get your business off the ground, then you need a reputable lender of commercial real estate loans. Here at HML Solutions, our hard money loans are ideal if you're in the process of refinancing your commercial property. You can use a hard money loan on a range of different types of structures. HML Solutions has helped borrowers secure:
Apartments
Construction projects
Single and multi-family units
Personal and business condos
Strip malls
Why Choose HML Solutions
If you opt for HML Solutions you can enjoy a number of benefits. Our bridge and hard money loans are dealt with much faster than conventional loans. If you're looking to move into your new Lake City properly quickly this is much more convenient. At HML Solutions, we always take care of our customers' best interests and this is why you can expect accessible interest rates and comfortable terms depending on your goals and preferences.
We have experience with residential customers throughout Florida and businesses in various industries. You can rest assured our experts will be able to offer the right financial solution for you, according to your unique situation. Whether you're looking to invest in a new home or commercial real estate, our friendly team is always available for help and advice. If you'd like further information about the services we offer, get in touch today.
Contact us today for a free consultation and get started with a loan process that often closes within 10 days.


For super quick service, fill out the form on this page. We'll do an immediate review, then we'll contact you right away to begin your hard money loan or bridge financing process.
Note: All submitted information is kept in strict confidence and used solely for the purpose of obtaining a hard money loan and/or bridge loan. We do not share your information with any third parties without your consent.
Use our quick-start application below to begin the process. Once received, we will contact you via phone to verify your interest and to gather a few more details: