JASPER, FL | HARD MONEY LOAN SOLUTIONS
Hard Money & Bridge Financing Solutions For The Greater Jasper Area
ASSET BASED LENDING SOLUTIONS FOR THE GREATER JASPER, FL AREA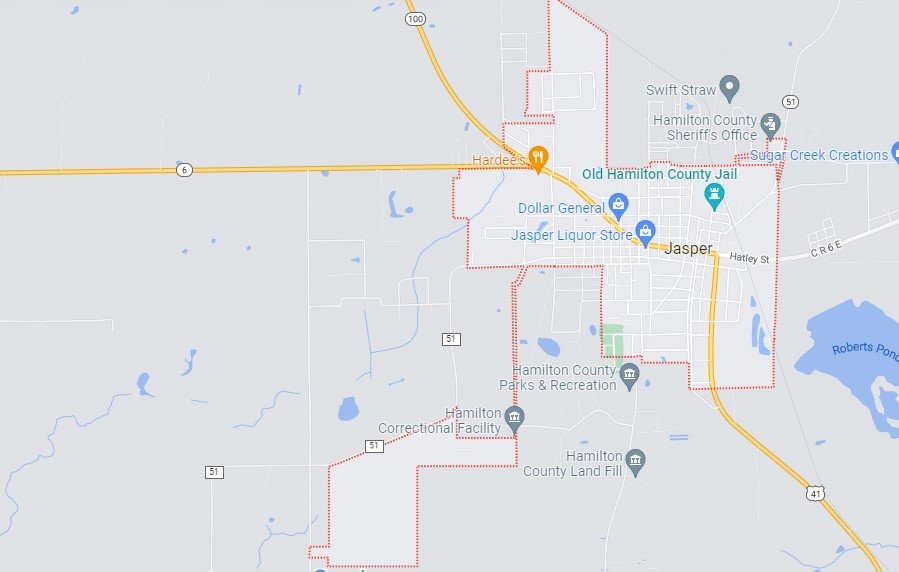 Nestled in the North Florida lowlands, the city of Jasper is only 83 miles west of Jacksonville and 90 miles east of Tallahassee. Making the most of its secluded location while staying within arm's reach of everything a city has to offer means Jasper is a beautiful place to settle. With its yearly wild blackberry festival and access to the whitewater rapids of Suwannee, Jasper has a variety of attractions for all. If you're looking to invest in real estate and prefer the quiet charm of a small town, the city of Jasper is the place to be.
HML Solutions is on hand to help whether you're looking to invest in commercial real estate, seek out new construction opportunities, or you're just curious about the art of fix and flip properties. We can provide the hard money and bridge loans needed for you to succeed in this investment area. Working with our clients personally means we're able to provide loan solutions tailored to fit your situation.
Bridge and Hard Money Loan Solutions in Jasper, FL
It's the job of our professional team to understand the market in the city of Jasper and its surrounding areas. This knowledge earned over our years in this sector is put to good use as we help developers, investors, and businesses alike find the right personalized solution for them.
Many loan providers require you to jump through countless hoops before settling a loan agreement. At HML Solutions, we understand that these conditions are a waste of your precious time as an entrepreneur. That's why our loan conditions are simple to make sure you get the loan you need with ease and efficiency.
All that we require from you is a simple credit check, fewer business documents than other lenders, and you don't need to have a high cash flow or outside collateral to meet our conditions. Our uncomplicated terms mean that you get a loan with fixed rates and faster closing, with many of our clients closing on retail in only 7-14 days.
We can provide a loan solution for every situation, including:
Foreclosure Properties
Single-Family Properties
Unique/Special Projects
Real Estate Acquisition
REO's
Construction Loans
Short Sales
Multifamily Units
The Benefits of HML Solutions Hard Money and Bridge Loans in Jasper, FL
Your business may be still finding its feet, or you might be heading a tried and tested company thanks to years of gained experience. We believe that no matter where your venture is in its journey, you should have access to loans with excellent terms and outstanding fixed rates. Your commercial project relies on consistent and easily accessible funding. Trust in HML Solutions to provide efficient support that will allow your dreams to turn a profit. From your first project to your last.
Thanks to approval for our bridge and hard loans being based upon the overall value of your assets and property, you won't have to magic more cash flow out of a magician's hat. You won't be forced to go through numerous credit checks, nor will you be passed around the houses. Our loans are simple, efficient, and completed in-house. You'll know who you're dealing with every time you contact us, and you'll get a solution tailored perfectly to you quickly.
The benefits of utilizing hard money and bridge loans with us in Jasper don't stop there. We provide excellent interest rates and terms and conditions you'll appreciate:
LOAN AMOUNTS: $100K – $50M+

Maximum LTV 75%

TERMS: 1 – 3 Years

RATE TYPE: 10% – 12% fixed

AMORTIZATION: Interest only

CLOSINGS: 1 – 2 Weeks

ORIGINATION FEE: 2 Points

CREDIT CHECK: NO

INCOME VERIFICATION: NO
Choose HML Solutions for a Perfect-Fit Bridge or Hard Money Loan in Jasper, FL
When your business is looking for financing, don't settle for traditional options on the market that don't fit your needs perfectly. Choose HML Solutions because we'll cater a loan solution that fits like a glove to your individual situation. We recognize that every business is different, and we'll support and champion that difference. Whether you're a sole proprietor, a family fix and flip team, a small business, or a large-scale institution, we have an option for you.
Contact us today if you're looking for a loan solution or just want some advice on your circumstances. We offer a free consultation to assess how we can help you realize your business goals. There's no obligation to close on a loan solution. But you might find our unparalleled knowledge, excellent interest rates, and outstanding terms are too good to pass up.
Launch the next chapter of your business and contact our team in the beautiful city of Jasper, FL, today.
Contact us today for a free consultation and get started with a loan process that often closes within 10 days.


For super quick service, fill out the form on this page. We'll do an immediate review, then we'll contact you right away to begin your hard money loan or bridge financing process.
Note: All submitted information is kept in strict confidence and used solely for the purpose of obtaining a hard money loan and/or bridge loan. We do not share your information with any third parties without your consent.
Use our quick-start application below to begin the process. Once received, we will contact you via phone to verify your interest and to gather a few more details: