EATONVILLE, FL | HARD MONEY LOAN SOLUTIONS
Hard Money & Bridge Financing Solutions For The Greater Eatonville Area
ASSET BASED LENDING SOLUTIONS FOR THE GREATER EATONVILLE, FL AREA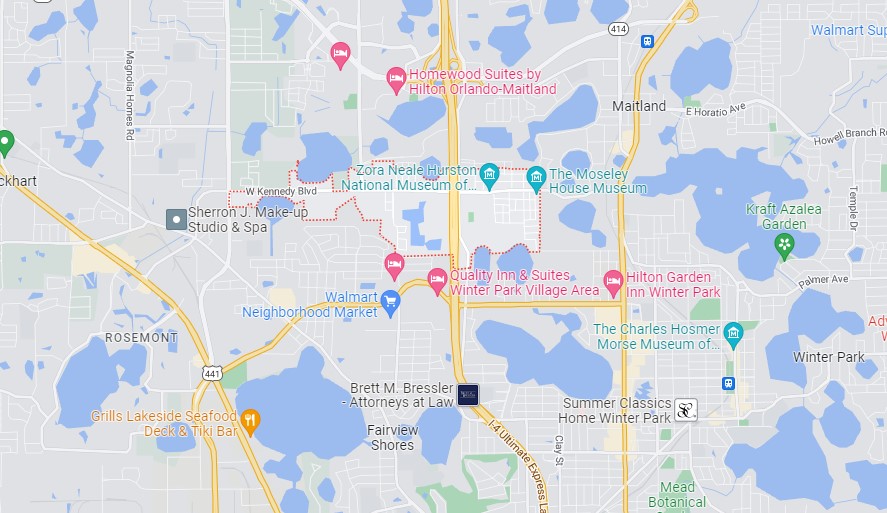 Eatonville is a small town in Orange County, Florida, located about six miles north of Orlando. It is the oldest all-black incorporated municipality in America, making Eatonville an important town in African-American history. It was home to Zora Neale Hurston, the famous Harlem Renaissance writer best known for her novel "Their Eyes Were Watching God."
Eatonville is now a suburb of Orlando and a far cry from how Hurston described it in her novel as a rural town. However, it is still a cultural gem that invites many tourists to visit. Consequently, there are a lot of business opportunities you can explore to take advantage of Eatonville's booming tourism industry.
You need the right funding to help your business expand and take full advantage of the opportunities. Thankfully, hard money loans and bridge loans from HML Solutions can help you with a wide range of needs, from stocking up on inventory to investing in new office buildings.
Using Our Hard Money Loans to Achieve Your Goals
HML Solutions offers $100,000 to $50,000,000+ in hard money loans to businesses and investors in the Eatonville area. These loans come in varying loan programs to help borrowers attain a specific goal. For example:
Our residential loans provide the necessary funds you need to invest in residential real estate projects like multi-family dwellings, townhouses, and condominiums.
Our hard money fix-and-flip loans allow you to acquire promising fixer-uppers that you can improve and sell for profit.
Our commercial real estate loans can help you buy or refinance properties. As such, your commercial projects can proceed with no funding delays, enabling you to meet your deadlines. Furthermore, you can use commercial real estate loans from HML Solutions to fund investments in retail centers, restaurants, office buildings, self-storage facilities, and other commercial structures.
HML Solutions' Bridge Loans
Bridge loans are a unique form of hard money loans we give to investors and businesses in Eatonville. A bridge loan is a short-term financing alternative that can help you proceed with a project despite awaiting long-term financing.
For instance, you need inventory to keep your operations going if you run a retail company. However, stocking up on inventory can be challenging if your clients are yet to pay you. Luckily, bridge loans from HML Solutions are an ideal gap financing alternative you can leverage to purchase inventory and keep your business operational while waiting for your clients to pay you.
Qualifying for Our Hard Money and Bridge Loans
We are more interested in your investment's value than your credit history since we aim to give borrowers fast access to the cash they need. Consequently, your property becomes the collateral to help you quickly qualify even without excellent credit. The paperwork needed to receive your hard money or bridge loan is minimal, and we finish the entire application process within a short period.
Characteristics of Our Hard Money and Bridge Loans
No extra hidden fees
Loan terms of 1-5 years
Interest-only amortization
Easy qualification
Quick financing, so you can obtain your cash in 1-2 weeks
Funding between $100,000 to more than $50 million.
Loan-to-value (LTV) ratio of up to 75% of property value or purchase price
Financing Experts in Eatonville, FL
Our hard money and bridge loan options can help your business in several ways, no matter the industry. Consequently, consider contacting our Eatonville team at (855) 244-2220 if you have any questions or are interested in starting the loan application process.
Contact us today for a free consultation and get started with a loan process that often closes within 10 days.


For super quick service, fill out the form on this page. We'll do an immediate review, then we'll contact you right away to begin your hard money loan or bridge financing process.
Note: All submitted information is kept in strict confidence and used solely for the purpose of obtaining a hard money loan and/or bridge loan. We do not share your information with any third parties without your consent.
Use our quick-start application below to begin the process. Once received, we will contact you via phone to verify your interest and to gather a few more details: