DUNDEE, FL | HARD MONEY LOAN SOLUTIONS
Hard Money & Bridge Financing Solutions For The Greater Dundee Area
ASSET BASED LENDING SOLUTIONS FOR THE GREATER DUNDEE, FL AREA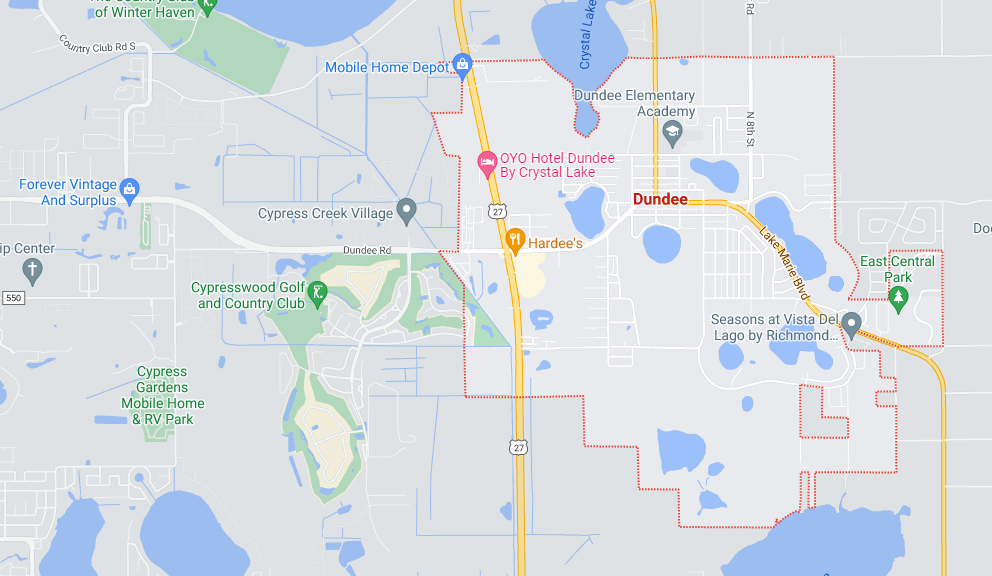 Dundee is an up-and-coming neighborhood located in Central Florida. Only 25 miles inland from the Tampa Bay area, Dundee is a mid-sized city that boasts a great quality of life, low unemployment rates, and the home appreciation rate continues to grow. Dundee is located in an excellent area, with friendly locals, scenic hills and lakes, and only a short drive to Disney and Orlando and Davidson of Dundee's sweet citrus candies have a claim to fame of their own.
It is a good time to invest in property in Dundee, whether you are building a growing portfolio or are looking to invest in your first commercial project. HML Solutions can provide you with the hard money or bridge loans to get the ball rolling right away.
Financing Solutions You Can Trust
When investing in property, it is vital that you work with a reputable lender who can efficiently supply you with the capital you need to move forward with your project. At HML Solutions, we pride ourselves in working closely with businesses in Dundee, to provide tailored financing solutions, with our hard money loans and bridge loans. We utilize our years of experience to supply the best interest rates and faster closing processes than any other lender on the market. We keep all of our processes in-house and endeavor to make the process as quick and simple as possible, so you can hit the ground running. We know just how challenging it can be to secure financing for your next investment, which is why we are leading positive change in the market with our products and services. We are committed to providing your business with:
Excellent interest rates that are fixed, with no hidden charges or early repayment fees
A quick credit check and limited paperwork requested
Faster closing rates
No outside collateral requirements
And much more.
Loan terms and interest rates that cannot be matched
We are dedicated to providing Dundee businesses, from any industry, with access to unmatched financing terms and interest rates. HML Solutions works with you to tailor a finance solution that meets you where you are and will ensure that you can turn a profit from your first project. You don't have to be a long-running business and jump through hoops for finance, we offer a range of options to help you qualify for excellent terms, regardless of the size or age of your business.
Here at HML Solutions, we offer an LTV of up to 75% of the purchase price, or existing property value (whichever is lower), excellent interest rates that will be fixed for the term of the loan, ranging from 6.99% to 12%, and loans from $50,000 to $50 million. Through simplifying the process, we aim to reduce any wasted time, and paperwork on irrelevant points and instead, focus on the property and investments you are making to ensure your business in Dundee will thrive with our support.
Contact us today for a free consultation and get started with a loan process that often closes within 10 days.


For super quick service, fill out the form on this page. We'll do an immediate review, then we'll contact you right away to begin your hard money loan or bridge financing process.
Note: All submitted information is kept in strict confidence and used solely for the purpose of obtaining a hard money loan and/or bridge loan. We do not share your information with any third parties without your consent.
Use our quick-start application below to begin the process. Once received, we will contact you via phone to verify your interest and to gather a few more details: