CRYSTAL RIVER, FL | HARD MONEY LOAN SOLUTIONS
Hard Money & Bridge Financing Solutions For The Greater Crystal River Area
ASSET BASED LENDING SOLUTIONS FOR THE GREATER CRYSTAL RIVER, FL AREA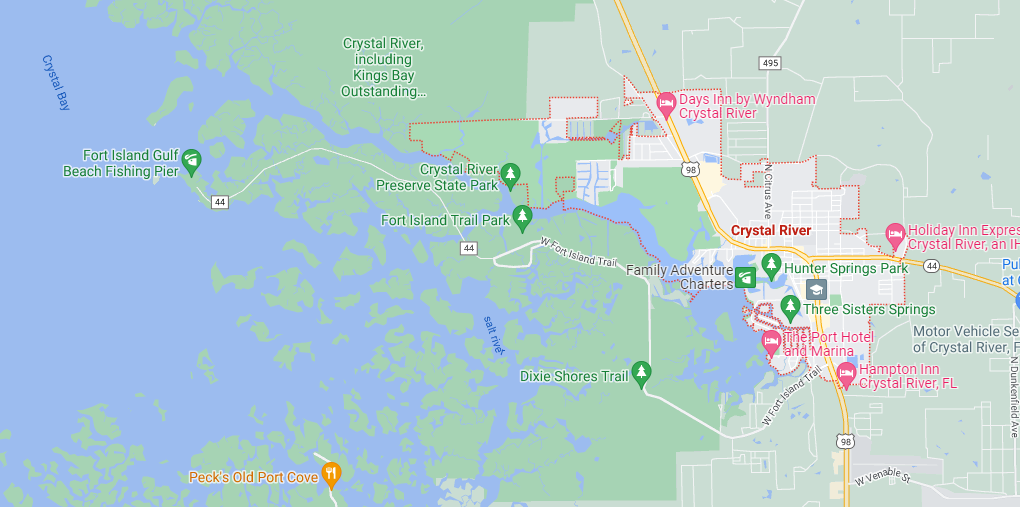 Located in Citrus County, Crystal River, FL, is the self-professed home of the manatee. Crystal River is an ideal vacation spot for those with a passion for water sports and nature. The booming tourist scene in Crystal River, FL, makes it the ideal spot for commercial real estate investment for established businesses and newcomers alike.
At HML Solutions, we understand that getting the right funding for your next venture should be just easy for everyone wherever you are on your investment journey.
Choose An Easy Application Process for Hard Money Loans in Crystal River, FL
Many lenders make loan applicants jump through hoops to qualify for financing. We believe that doing so is a waste of time for both your company and ours. Instead, our hard money loans are structured so that the qualification requirements are reduced, and the focus is more on the property you want to buy.
You don't need expensive business equipment to use as collateral. Instead, the commercial property or project assets serve as loan collateral. You'll need to submit the main documents for approval related to the commercial property's value or the remodeling project you're planning. Many of our clients can close on real estate in as little as 7–14 days.
What are the benefits of making a hard money loan with HML Solutions?
Our hard loan application process is quick and efficient, meaning you can benefit from:
A simple credit check
Faster closing
Fixed Interest Rates
No external collateral requirements
Fewer documents required
Lower cash flow requirements
Benefit from Lower interest Rates and Better Terms for Commercial Real Estate Loans Crystal River, FL
Whether you are looking for real estate loans or residential loans for buy to let options for holidaymakers for example. You are considering commercial loans. You want to make sure you are getting the best rates possible for your investment.
We believe that promising new businesses should also have access to favorable financing terms. The notion that only "tried and true" businesses should obtain favorable interest rates is a myth. Our hard money loans enable you to qualify for excellent terms and rates, allowing you to profit from your first project and everyone that follows.
You can save money on a hard money loan if your company has strong financials, but this is not required for approval or low-interest rates. We work with companies from a wide range of industries to offer you the best hard money and bridge loans with the following benefits:
Loan-to-value ratio: We offer an LTV of up to 75% of the purchase price or existing property value (whichever is lower).
Typical interest rates of 10%–12%.
Our fixed interest loans are interest-only amortized, offering stability to the entire process.
Pay off the loan at any time during the term, such as transferring the balance to an SBA loan once you're approved, and there are no hidden prepayment penalties.
With HML Solutions, you never have to worry about surprise fees or small print. We're completely upfront with everything you need to know. This is why we are the go-to lender in Crystal River, FL.
No business is debt-free. We recognize that firms with multiple organizational structures, including sole proprietorships, partnerships, LLPs, small businesses, and large corporations, exist. Business owners, real estate developers, and business remodelers of retail and fix-and-flip projects all have opportunities to benefit from our services. To find out more, contact our experienced team at HML Solutions today.
Contact us today for a free consultation and get started with a loan process that often closes within 10 days.


For super quick service, fill out the form on this page. We'll do an immediate review, then we'll contact you right away to begin your hard money loan or bridge financing process.
Note: All submitted information is kept in strict confidence and used solely for the purpose of obtaining a hard money loan and/or bridge loan. We do not share your information with any third parties without your consent.
Use our quick-start application below to begin the process. Once received, we will contact you via phone to verify your interest and to gather a few more details: