VERNON, FL | HARD MONEY LOAN SOLUTIONS
Hard Money & Bridge Financing Solutions For The Greater Vernon Area
ASSET BASED LENDING SOLUTIONS FOR THE GREATER VERNON, FL AREA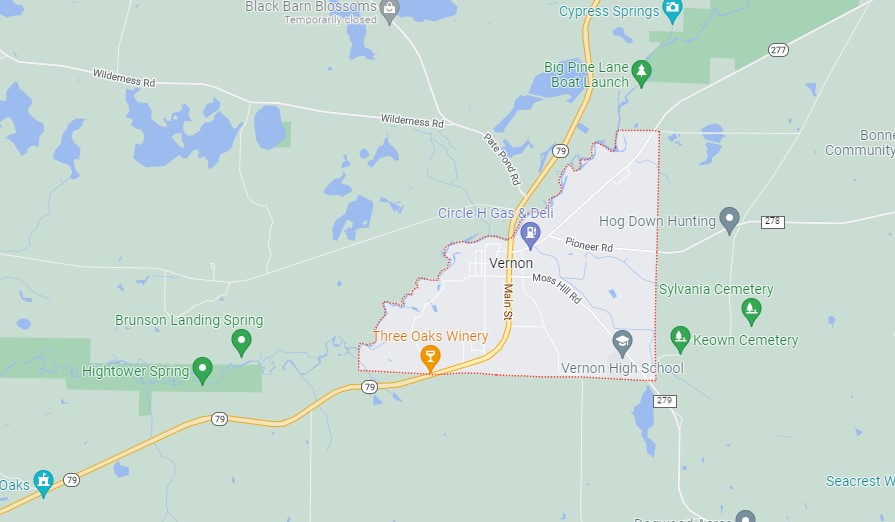 Vernon is a mostly residential city located in Washington County, Florida. It has a unique tie to President George Washington. It is named after his Virginia home, Mount Vernon. The town gained notoriety after being featured in Errol Morris' 1981 documentary "Vernon, Florida". Today, residents and business owners in Vernon enjoy the small-town vibes while striving to put Vernon on the map in their own way.
Hard Money Loan Solutions (HML Solutions) is at your service in Vernon when you are ready to purchase or invest in real estate or commercial property. Our team at HML Solutions has an array of products to meet your needs. We offer hard money loans, residential loans, commercial real estate loans, bridge loans, and investment services. HML Solutions provides competitive interest rates and terms to meet your business's financial needs. Whether you are just getting started with your endeavors or need working capital to help grow your business, working with our professional team is a great way to help your business succeed.
What are hard money loans?
Hard money loans draw capital from private lenders to aid borrowers in receiving the needed capital to finance their commercial projects. A hard money loan is asset-based and funded by secured property. As a private lender, HML Solutions is in a unique position to service your needs without the usual constraints of a traditional bank.
Hard money loans are ideal for a variety of property types, including:
Condominiums

Industrial properties

Mixed-use buildings

Mobile home parks

Restaurants

Retail centers

Self-storage facilities

Shopping complexes
These are only some of the options available to you. Hard money loans are ideal when emergency financing is needed or other unforeseen matters arise.
What are bridge loans?
A bridge loan is a short-term loan that fills a gap in funding while awaiting a larger loan or longer-term financing. Bridge loans have fast turnaround times to aid with property transitions. HML Solutions can help you secure an expeditious cash flow so there are no gaps in your project's progression.
Common uses of bridge loans include:
Cash is needed for a new property while waiting for an old property to sell.

There is a gap in tenets and income.

You intend to flip a property.

A loan is needed for initial financing on a property build.
Bridge loans are ideal when you have multiple projects running at the same time with varying end dates. This is essential to prevent work stoppages while maximizing your timeline.
What are the benefits of working with HML Solutions?
Working with HML Solutions for hard money loans and bridge loans means we only look at your current hard assets or real estate. Your credit score does not factor in the same way as with a traditional loan application.
Here are some ways we can benefit you:
Fast application and closing process

Flexible terms for your needs, 1-5 years

Interest-only amortization

Fixed interest rates as low as 6.99%

No pre-payment penalty

Loans up to $50 million
Contact Hard Money Loan Solutions today
If you would like to learn more about hard money loans and bridge loans, do not hesitate to contact Hard Money Loan Solutions today. Our forward-thinking and dynamic team provides exceptional customer service for both new and existing customers. We are determined to help you reach your business goals and provide the funding that you need to achieve success. Simply get in touch with us today to book an appointment with one of our experts. You will be glad you did.
Contact us today for a free consultation and get started with a loan process that often closes within 10 days.


For super quick service, fill out the form on this page. We'll do an immediate review, then we'll contact you right away to begin your hard money loan or bridge financing process.
Note: All submitted information is kept in strict confidence and used solely for the purpose of obtaining a hard money loan and/or bridge loan. We do not share your information with any third parties without your consent.
Use our quick-start application below to begin the process. Once received, we will contact you via phone to verify your interest and to gather a few more details: