UMATILLA, FL | HARD MONEY LOAN SOLUTIONS
Hard Money & Bridge Financing Solutions For The Greater Umatilla Area
ASSET BASED LENDING SOLUTIONS FOR THE GREATER UMATILLA, FL AREA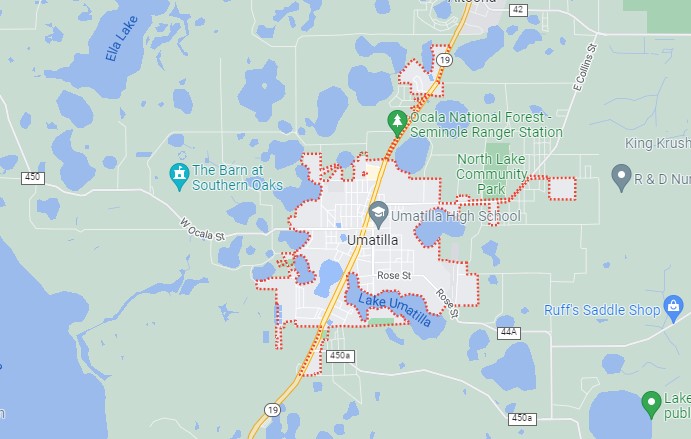 Close to the Ocala National Forest, the city of Umatilla, Florida, is a sleepy suburban settlement that sits on the north coast of Lake Umatilla. With a population of a little over 3,500, investors typically use loans for residential purchases and developments. However, there are a handful of commercial real estate opportunities too.
Umatilla is a popular stop-off for people traveling north from Orlando to the wildlife-rich regions of central Florida. It is also a destination for those who want to live an outdoor life but still have access to all of the facilities that a major city has to offer.
Our hard money and bridge financing options allow you to take advantage of real estate investment opportunities available in the area. HML Solutions' fast loans (many of which are available in as little as 7 to 14 days), give you capital upfront. You can then switch to a conventional mortgage later if required.
The Advantages of Our Hard Money Solutions
As a business or investor, you often come across opportunities to purchase real estate at favorable prices. Unfortunately, you're not always in a position to buy. Sometimes, you don't have the cash you need. Other times, you find yourself having to wait months for conventional lenders to approve your applications.
However, with our hard money and bridge loans, you don't have to worry about delays anymore. Because we make loan decisions based on the value of the collateral (not your personal income), we can provide capital faster. When you come to us, there is less paperwork and less hassle.
HML Solutions is different from the vast majority of lenders. You won't be dealing with an impersonal call center, we have dedicated agents ready to assist you.
Our process begins by looking at the total value of a project and asking how much it will cost to complete. In many cases, if you are buying a residential property in Umatilla, you'll only pay standard closing costs. If you require bridge financing for a commercial construction project, then completion costs will be higher. We then personally approve your loan instead of outsourcing the task to a third-party lender.
Fast, Flexible Bridge Financing
HML Solutions believes in the value of fast and flexible bridge financing. Our hard money and bridge loans offer all kinds of benefits that you'll struggle to find elsewhere. These include:
Loan amounts up to $50 million

Competitive rates of interest that reflect your true level of risk

Interest-only amortization

No hidden fees ever

Faster closing than traditional bank mortgage lending

High loan-to-value ratios of up to 75%
Our clients use bridge financing for a range of lucrative projects, including:
Multi-family units

Business properties

Renovations

New constructions

Real estate-owned

And many more
If you're interested in learning more about hard money and bridge loans for properties in Umatilla, then please call our team. We talk about the types of loans most suitable for you and the rates that you are likely to pa
Contact us today for a free consultation and get started with a loan process that often closes within 10 days.


For super quick service, fill out the form on this page. We'll do an immediate review, then we'll contact you right away to begin your hard money loan or bridge financing process.
Note: All submitted information is kept in strict confidence and used solely for the purpose of obtaining a hard money loan and/or bridge loan. We do not share your information with any third parties without your consent.
Use our quick-start application below to begin the process. Once received, we will contact you via phone to verify your interest and to gather a few more details: