SUNNY HILLS, FL | HARD MONEY LOAN SOLUTIONS
Hard Money & Bridge Financing Solutions For The Greater Sunny Hills Area
ASSET BASED LENDING SOLUTIONS FOR THE GREATER SUNNY HILLS, FL AREA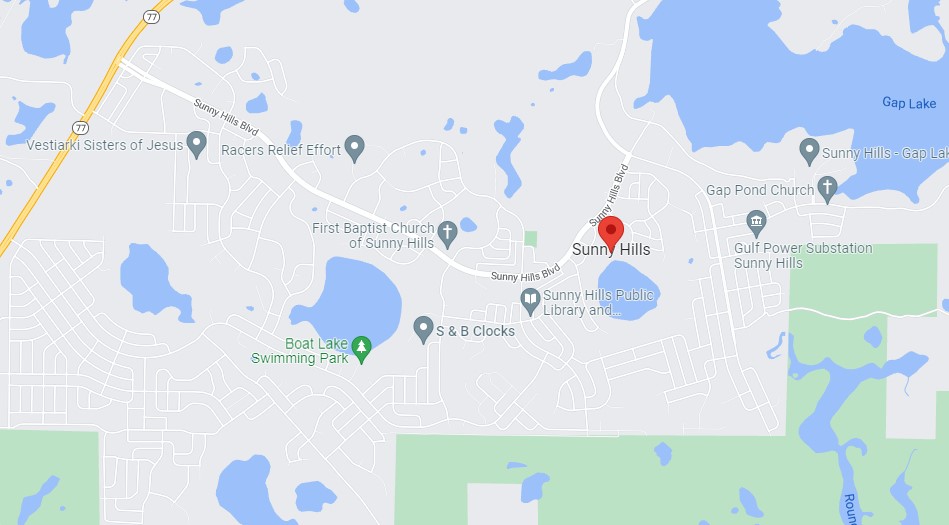 Looking for some of the best places to be able to invest in property is important, and whether these are commercial investments or personal ones, it is always important to choose the right area. This is why you need to consider Sunny Hills, FL, one of the most picturesque Florida communities, and it is also a great place to buy or build. There are hundreds of miles of road and plenty of streets that have little to no houses on them, giving you the pick of the area to build or buy property.
Home of Sunny Hills Golf and Country Club, as well as Boat Lake, one of the stunning hidden gems of Sunny Hills, this Washington County community is a great place to buy or build a home for those looking to enjoy Florida life without the hustle and bustle of the big cities. Taking advantage of our financing solutions is crucial for helping you secure the investment you want when you want it.
Our Hard Money Loans
Hard money loans differ from traditional loans in that they are collateralized and only take into account hard assets, making them essential for businesses and individuals with bad credit. Hard money loans are fast to approve, which makes them a key part of the process when you are trying to secure an investment or purchase a property quickly. At HML Solutions, we offer a range of hard money loans ranging anywhere from $50K up to $50M, over a term of 1 to 5 years.
Benefits of Hard Money Loans
There are plenty of benefits to using hard money loans as opposed to regular loans, and this is something you need to try to make the most of as much as you can. We can provide you with loans that will allow you to get your investment across the line, and, if you are a business, ensure that you complete projects on time. Here are some of the key benefits of hard money loans:
LOAN AMOUNTS: $100K – $50M+

Maximum LTV 75%

TERMS: 1 – 3 Years

RATE TYPE: 10% – 12% fixed

AMORTIZATION: Interest only

CLOSINGS: 1 – 2 Weeks

ORIGINATION FEE: 2 Points

CREDIT CHECK: NO

INCOME VERIFICATION: NO
Our Bridge Financing
Bridge loans provide a quick influx of cash over a short term and are predominantly used in situations where a buyer might need to complete on a home but may need to wait until they have sold their existing property. This can be a long and drawn-out process and might result in their purchase falling through. Bridge loans are designed to bridge that gap in financing and help you to secure the property you want when you want it.
Benefits of Bridge Loans
You have a lot to think about when you are trying to consider the different benefits of bridge loans, and they represent a unique but essential part of the property investment process. Understanding the advantages of bridge loans is so important, and these are some of the main ones:
Gives an immediate influx of cash

Stop-gap option between financing

Flexible terms

No hidden fees

Allows you to secure your purchase or investment
If you want to learn more about HML Solutions' hard money or bridge loans, give us a call at (855) 244-2220 and one of our seasoned experts will be happy to answer all of your questions. Alternatively, if you're ready to move ahead with your hard money or bridge loan, you can get started with our HML Quick Application.
Contact us today for a free consultation and get started with a loan process that often closes within 10 days.


For super quick service, fill out the form on this page. We'll do an immediate review, then we'll contact you right away to begin your hard money loan or bridge financing process.
Note: All submitted information is kept in strict confidence and used solely for the purpose of obtaining a hard money loan and/or bridge loan. We do not share your information with any third parties without your consent.
Use our quick-start application below to begin the process. Once received, we will contact you via phone to verify your interest and to gather a few more details: