SEABRING, FL | HARD MONEY LOAN SOLUTIONS
Hard Money & Bridge Financing Solutions For The Greater Seabring Area
ASSET BASED LENDING SOLUTIONS FOR THE GREATER SEABRING, FL AREA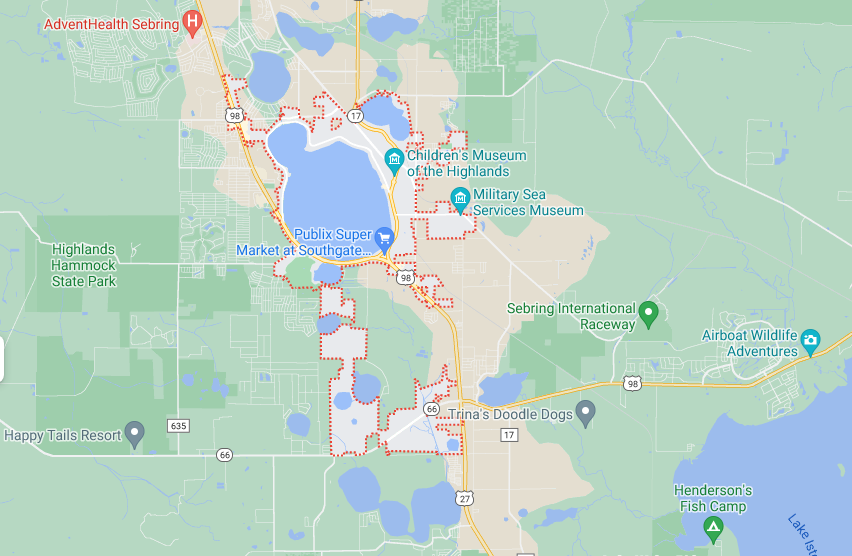 The city of Sebring is located in Highlands County, Florida, and is known as 'The City on the Circle', referring to the center of the downtown area, Circle Drive. Popular attractions here include the Highlands Hammock State Park and Lake Jackson. The city is also home to Sebring International Raceway.
Highland County offers fast connectivity to the metro markets in central Florida. There's plenty of space for business growth here, with operating expenses that are around 15% less than the surrounding metropolitan areas. Sebring is a fantastic area to invest in real estate, whether residential or commercial property.
Bridge Loans in Sebring Florida
Traditional loan applications can be lengthy, you've got to jump through plenty of hoops to qualify. At Hard Money Loan Solutions, we don't want to waste your time. We have structured our hard money loans so that the application process is simple. HML focuses on the property you're intending to buy, as opposed to your credit background. Hard money and bridge loans are the loan of choice for many budding entrepreneurs and beginner investors. Whether you're just starting out or you have experience behind you, we can offer a tailor-made solution. Our clients can access many advantages such as:
Straightforward credit check.
Less cash flow requirements.
No external collateral requirements.
Generous fixed interest rates.
Close on your loan fast.
Fantastic Interest Rates & Terms In Sebring, FL
We feel that ambitious new companies should be able to get great financing options. At HML Solutions you don't need to be a long-standing business to get great interest rates. Our bridge and hard money loans mean you can qualify for generous rates, and start making profits fast. You can access plenty of awesome benefits including:
LOAN AMOUNTS: $100K – $50M+

Maximum LTV 75%

TERMS: 1 – 3 Years

RATE TYPE: 10% – 12% fixed

AMORTIZATION: Interest only

CLOSINGS: 1 – 2 Weeks

ORIGINATION FEE: 2 Points

CREDIT CHECK: NO

INCOME VERIFICATION: NO
Hard Money Loan Solutions has an excellent reputation in the Sebring area. We've helped businesses across many different industries, to realize their potential and thrive. Don't let finances hold you back, we can offer customized loans to suit your small business needs.
Bridge Loans Commercial Real Estate in Sebring FL
At HML Solutions we appreciate that companies require financing for a variety of reasons. We've assisted businesses of various organizational structures, from LLCs and sole proprietors to business partners, and small and large companies. Whatever your business goals are, rest assured we can help.
Working on a residential real estate project? Hard Money Loan Solutions can also approve residential loans. We've supported a large number of clients to flip properties and expand their portfolios. For more information about our commercial real estate loans and residential loans, contact us at HML Solutions. We have an incredibly talented and experienced team ready to support your next project.
Contact us today for a free consultation and get started with a loan process that often closes within 10 days.


For super quick service, fill out the form on this page. We'll do an immediate review, then we'll contact you right away to begin your hard money loan or bridge financing process.
Note: All submitted information is kept in strict confidence and used solely for the purpose of obtaining a hard money loan and/or bridge loan. We do not share your information with any third parties without your consent.
Use our quick-start application below to begin the process. Once received, we will contact you via phone to verify your interest and to gather a few more details: