PORT RICHEY, FL | HARD MONEY LOAN SOLUTIONS
Hard Money & Bridge Financing Solutions For The Greater Port Richey Area
ASSET BASED LENDING SOLUTIONS FOR THE GREATER PORT RICHEY, FL AREA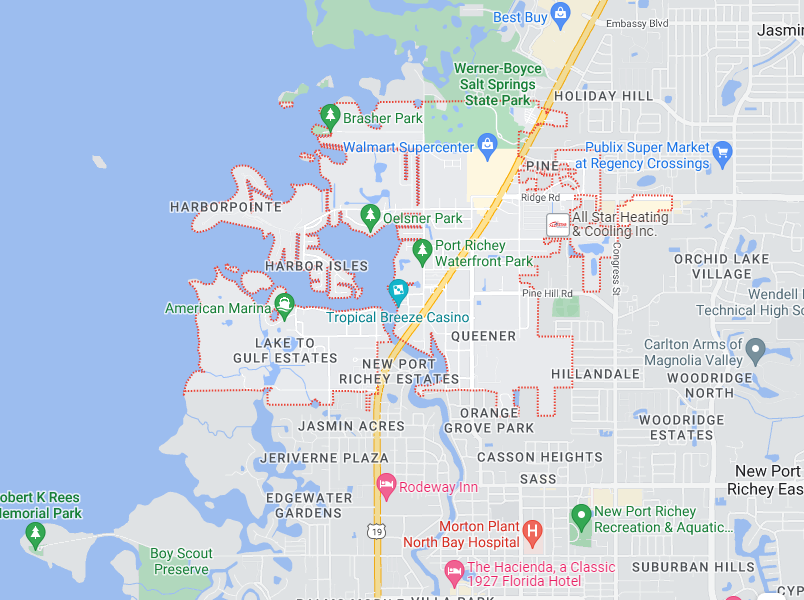 Port Richey is a beautiful oceanside suburban town in Florida known for once being the home of the famous singer Johnny Cash. Just like a sign leading into Port Richey states it is "Our Gateway to the Gulf", HML Solutions can be your gateway into a loan that's right for you.
If you are a small business owner, having a business plan is just the beginning. Next, you will need to get a residential loan provider to finance this dream. And with a hard money or bridge loan from HML Solutions in Port Richey, you will be a step closer to a lifetime investment.
What are the Loan Types and Structures Available in Port Richey, FL
Types
We offer various types of loans that will benefit your different loan needs. For instance, we have:
Rehab loans: These loan types are structured to work for your home improvement projects or residential property rehabs. It comes with a quick closing and approval process. As a result, you manage to get your capital without waiting too long and wasting too much time.
Fix and flip loans: This loan type is for investors in Port Richey seeking capital to either purchase real estate or give it a remodel. It can also help when you want to move one of your projects to completion.
Bridge loans Are a secure and short-term funding option for people that do not want to delay their business or project renovation process.
Commercial loans: Just from the name, these are commercial real estate loans through which we assist you to keep your projects running and from going beyond the set deadlines.
Structures
At HML Solutions, the loans are specifically made to suit your business needs. This means that they can adjust well if you want them to fit your financial circumstances.
Our basic loan features include:
LOAN AMOUNTS: $100K – $50M+

Maximum LTV 75%

TERMS: 1 – 3 Years

RATE TYPE: 10% – 12% fixed

AMORTIZATION: Interest only

CLOSINGS: 1 – 2 Weeks

ORIGINATION FEE: 2 Points

CREDIT CHECK: NO

INCOME VERIFICATION: NO
The Requirements for Hard Money Loans and Bridge Loans in Port Richey
The process and steps required to receive financing from us are quite simple. Contrary to what you are used to in the old bank systems, we are delighted to work with your small or established business.
Most banks will ask for a lot of information about your financial history, your other investment, if any, plus several other details. For us, this is different.
We will not tire you with documents all over. Instead, our process is simple and can be completed within our premises. Also, you do not have to possess a spotless credit record or several years of experience in running your business. We will only ask for vital information, especially those regarding the value of the property you intend to purchase and your goals for this property.
Conclusion
If you are an ambitious business owner who doesn't want to waste time on lengthy processing periods, our bridge and hard money loans are the best options for you.
Take the step to advance your Port Richey business venture in just a single step. Get in touch with our team of experts and start getting your business financing ASAP.
Contact us today for a free consultation and get started with a loan process that often closes within 10 days.


For super quick service, fill out the form on this page. We'll do an immediate review, then we'll contact you right away to begin your hard money loan or bridge financing process.
Note: All submitted information is kept in strict confidence and used solely for the purpose of obtaining a hard money loan and/or bridge loan. We do not share your information with any third parties without your consent.
Use our quick-start application below to begin the process. Once received, we will contact you via phone to verify your interest and to gather a few more details: