ORANGE CITY, FL | HARD MONEY LOAN SOLUTIONS
Hard Money & Bridge Financing Solutions For The Greater Orange City Area
ASSET BASED LENDING SOLUTIONS FOR THE GREATER ORANGE CITY, FL AREA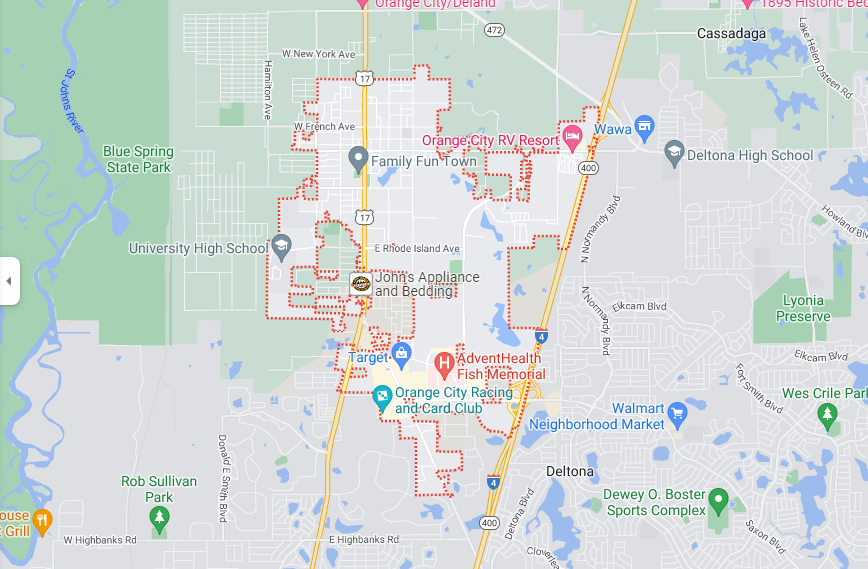 A 40-minute drive from Orlando and 30 minutes from Daytona Beach, Orange City contributes significantly to the regional economy and is a commercial hub for businesses and aspiring entrepreneurs. Orange City also hosts various events throughout the year for tourists. There are several popular places to visit, such as the Blue Spring State Park and Central Florida Zoo & Botanical Gardens, among many top tourist attractions.
Whether you're new in town, a local, or just passing through, you'll be sure to find this location an ideal place to pursue your business dreams, especially when it comes to acquiring property. Regardless of the type of property you need, we at HML Solutions can help you get the funding you need to acquire it. We are experts in bridge financing and hard money loans for property investment and real estate needs.
Hard money loans for residential and commercial property investment in Orange City, FL
If you're looking to invest in any property in Orange City, FL, we are here to assist you. Our extensive experience and resources will make your loan application process a breeze and save you the stress of going through the traditional lending process.
Commercial property investment with little hassle
Our hard money and bridge loans are just what you need to land the dream commercial property your business needs. Unlike traditional loans, we save you the headache of going through a complicated qualification process. There is no need for collaterals for our commercial real estate loans as we only use the value of the property you intend to purchase to decide on your eligibility. We offer quick financing to purchase or remodel commercial properties like:
Commercial rental properties
Building additional structures
Office buildings
Healthcare office spaces
Retail business premises
Strip malls
Residential loans and property investment are easier than ever
Perhaps you've found a beautiful property in Orange City, and you wish to purchase it before the opportunity passes you by. We can help you secure:
Rental properties
Residential development projects
Luxury homes
Condominiums
Multifamily dwellings and apartments
The list is in no way exhaustive, and our bridge and hard money loans can cover projects ranging from $50,000 to $50,000,000.
The benefits of hard money and bridge loans for all your investment projects
While traditional loans have their benefits, they're not the ideal option if you need quick loans, as they take a longer period to process. Plus, they are usually very difficult to qualify for.
A hard money loan is an excellent alternative to a conventional loan, as you can secure private funding by the targeted property value. Therefore, you can obtain it relatively quickly. With a bridge loan, you get access to temporary loans you can use to purchase or renovate any real estate property.
Here are some of the benefits you can expect from our bridge loans and hard money loans:
LOAN AMOUNTS: $100K – $50M+

Maximum LTV 75%

TERMS: 1 – 3 Years

RATE TYPE: 10% – 12% fixed

AMORTIZATION: Interest only

CLOSINGS: 1 – 2 Weeks

ORIGINATION FEE: 2 Points

CREDIT CHECK: NO

INCOME VERIFICATION: NO
So don't hesitate to contact our experts at HML Solutions to design a bridge or hard money loan to suit your unique residential and commercial financing needs.
Contact us today for a free consultation and get started with a loan process that often closes within 10 days.


For super quick service, fill out the form on this page. We'll do an immediate review, then we'll contact you right away to begin your hard money loan or bridge financing process.
Note: All submitted information is kept in strict confidence and used solely for the purpose of obtaining a hard money loan and/or bridge loan. We do not share your information with any third parties without your consent.
Use our quick-start application below to begin the process. Once received, we will contact you via phone to verify your interest and to gather a few more details: