NEW PORT RICHEY, FL | HARD MONEY LOAN SOLUTIONS
Hard Money & Bridge Financing Solutions For The Greater New Port Richey Area
ASSET BASED LENDING SOLUTIONS FOR THE GREATER NEW PORT RICHEY, FL AREA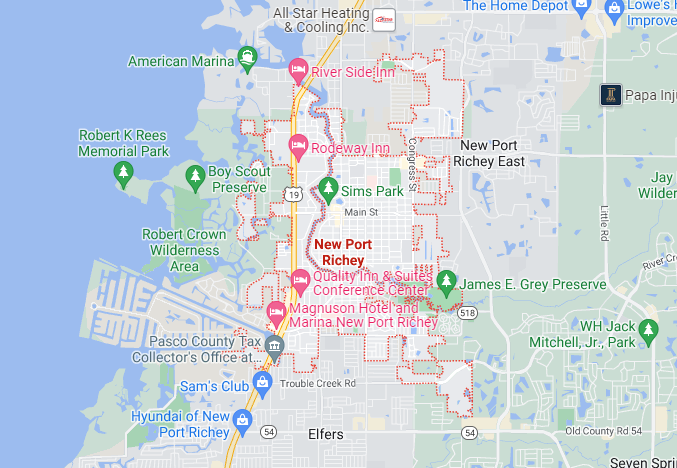 New Port Richey, FL, is located approximately 35 miles northwest of Tampa, along the Gulf of Mexico. New Port Richey has a small-town feel with a lush riverfront lined with restaurants and stores. The Chasco Fiesta, which lasts 11 days, honors the town's Native American history yearly with floats, a boat parade, and a pow-wow.
It's no surprise residents and businesses love putting down their roots in this town. If you have been dreaming about starting your most significant life investment in this city, then perhaps all you need is an honest, reliable hard money loan or bridge loan uniquely designed for you.
At Hard Money Loan Solutions, we are dedicated to offering these loan options for your business, whether you own a small or big business.
Hard Money Loans for Residential Investment in Port Richey, FL
At HML Solutions, we provide you with hard money loans that enable you to capitalize on short sales, foreclosures, or other great residential property deals.
On average, our hard money loans are approved within a maximum of 7-14 days. This is an excellent way to close on good sales as soon as they come by.
In addition, we finance investors like you on either their remodeling or construction costs whose goal is to improve and give their property an upgrade.
If you are starting and unsure which options best suit your needs, do not fret. This is because our team of experts has experience and specialty in projects such as:
Fix-and-flip
Luxury homes, Apartments/multifamily dwellings
Residential development
Condominiums
Senior living communities
Residential property investments
Bridge Loans for Commercial Real Estates in New Port Richey
As a business owner in New Port Richey, FL, considering an improvement or remodel of your business location, there is no need to worry.
We have a team of experts, specially trained and skilled to handle your project needs. Whether it is an office building, gas station, or commercial rental property, we are with you every step of the way.
Apart from that, we have enough capital to cover your business, a capital worth up to $50,000,000.
Why Choose Hard Money and Bridge Financing Solutions For Port Richey, FL
Forget about the typical old loans for a minute. These loans will require you to provide so much information and tedious paperwork. In most cases, you will not qualify due to factors such as the size of your business or your business's financial history.
At HML Solutions, we do not like to put you through a complex process and not pay off in the long run. We will offer you a loan despite the size of your business or your old financial background.
We provide you with benefits such as
Friendly and manageable loan terms
A straightforward application process
Affordable interest rates, ranging from 6.99%–12%, depending on the national market.
No multiplying interest or additional prepayment penalties.
Conclusion
It is understandable for a business owner to have questions when making big decisions, such as taking a loan for the first time. We understand the dynamics of the local market to specifically tailor hard money and bridge loans that satisfy your needs and those of your business.
We are here to guide you through this big decision and build your business dream together with you, so get in touch with us today!
Contact us today for a free consultation and get started with a loan process that often closes within 10 days.


For super quick service, fill out the form on this page. We'll do an immediate review, then we'll contact you right away to begin your hard money loan or bridge financing process.
Note: All submitted information is kept in strict confidence and used solely for the purpose of obtaining a hard money loan and/or bridge loan. We do not share your information with any third parties without your consent.
Use our quick-start application below to begin the process. Once received, we will contact you via phone to verify your interest and to gather a few more details: