MILTON, FL | HARD MONEY LOAN SOLUTIONS
Hard Money & Bridge Financing Solutions For The Greater Milton Area
ASSET BASED LENDING SOLUTIONS FOR THE GREATER MILTON, FL AREA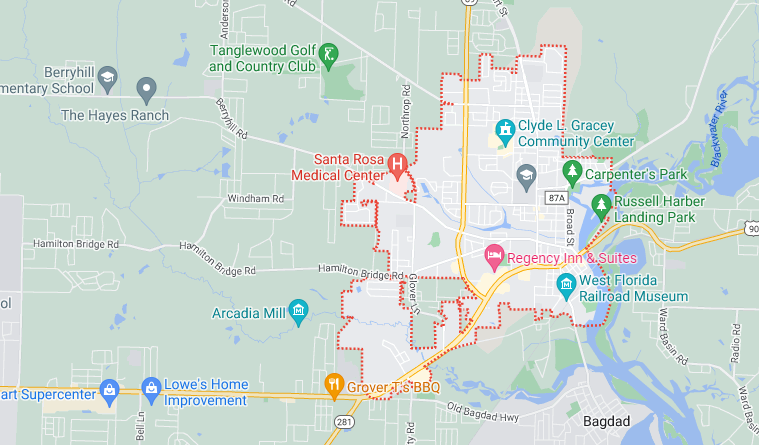 Historically famed for its timber-rich location, Milton supported the transportation of timber to support the maritime trade. Although this booming town has faced fires and devastation surrounding its trade, it is resilient. After ceasing trading timber it focused and built success in cotton and peanut plantation and farming. Nowadays, Milton is diverse and vibrant with a large variety of businesses in manufacturing, farming, and supporting the navy.
This dogged determination and ability to keep building up its success it is easy to see and understand why it is piquing the interest of investors. Milton is a wonderful area to take your investment portfolio to the next level, whether you have owned and managed properties for years or are making your first investment purchase.
When that perfect investment property becomes available, you have to act quickly. A typical loan may not be the ideal approach to finance your business venture when time is of the essence. This is where we, at HML Solutions, provide bridge and hard money loans tailored to support investors like you. Our hard money and bridging finances loans are suitable for a wide range of investments, both large and small, and are tailored to meet your individual needs.
What Are Hard Money and Bridge Loans
Hard money loans are specific loans funded from private lenders' capital to allow you to borrow the funds needed to complete the sale of your commercial project.
Bridge loans are a type of short-term loan, serving to bridge the financial gap until more long-term and permanent funding is obtained. Offering an influx of cash to serve the purpose of permitting your acquisition to proceed as planned until long-term finance is arranged and completed.
What Finance Projects Can HML Solutions Loans Help With?
With bridging and hard money loans, you can invest in a variety of different things. For starters, these loans are ideal for those looking to develop a new structure for resale or other uses. You can also buy and operate residential properties, including both multifamily and single-family homes. Bridge and hard money loans can be used for time-sensitive situations like short sales and available foreclosure properties because we constantly strive to link you with your finances as promptly as possible. Don't worry if you don't see your desired project listed here. We're also happy to collaborate with our clients on a number of unique investments.
How The Loans Are Structured
Our loans are designed to be flexible in order to meet a wide range of financial situations. When you take out a loan with HML Solutions, you will be able to take advantage of a number of great features:
LOAN AMOUNTS: $100K – $50M+

Maximum LTV 75%

TERMS: 1 – 3 Years

RATE TYPE: 10% – 12% fixed

AMORTIZATION: Interest only

CLOSINGS: 1 – 2 Weeks

ORIGINATION FEE: 2 Points

CREDIT CHECK: NO

INCOME VERIFICATION: NO
Get in touch with us at HML Solutions today to get started with your hard money and bridge loan solutions!
Contact us today for a free consultation and get started with a loan process that often closes within 10 days.


For super quick service, fill out the form on this page. We'll do an immediate review, then we'll contact you right away to begin your hard money loan or bridge financing process.
Note: All submitted information is kept in strict confidence and used solely for the purpose of obtaining a hard money loan and/or bridge loan. We do not share your information with any third parties without your consent.
Use our quick-start application below to begin the process. Once received, we will contact you via phone to verify your interest and to gather a few more details: