MARY ESTHER, FL | HARD MONEY LOAN SOLUTIONS
Hard Money & Bridge Financing Solutions For The Greater Mary Esther Area
ASSET BASED LENDING SOLUTIONS FOR THE GREATER MARY ESTHER, FL AREA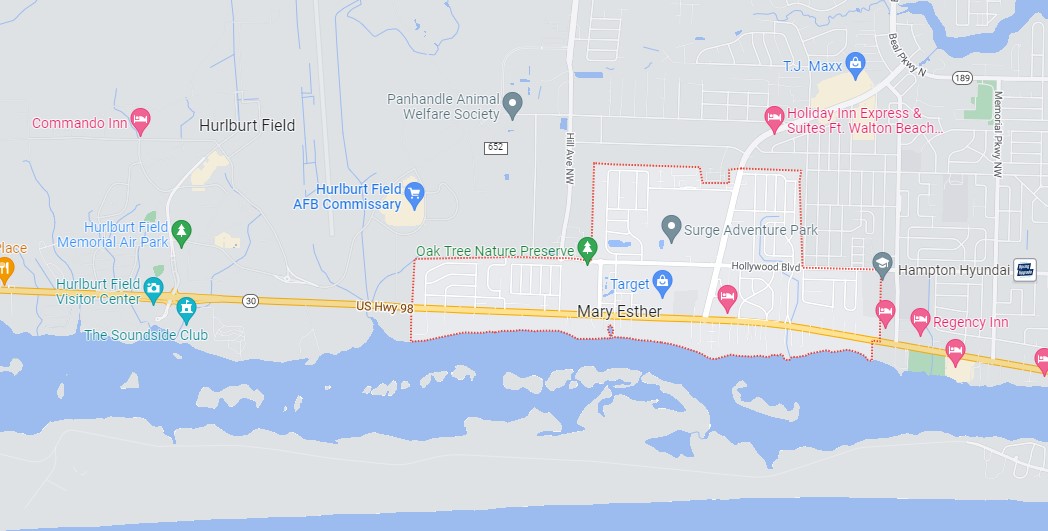 There are more options than ever when it comes to tourist destinations in Florida. While most enjoy family vacations in Orlando, others love nothing more than strolling a quiet town. Mary Esther is one of those towns. Located just a few minutes' drive from the famous Fort Walton Beach, Mary Esther is an ideal location for short-term vacation rental or tourism-driven commerce.
Mary Esther's proximity to nature trails such as Oak Tree Nature Park and its boat launch on Boggy Bayou makes it an ideal investment for an expanding tourism market. Additionally, a robust culinary industry means there's plenty of competition and opportunities for those looking to open a restaurant in the idyllic, rural woodlands of Northern Florida.
Tourism in Mary Esther
Nearby Fort Walton Beach is a tourist magnet, and because of this, there is often a large influx of people. This makes it challenging to find a booking on the beachfront itself. However, the savvy investor knows that people are happy to stay a little further afield for a lower price. Therefore, you could provide the vacation stay that people are looking for with a hotel, motel, holiday home, or restaurant service they will never forget.
If realizing your dream is something you are interested in, then Hard Money Loan Solutions can help. We offer multiple loan types, a little different than a traditional bank loan. In addition, we understand how difficult it can be to obtain funding given today's financial climate. As such, we can offer a commercial real estate hard money loan backed by your current assets such as commodities, land, vehicles, and real estate.
Commercial Hard Money Loans
We offer various types of hard money loans to assist with financing. One of our flagship products is commercial hard money loans. You can use a commercial loan for commercial property purchases or refinance. Because we are a direct lender, we provide very quick, smooth, and efficient service. Our service will enable you to begin your next project as quickly as possible, and there are no upfront fees.
There are many benefits to commercial real estate loans. These include:
A quick closing solution of $100k to $50 million in finance in 1 to 2 weeks.
No credit history judgment. Although your current score may be a factor.
Affordable down payment options of between 1% and 20%.
Proof of funds validation by our specialist finance team.
Long-term, asset-backed repayment options up to 5 years.
Affordable options based on your assets with a 75% loan to value rate.
Our commercial loans are among the most competitive and fair around. Don't be put off by strict banking regulations and red tape. That means you could lose out on the opportunity of a lifetime. Consider a commercial hard money loan from us, and we can get you moving in no time.
Other Products We Offer
At Hard Money Solutions, we also offer a variety of other hard money loans. Our hard money products are specially designed around specific ventures with variable conditions. For example, we can provide particular bridge loans or residential rehab loans suitable for any project in Mary Esther:
Bridge loans: Quick and easy short-term loans for quick turnaround projects.
Residential rehab loans: fast approval for renovation projects.
Fix and flip loans: quick cash for the purchasing, remodeling, and selling of a property.
All of our commercial or residential loans are suitable for various business ventures and structural projects. Such ventures you could consider for Mary Esther include restaurants, shopping complexes, mobile home parks, and commercial strip mall properties.
Our experience enables us to identify and offer a tailored commercial solution that best fits your project venture. Additionally, our interest rates and repayment terms are among the most competitive and fair you are ever likely to find. So let us help and support your upcoming business by extending our services to realize your goals.
Contact us today for a free consultation and get started with a loan process that often closes within 10 days.


For super quick service, fill out the form on this page. We'll do an immediate review, then we'll contact you right away to begin your hard money loan or bridge financing process.
Note: All submitted information is kept in strict confidence and used solely for the purpose of obtaining a hard money loan and/or bridge loan. We do not share your information with any third parties without your consent.
Use our quick-start application below to begin the process. Once received, we will contact you via phone to verify your interest and to gather a few more details: