MANGONIA PARK, FL | HARD MONEY LOAN SOLUTIONS
Hard Money & Bridge Financing Solutions For The Greater Mangonia Park Area
HARD MONEY LOAN SOLUTIONS IN MANGONIA PARK, FL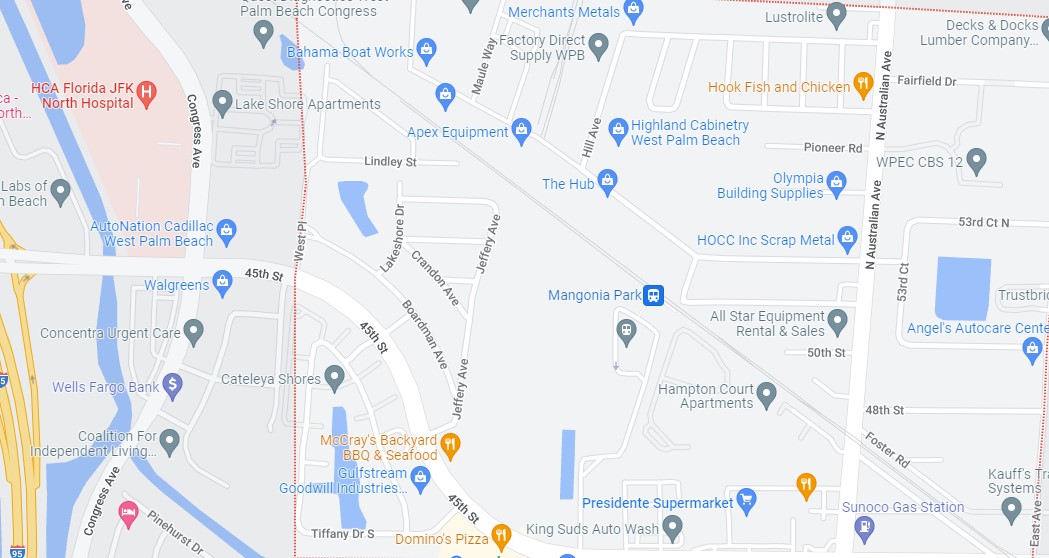 As part of Uptown West Palm in Palm Beach County, Mangonia Park offers residents all the comforts of small-town living without having to give up the conveniences of city life. Though just one square mile, Mangonia Park is always expanding, which means it's also rich with opportunities for investors and property owners alike.
Developers, business owners and property investors are continually looking for ways to expand the suburban area via new construction, fix and flip properties, and other innovative measures. However, to bring their visions to life in the most cost-effective and efficient ways possible, those investors need sufficient financing to see the project through from beginning to end. HML Solutions originates bridge and hard money loans for commercial projects in Mangonia Park of all shapes, sizes and types. We work one-on-one with potential borrowers to identify the right product for their needs and to tailor solutions so they best suits investors' purposes. By offering bridge and hard money loans with flexible terms and favorable features, we hope to help local entrepreneurs take advantage of the many time-sensitive opportunities that Mangonia Park presents. 
PERKS OF USING A MANGONIA PARK BRIDGE OR HARD MONEY LOAN
As a commercial investor, it's essential that you have access to reliable and sufficient funding not just for the duration of a project but in between projects as well. With increased lending requirements and lower limits, traditional lending channels have become unreliable and inconvenient solutions. HML Solutions strives to deliver financing in as quick and accessible manner as possible for commercial projects in Mangonia Park. To do so, we forego the exhaustive credit checks and investigation into applicants' assets and, instead, focus on the value of the property in question. We also make all decisions in-house, which means clients don't have to wait for third-parties to deliberate on an issue about which they have little to no information. In addition to these benefits, borrowers enjoy several others when they take our a bridge or hard money loan for a commercial project in Mangonia Park:
LOAN AMOUNTS: $100K – $50M+

Maximum LTV 75%

TERMS: 1 – 3 Years

RATE TYPE: 10% – 12% fixed

AMORTIZATION: Interest only

CLOSINGS: 1 – 2 Weeks

ORIGINATION FEE: 2 Points

CREDIT CHECK: NO

INCOME VERIFICATION: NO
HOW TO USE BRIDGE AND HARD MONEY LOANS
At HML Solutions, we believe that financing solutions should be just as unique as the projects they intent to fund themselves. With years of experience under our belts, we are able to procure bridge and hard money loans investors can use for a number of specific purposes, including the following:
Real estate purchases
Multifamily units
Single-family properties
Short sales
REOs
Construction loans
Foreclosure projects
Unique projects
Contact HML Solutions Today
Mangonia Park is rich in investment opportunities for developers, business owners and investors alike. To take full advantage of said opportunities, work with a lender that is willing to tailor financing solutions to your exact needs. Contact HML Solutions today to learn more about our Mangonia Park bridge and hard money loans.
Contact us today for a free consultation and get started with a loan process that often closes within 10 days.


For super quick service, fill out the form on this page. We'll do an immediate review, then we'll contact you right away to begin your hard money loan or bridge financing process.
Note: All submitted information is kept in strict confidence and used solely for the purpose of obtaining a hard money loan and/or bridge loan. We do not share your information with any third parties without your consent.
Use our quick-start application below to begin the process. Once received, we will contact you via phone to verify your interest and to gather a few more details: