LIVE OAK, FL | HARD MONEY LOAN SOLUTIONS
Hard Money & Bridge Financing Solutions For The Greater Live Oak Area
ASSET BASED LENDING SOLUTIONS FOR THE GREATER LIVE OAK, FL AREA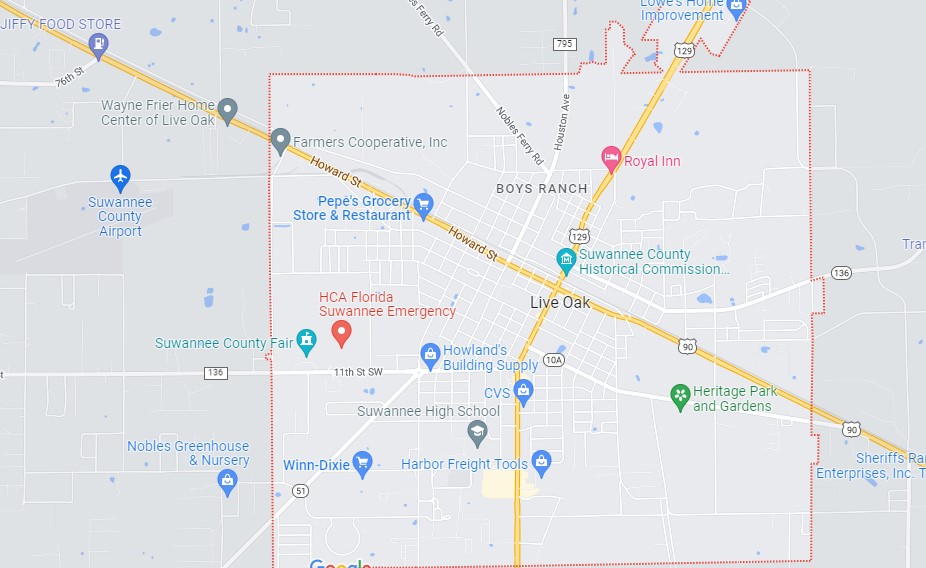 The county seat of Suwannee County, Live Oak, FL is a busy city with two major highways passing through it. The Spirit of the Suwannee Music Park, the Suwannee River State Park, and many springs along the Suwannee River bring tourists to Live Oak and the surrounding areas. This of course makes it a good spot for businesses of many kinds, and property investors are keen on Live Oak as a potential spot for diversifying and expanding their portfolios.
If you are a Live Oak resident looking to expand your own portfolio or build your business further, you'll be pleased to hear that there are some useful and secure financing options available from us at HML Solutions.
Hard Money Loans for Live Oak Investors
As an investor in Live Oak, FL, you are probably always on the lookout for various kinds of financing options that you might be able to make use of. As it happens, you have plenty of options available, and our hard money loans are especially valuable for this kind of investment purpose in particular.
What is a hard money loan? Quite simply, it's a loan type that utilizes capital from private lenders in order to allow the borrower to fund their commercial project or real estate investment. With a loan of this type, you don't have to worry about going through a traditional bank – which historically, can often take months to close. This is a quicker, easier, and more straightforward process—and one which could result in your investment going through much more swiftly on the whole.
The Benefits of Hard Money Loans from HML Solutions
As you can probably already grasp, there are some significant benefits to having this kind of loan for your investment or commercial needs. For one thing, you will be able to expect a shorter closing time of around 1-2 weeks, and certainly never longer than that. Our interest rates are very competitive too, ranging from 6.99%-12% at maximum, and they are fixed, meaning you won't have to expect any increasing or ballooning payments further down the line.
On top of all that, with our hard money loans, you can also expect the most comfortable terms possible, being able to repay over a term of your choice from 1 to 5 years total. We also offer a truly unbeatable LTV of up to 75% of the as-is value, meaning that you really are getting a lot for your buck. That's something that any investor should want to look out for in any loan of this kind.
Secure Bridge Financing in Live Oak
As well as that, we are also adept at offering secure bridge loans for your needs. If you need some short-term borrowing for a property venture or investment, such as purchasing a new property before you can sell or for a fix-and-flip property, then you can use our bridge loans to make that come true. Plenty of Live Oak investors have already used our loans for such needs, so you know you are in good company there.
As you can see, we offer a competitive and handy loan service in Live Oak, so get in touch if you would like to find out more about these options. Give us a call or fill out our Quick Application form to get the ball rolling today!
Contact us today for a free consultation and get started with a loan process that often closes within 10 days.


For super quick service, fill out the form on this page. We'll do an immediate review, then we'll contact you right away to begin your hard money loan or bridge financing process.
Note: All submitted information is kept in strict confidence and used solely for the purpose of obtaining a hard money loan and/or bridge loan. We do not share your information with any third parties without your consent.
Use our quick-start application below to begin the process. Once received, we will contact you via phone to verify your interest and to gather a few more details: