LAKE ALFRED, FL | HARD MONEY LOAN SOLUTIONS
Hard Money & Bridge Financing Solutions For The Greater Lake Alfred Area
ASSET BASED LENDING SOLUTIONS FOR THE GREATER LAKE ALFRED, FL AREA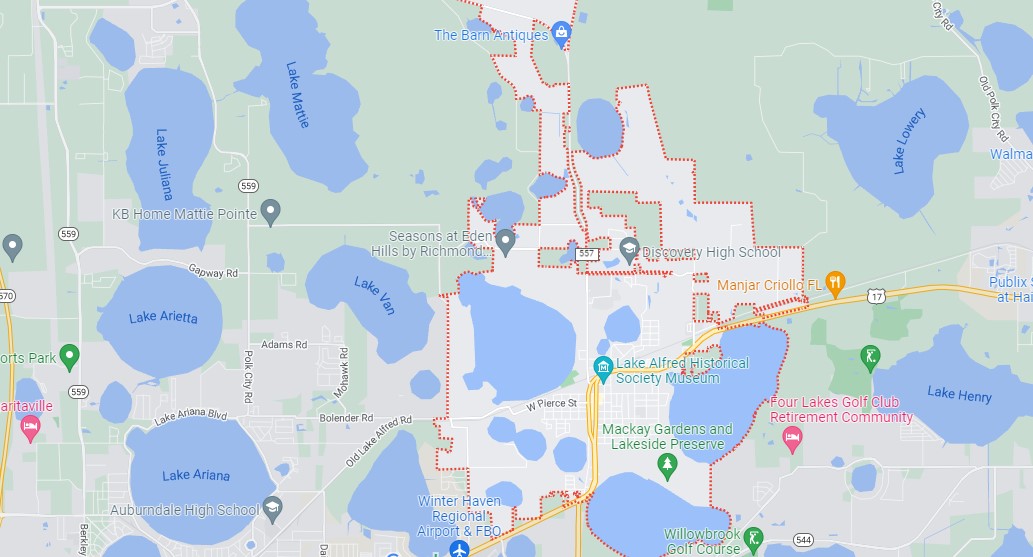 Located in Polk County, Florida, Lake Alfred is a fantastic place to be and invest in. With so much quaint charm, residents and visitors can't help but fall in love with the city. Whether you're learning about astronomy and botany at the Mackay Gardens and Lakeside Preserve, keeping an eye out for bald eagles and hiking through the Hilochee Wildlife Management Area, or having a famous grapefruit pie at Food Network's Epicurus at Lang's Taste of Florida Café, you're sure to get a true feel for all the wonderful things Central Florida has to offer.
It's no wonder then that businesses in the area are booming, so making a real estate investment here may be in your best interest. HML Solutions is here to offer you the chance to get the financing that you need in order to start your business and settle down in wonderful Lake Alfred, FL.
Why Bridge Loans Can Be of Value to Lake Alfred Business Owners
Bridge loans are available to keep your business on the up. You want growth to continue, even if you have other plans going on in the background. For example, bridge loans may be helpful to pay the bills on a property, even when you are still waiting for tenants to move in. This happens a lot more than you think, and bridge loans can be the difference between going down and staying afloat.
As well as this, bridge loans allow you to close quickly on a property if it is a time-sensitive deal such as if it is up for foreclosure. Or, if you know that you are in a bidding war with someone else and they are trying to swoop in and steal the property, the bridge loan gives you the advantage as you have faster access to financing. This will cover the cost until you have the money to cover it yourself.
Why HML Solutions is the Best for Businesses in Lake Alfred, FL
HML Solutions are dedicated to offering the services that you need. We are interested in working with you to help get you where you want to be, rather than working against you by burying you in paperwork and credit checks. Instead of this, we want to see all our approved applicants succeed, which is why we carefully crafted the best possible terms for our arrangements. Some of the terms that you can expect are as follows:
1-5 years terms depending on a number of factors. Our financial experts will help you determine which is the best term for you based on the size of the loan and other elements.
There are no hidden fees with our process, so what you see is what you get.
There are no prepayment penalties with HML Solutions, so if you have the money to pay back your loan sooner than expected, you can do this without hesitation.
Our application process is simple and easy to use as we only need the basic information about your company and the as-is or purchase value of the property.
Of course, there are more advantages and terms of our agreements, but these can be gone through in more detail if you speak to a member of our team.
We are here to support you, so if you want to get started get in touch with us at HML Solutions today. You can do this via our quick application form online, or you can call us and speak to one of our experts right now.
Contact us today for a free consultation and get started with a loan process that often closes within 10 days.


For super quick service, fill out the form on this page. We'll do an immediate review, then we'll contact you right away to begin your hard money loan or bridge financing process.
Note: All submitted information is kept in strict confidence and used solely for the purpose of obtaining a hard money loan and/or bridge loan. We do not share your information with any third parties without your consent.
Use our quick-start application below to begin the process. Once received, we will contact you via phone to verify your interest and to gather a few more details: