JACKSONVILLE BEACH, FL | HARD MONEY LOAN SOLUTIONS
Hard Money & Bridge Financing Solutions For The Greater Jacksonville Beach Area
ASSET BASED LENDING SOLUTIONS FOR THE GREATER JACKSONVILLE BEACH, FL AREA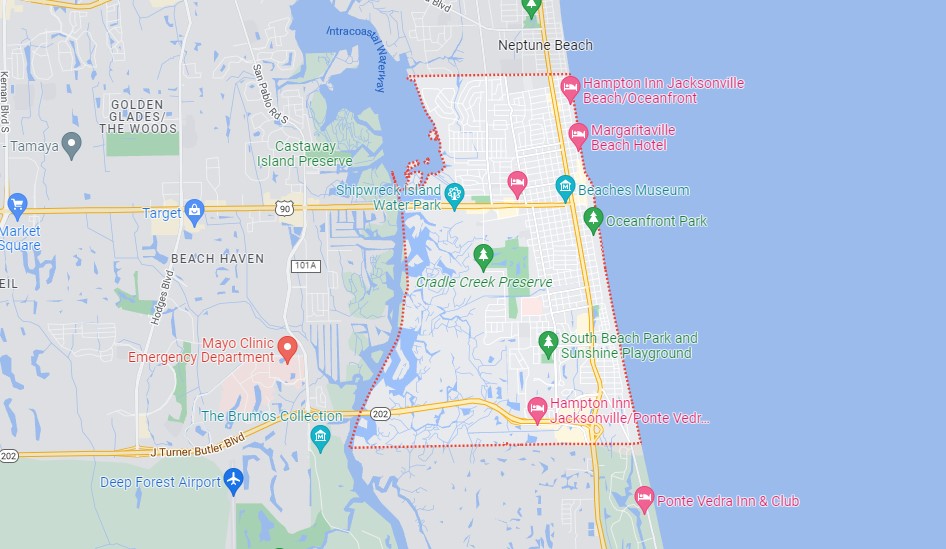 It is undeniable that Florida is a prime location for real estate investors and developers. Within the state, there are a few gems that are not going unnoticed.
One of these up-and-coming locations is the exclusive Jacksonville Beach, FL. At only 24 minutes drive from the center of the bustling Jacksonville, Jacksonville Beach is the place to enjoy a relaxing time at the seafront, take part in the vibrant nightlife, and tap into the city's always growing economic power.
Whether you are after residential loans for a fix-and-flip project or commercial real estate loans to expand your business in the city, HML Solutions has the right hard money or bridge loan solution for your needs.
HML Solutions' Hard Money Loans Help You Achieve Your Goals
At HML Solutions, we strive to create personalized financial solutions that can help you achieve your investment goals. Whether you are looking to launch a business in Jacksonville Beach, FL, you are after a development project, or you wish to restore historical properties, our hard money and bridge loans can have endless benefits. Here is how our fast bridge and hard money loans can work for you.
Flix-and-flip projects
Residential property investment
Commercial properties and office buildings
Large-scale estate developments
Single, multifamily, and senior living real estate developments
Commercial premises including healthcare practices, hospitality venues, retail stores, and automotive dealerships.
Since our loans are always based on your situation, get in touch to discover more of what we can do for you.
What To Expect from HML Solutions' Hard Money Loans and Bridge Loans
Whatever your real estate project might be, applying for traditional loans can cause you to remain stuck in the long application process and bureaucracy. However, here at HML solutions, we know that time is money – especially in an area as in-demand as Jacksonville Beach is.
Here's what to expect with our bridge and hard money loans:
LOAN AMOUNTS: $100K – $50M+

Maximum LTV 75%

TERMS: 1 – 3 Years

RATE TYPE: 10% – 12% fixed

AMORTIZATION: Interest only

CLOSINGS: 1 – 2 Weeks

ORIGINATION FEE: 2 Points

CREDIT CHECK: NO

INCOME VERIFICATION: NO
We understand that your financial situation might vary during the length of your project. That is why we offer no hidden costs, additional fees, or prepayment penalties. Additionally, if throughout your process you receive other financial help, such as other traditional loans or funding, you can switch to these resources without issues.
Find Financial Help to Support Your Investment Goals in Jacksonville Beach, FL, Today
Jacksonville Beach, FL, is among those up-and-coming locations that make the east coast of Florida unique. However, due to this high demand, it is not unlikely for property prices to skyrocket and new deals to exit the market within days.
The fast loan options offered by the team at HML Solutions are designed to be personalized, fast, and requires minimal hassle. In this way, you can focus on securing the best deals, designing your dream property, and drive your business forward. Get in touch with HML Solutions today to find out more about what HML Solutions can do for you.
Contact us today for a free consultation and get started with a loan process that often closes within 10 days.


For super quick service, fill out the form on this page. We'll do an immediate review, then we'll contact you right away to begin your hard money loan or bridge financing process.
Note: All submitted information is kept in strict confidence and used solely for the purpose of obtaining a hard money loan and/or bridge loan. We do not share your information with any third parties without your consent.
Use our quick-start application below to begin the process. Once received, we will contact you via phone to verify your interest and to gather a few more details: