EL PORTAL, FL | HARD MONEY LOAN SOLUTIONS
HARD MONEY / BRIDGE LOAN SOLUTIONS FOR ALL OF EL PORTAL, FL
HARD MONEY / BRIDGE LOAN SOLUTIONS FOR ALL OF CORAL GABLES, FL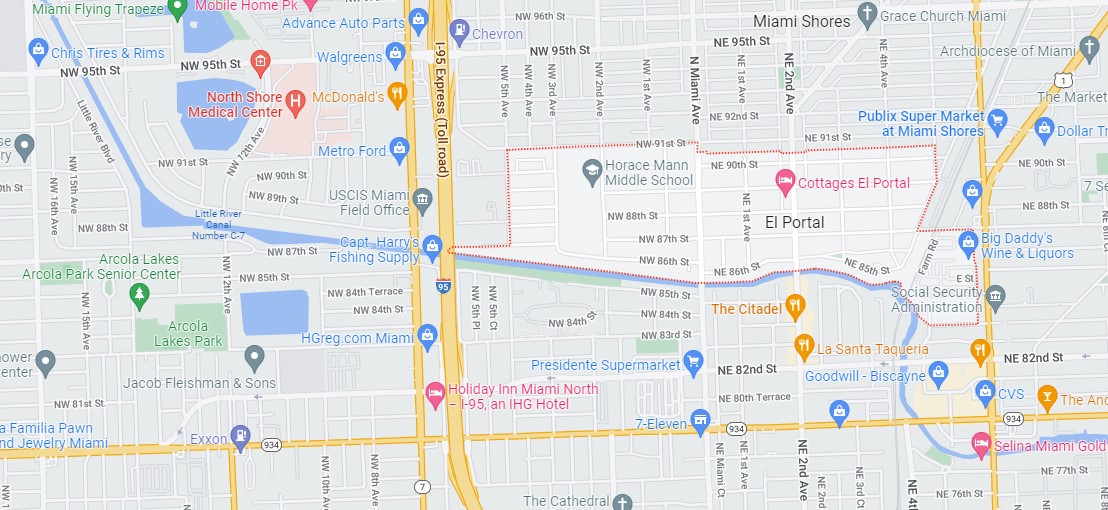 El Portal, FL has a diverse business and commercial real estate landscape. Entrepreneurs run the gamut from small business and franchise owners to property flippers, landlords, project developers, and more. HML Solutions provides bridge and hard money loans for commercial transactions and projects of every type throughout El Portal, FL. HML Solutions is headquartered in Florida, and our team specializes in successfully financing local projects and transactions. We work directly with entrepreneurs in El Portal to understand their needs and provide the funding they need to reach their goals quickly and efficiently.
Bridge and Hard Money Loans in El Portal, FL
At HML Solutions, we believe entrepreneurs in El Portal, FL should be able to find the funding they need easily, without sifting through lots of specific products. As a response to the needs of local business owners, investors, and developers, our bridge and hard money loans are designed for versatility. Bridge and hard money loans from HML Solutions can be used for a wide range of commercial transactions and projects in El Portal, including but not limited to:
Single Family Units
Multi-Family Units
Real Estate Purchases
Short Sales
Construction Loans
REOs
Foreclosure Properties
Unique Projects (contact us)
Efficient and Accessible Financing Solutions for Commercial Projects in El Portal, FL
Business owners, property investors, land developers, and entrepreneurs of all kinds in El Portal, FL need accessible funding solutions. Prohibitively high requirements, deep credit history pulls, long processing times, and red tape only serve as obstacles between entrepreneurs and the funding they need. At HML Solutions, we have streamlined the process. We perform all processing and approvals in-house to provide a fast, direct, and clear path to funding for commercial projects. Because our team is based locally, we understand the markets in El Portal and can create customized solutions for our clients to keep their projects on track and ensure success from start to finish. We also lend our experience and depth of knowledge to offer advice and guidance to entrepreneurs to keep projects profitable. Bridge and hard money loans from HML Solutions offer the following benefits to clients in El Portal, FL:
LOAN AMOUNTS: $50K – $50M+
LTV: Up to 75% of the as-is value or purchase price (whichever is lower)
TERMS: 1 – 5 Years
RATE TYPE: 6.99 – 12% fixed
AMORTIZATION: Interest only
PREPAY PENALTY: None (Repay the balance at anytime during the term)
ADDITIONAL FEES: None
CLOSINGS: 1 – 2 Weeks
ADDITIONAL FEES: None
Contact Us Today
HML Solutions provides the most comprehensive financing programs for commercial projects in El Portal, FL. If you need financing for a commercial transaction or project, reach out to our team. We will work with you to understand your vision, so we can structure a bridge or hard money goal to help you reach your goals.
Contact us today for a free consultation and get started with a loan process that often closes within 10 days.


For super quick service, fill out the form on this page. We'll do an immediate review, then we'll contact you right away to begin your hard money loan or bridge financing process.
Note: All submitted information is kept in strict confidence and used solely for the purpose of obtaining a hard money loan and/or bridge loan. We do not share your information with any third parties without your consent.
Use our quick-start application below to begin the process. Once received, we will contact you via phone to verify your interest and to gather a few more details: