EAGLE LAKE, FL | HARD MONEY LOAN SOLUTIONS
Hard Money & Bridge Financing Solutions For The Greater Eagle Lake Area
ASSET BASED LENDING SOLUTIONS FOR THE GREATER EAGLE LAKE, FL AREA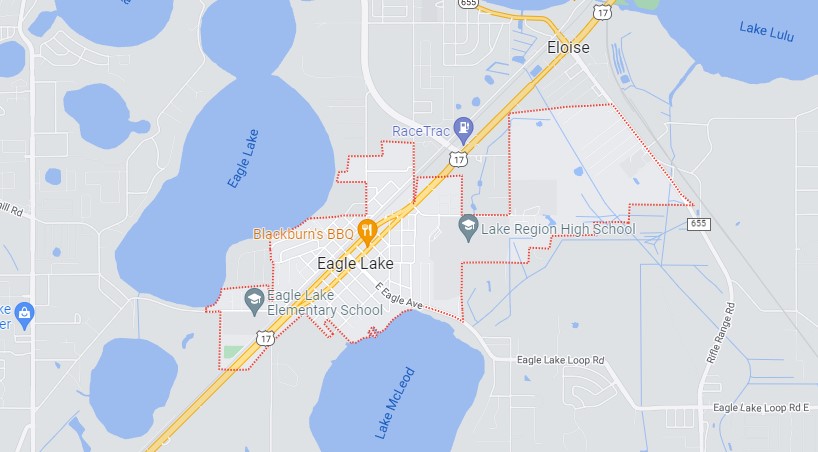 Eagle Lake, Florida is a fantastic place to be. Named after the freshwater lake of Eagle Lake, which it borders, the city is relatively small but is slowly growing due to its proximity to attractions such as Legoland Florida and the Auburndale Speedway.
With that in mind, Eagle Lake is a great choice for those looking to invest in real estate, either for the first time or for the 100th time. Here at HML Solutions, we believe wholeheartedly in Eagle Lake's slogan, "growing with people in mind". We want to help our clients in Eagle Lake grow and prosper and provide them with the best service possible. That's why we tailor our hard money and bridge loan solutions for every individual so that you can get a loan that suits you.
Why We're the Best Choice for Hard Money Loans In Eagle Lake, FL
It's important to us that all of the companies we work with see us as more of a partner than a lender. We want to be there for your business as much as we can, in whatever way possible. It's for that reason that we offer fantastic terms for our hard money and bridge loans in Eagle Lake, FL. Some of the terms are as follows:
Large loan amounts up to $50,000,000
No additional fees
No prepayment penalties
Low interest rates
A simple application process
Repayment terms to suit all ranging from 1-5 years
Up to 75% loan-to-value of the as-is value
We want to see your projects succeed, and help your business get to where it needs to be. At HML Solutions, we have tried to make our terms as enticing as possible, so that we can help as many businesses as possible in Eagle Lake, FL thrive.
Using Bridge And Hard Money Loans In Eagle Lake, FL
Thanks to the experts that we have working for us here at HML, we have fantastic knowledge of the market in Eagle Lake, FL. We are dedicated to putting our knowledge into action in order to aid as many people as possible including property investors and businesses. Our goal is to provide customized solutions for every single project that we agree to, ensuring that they get all of the care and attention that they need to see success.
Our professionals can put together hard money and bridge loans for a variety of needs, depending on what it is that you are searching for. Some of the needs that we can accommodate are:
Real estate purchases
Single-family properties
Foreclosure properties
Short sales
Construction loans
This is not an extensive list and we are able to cater to other projects. Pitch your project to us, and we will see what we can do for you.
Contact HML Solutions
The last thing that you should do is settle for hard money or bridge loans that do not meet your specific requirements. You need to work with a company that can make their loans work for you, and thanks to HML Solution's understanding of the market in Eagle Lake, FL, that's us. Get in touch with us today and we will be more than happy to talk to you about our financial services and what we are proud to offer you.
We have the money that you need, so fill out the contact form and we will get in touch with you as soon as possible to get you started on your journey in Eagle Lake.
Contact us today for a free consultation and get started with a loan process that often closes within 10 days.


For super quick service, fill out the form on this page. We'll do an immediate review, then we'll contact you right away to begin your hard money loan or bridge financing process.
Note: All submitted information is kept in strict confidence and used solely for the purpose of obtaining a hard money loan and/or bridge loan. We do not share your information with any third parties without your consent.
Use our quick-start application below to begin the process. Once received, we will contact you via phone to verify your interest and to gather a few more details: