DESOTO COUNTY, FL | HARD MONEY LOAN SOLUTIONS
Hard Money & Bridge Financing Solutions For The Greater Arcadia Area
ASSET BASED LENDING SOLUTIONS FOR THE GREATER ARCADIA, FL AREA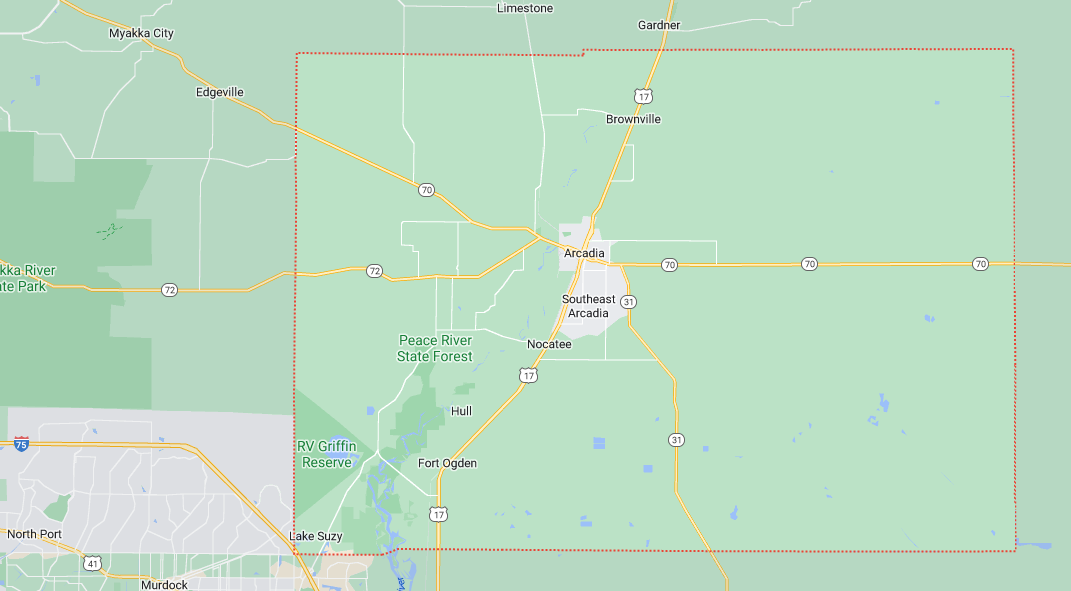 As the county seat for Desoto County, the city of Arcadia is located centrally between Sarasota, Orlando and more. Arcadia is famous for its downtown antique district and it's in this district that more and more businesses are choosing to set up and put down roots! Given that the fourth Saturday of the month is reserved for vendors to take over their streets, it's clear that Arcadia is has many entrepreneurs looking to help their business thrive.
If you're currently dealing with difficulties in acquiring residential loans for your business premises in Arcadia, FL, you've landed in the right place. At HML Solutions, we're here to help you with your hard money loans and bridge loans. We believe that you should be able to get an excellent loan that'll help you to purchase your business property – no matter what your credit score circumstances may be.
Why Choose Hard Money Loans & Bridge Loans, Arcadia, FL
It may not have occurred to you before, but the best option for your finances could be hard money loans and bridge loans. Those who don't want to worry about their credit score would find this type of loan particularly appealing, as at HML Solutions base your loan on the value of the property that you want to buy – not your history. We welcome smaller business owners, including those who have business of a seasonal nature! Other benefits to choosing hard money loans and bridge loans include:
You get fast finance. The right commercial real estate financing can often take some time, but with our loans at HML Solutions, our bridge loans are faster than you'd think. This allows you to close on the property of your choice in no time at all, which is super helpful when you have to move quickly to get the bargain you want.
Better interest rates. At HML Solutions, we're proud to have built up a fantastic reputation that enables us to have exclusive access to the best interest rates. This gives you the chance to purchase your property without the pressure.
Excellent terms. With terms between one and five years, you can guarantee that our loan terms will meet – if not exceed – your goals. The idea is to help you to maximize your profits as much as possible.
Easy application. We're not about to make you hunt down a tombstone worth of documents to get your finances sorted out. It's more important to us that you have the basics and the details of the property in which you are interested.
Hard Money Loans for Property in Arcadia, FL
There are many instances where conventional loans can limit your options when it comes to commercial real estate loans. The rules may be too strict but not with HML Solutions. Our team can support almost any property purchase type for commercial purposes. This includes senior care centers, construction projects and more.
Contacting our team today is the best thing that you could do for your hard money and bridge financial solutions in Arcadia, FL. You can go beyond the regular banks and choose a company who knows what to do for you when you speak to our experts.
Contact us today for a free consultation and get started with a loan process that often closes within 10 days.


For super quick service, fill out the form on this page. We'll do an immediate review, then we'll contact you right away to begin your hard money loan or bridge financing process.
Note: All submitted information is kept in strict confidence and used solely for the purpose of obtaining a hard money loan and/or bridge loan. We do not share your information with any third parties without your consent.
Use our quick-start application below to begin the process. Once received, we will contact you via phone to verify your interest and to gather a few more details: