DEBARY, FL | HARD MONEY LOAN SOLUTIONS
Hard Money & Bridge Financing Solutions For The Greater DeBary Area
ASSET BASED LENDING SOLUTIONS FOR THE GREATER DEBARY, FL AREA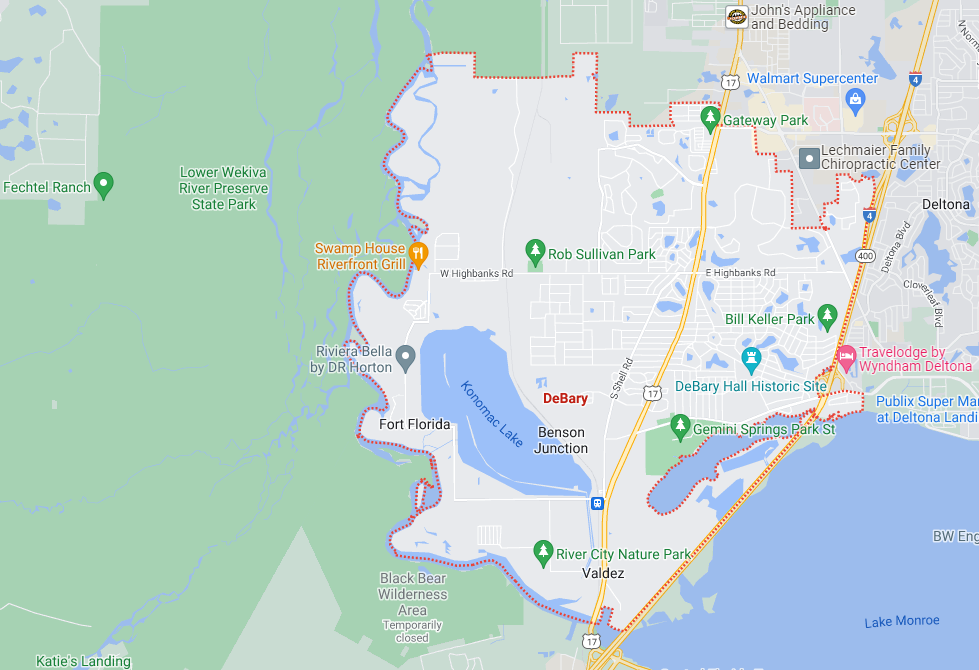 As the gateway to southwestern Volusia County, Florida, DeBary is known for its hometown atmosphere. With thousands of oak trees, a bird sanctuary, and extensive park systems, it's easy to see why DeBary draws in nature-loving visitors from all over.
DeBary is also extremely attractive for businesses, as it has one of the lowest ad valorem tax rates in the county. This makes it an ideal location for those seeking to invest in property or start a business. Investors and entrepreneurs looking for financing options to help them capitalize on the opportunities in DeBary will find that bridge and hard money loans from Hard Money Loan Solutions offer many advantages.
We provide quick access to funds, which can be instrumental in helping you close a real estate deal or launch a new business. In addition, Hard Money Loan Solutions typically have lower interest rates and fees than other lenders' loans, making us an attractive option for those who want to keep their expenses down.
If you are looking for a quick and easy way to get the capital you need for your business, Hard Money Loan Solutions is the answer. We offer a variety of loan programs that can help you get the money you need when you need it. We understand that businesses need access to capital in order to grow, and our team is dedicated to helping you find the right financing solution for your needs.
How can a hard money loan help your business?
If you are looking for a loan to purchase or renovate an investment property, a hard money loan may be the right solution for you. Hard money loans are typically short-term loans, with terms of one to five years. They are also asset-based loans, meaning that they are secured by the property you are purchasing or improving.
One of the main advantages of hard money loans is that they can be approved quickly, often in as little as 1 to 2 weeks. This can be critical when you are trying to take advantage of a time-sensitive opportunity, especially when it comes to real estate in a hot-commodity area such as DeBary.
What are bridge loans?
Bridge loans are a type of hard money loan that is used to finance the purchase of a new property before the sale of your current property. Bridge loans are typically for a shorter term than traditional mortgages and are not considered feasible for long-term financing. Another advantage is that bridge loans are often easier to qualify for than traditional mortgages.
Hard Money Loan Solutions offers hard money and bridge loans from amounts of $50,000 to $50,000,000. With competitive rates of 6.99% to 12% and terms from 1 to 5 years, our loans can provide you the funding you need at great rates.
If you are interested in learning more about hard money and bridge financing solutions for DeBary, don't hesitate to get in touch with us today. We would be happy to discuss our loan programs with you and help you find the right financing solution for your needs. Our team is dedicated to helping businesses grow and succeed, and we are here to help you achieve your goals.
Contact us today for a free consultation and get started with a loan process that often closes within 10 days.


For super quick service, fill out the form on this page. We'll do an immediate review, then we'll contact you right away to begin your hard money loan or bridge financing process.
Note: All submitted information is kept in strict confidence and used solely for the purpose of obtaining a hard money loan and/or bridge loan. We do not share your information with any third parties without your consent.
Use our quick-start application below to begin the process. Once received, we will contact you via phone to verify your interest and to gather a few more details: