BRADFORD COUNTY, FL | HARD MONEY LOAN SOLUTIONS
HARD MONEY / BRIDGE LOAN SOLUTIONS FOR STARKE AND ALL OF BRADFORD COUNTY, FL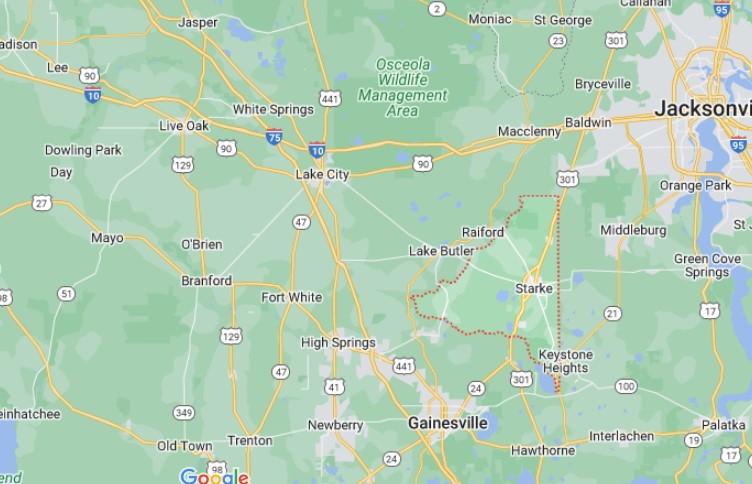 HML Solutions is happy to schedule on-site consulting services for all of Bradford County including the cities of:
Starke – Lawtey – Hampton – Brooker
HML Solutions provides bridge and hard money loans to ensure the success of commercial projects in Starke and all throughout Bradford County, FL. We believe funding should be accessible and efficient for commercial projects of every size.
Bridge And Hard Money Loans in Bradford County
Bridge and hard money loans assist commercial projects in a number of ways, such as property acquisitions, remodeling and development, and filling in gaps in capital, either between projects or while larger loans are still in the pipeline. HML Solutions provides the funding commercial projects need to stay on track. Our team works directly with clients to understand their needs and structure bridge and hard money funding solutions to help them reach their goals. Our bridge and hard money loans are very versatile, and can be used for projects and transactions including, but not limited to:
Single Family Units

Multi-Family Units

Real Estate Purchases

Short Sales

Construction Loans

REOs

Foreclosure Properties

Unique Projects (contact us)
Accessible Financing for Entrepreneurs in Bradford County, FL
Prohibitively high requirements and red tape can cause project delays or force time-sensitive opportunities to be missed. HML Solutions streamlines the path to funding so the approval process is fast and efficient. Because all of our processing is performed in-house, we can offer fast closing times so funds are made available quickly, without red tape. We know that every commercial project is unique, which is why we offer personal attention to each of our clients instead of trying to offer "one size fits all" solutions. Bridge and hard money loans from HML Solutions feature:
LOAN AMOUNTS: $50K – $50M+

LTV: Up to 75% of the as-is value or purchase price (whichever is lower)

TERMS: 1 – 5 Years

RATE TYPE: 10 – 12% fixed

AMORTIZATION: Interest only

PREPAY PENALTY: None (Repay the balance at anytime during the term)

ADDITIONAL FEES: None

CLOSINGS: 1 – 2 Weeks

ADDITIONAL FEES: None
At HML Solutions, we provide bridge and hard money loans throughout Bradford County at Florida at large. Applications for our solutions do not require in-depth credit checks or loan board decisions. Instead, we assess the overall profitability of the commercial project at hand, as well as the property and hard assets involved int eh transaction. We can approve, process, and disburse funds quickly, so projects can keep moving forward, uninterrupted. If you are lining up a commercial project in Bradford County, contact the experts at HML Solutions today. We will work directly with you to understand your needs so we can structure a solution tailored to your project. To learn more about our bridge and hard money loans, contact HML Solutions toda
Contact us today for a free consultation and get started with a loan process that often closes within 10 days.


For super quick service, fill out the form on this page. We'll do an immediate review, then we'll contact you right away to begin your hard money loan or bridge financing process.
Note: All submitted information is kept in strict confidence and used solely for the purpose of obtaining a hard money loan and/or bridge loan. We do not share your information with any third parties without your consent.
Use our quick-start application below to begin the process. Once received, we will contact you via phone to verify your interest and to gather a few more details: